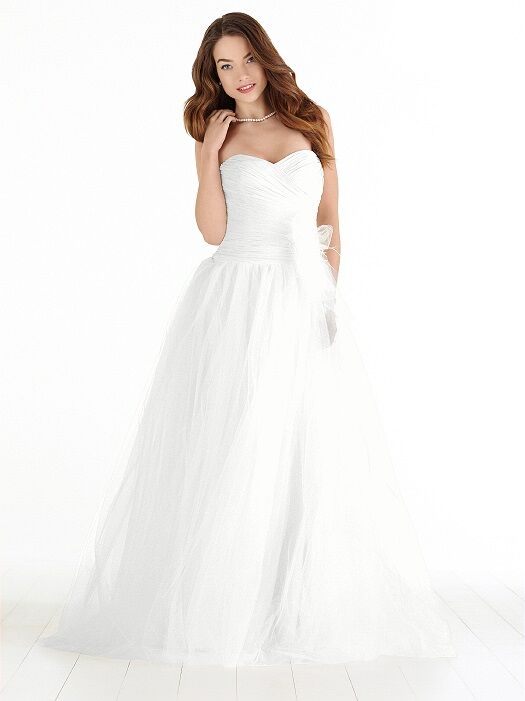 Vintage wedding dresses are an excellent alternative to modern wedding dresses, and offer unique style and a timeless look. These gowns are often made from high quality fabrics, including raw silk and rayon. Women of previous eras were, on the whole, smaller, so many vintage gowns are found in small sizes, whereas it takes more time to find one in a larger size. Just like all other dresses throughout the history of fashion, vintage wedding dresses vary in shape, cut, and fit: each decade brought with it a new look and silhouette. In order to help women to buy a vintage wedding dress, this guide will give advice on checking the gown for damage, and provide information on sizing and the various features by decade. Also, this guide will help women to choose the perfect vintage wedding dress accessories and recommend ways to search for and buy a vintage wedding dress at online stores, such as eBay.
Check the Vintage Wedding Dress for Damage
When buying a vintage wedding dress, damage can be an unwanted feature. The age of many vintage gowns, means that they have discoloured and faded with the passing of time. If not properly stored, a wedding dress may not retain its original condition. Although it is possible to remove some stains, it must be noted that they become harder to remove the longer they settle in the garment.
Wear and Tear
When searching for the perfect vintage wedding dress, women should examine the gown closely for any signs of wear and tear. This includes checking the seams for stray threads and loose stitches. The seams of the gown should not be unravelling or frayed in any way. Many vintage wedding dresses are long, perhaps with a train, so the hem should be checked for any tears that may have occurred, for example, as a result of the wearer's heels stepping on the dress. It is natural for fabric to deteriorate over time, so it should be stretched gently in order to assess any weakening. If damage is present, then consider whether these imperfections can be mended, any contingent costs for repairs and whether the flaws affect the overall value of the dress, both financially and in terms of its appearance. It is important to note that vintage fabrics are difficult to match with more modern fabrics.
Stains
Women should inspect the gown for stains, especially at the underarms and hemline. Stains from perspiration, body oils, and deodorant are not uncommon. If the dress is full-length, it may have trailed along the floor and therefore picked up dirt and grime. The front of the dress should also be checked for blemishes from the previous bride's make-up. Make-up is known for leaving oil-based stains and collecting along the wedding dress's collar line.
Discolouration
Discolouration usually comes with the passing of time. If the dress was not stored properly, the fabric may have a yellowish tinge. This discolouration is likely to be permanent. Vintage wedding dresses should also be examined for any signs of fading which may occur with overexposure to sunlight.
Odours
Vintage wedding dresses are likely to have remained unused for prolonged periods of time, so the fabric should be tested for a musty, mildewy scent.
Missing Ornamentation
Women should examine the dress thoroughly for any signs of missing ornamentation. This includes making sure that all beading is properly fastened to the dress and that sequins are present. Also, check for broken zips, missing snaps fasteners, and missing hooks and eyes.
Vintage Wedding Dress Sizing
When buying a vintage wedding dress, sizing can be an issue. Sizing specifications have changed over the years and women have come to rely on dress measurements. Vintage wedding dresses are often smaller in comparison to modern dresses because the shape of women's bodies have changed over time. Also, vintage wedding dresses were typically tailored to fit the wearer perfectly. So, even if a clothing label exists, the size that is states may not be the actual size of the dress. The dress may have been altered and therefore, a completely different size. Women should always consult the seller about any altercations to the wedding dress and ask for the dress's exact measurements. Women should then take their own bust, waist, and hips measurements. It is also a good idea to take shoulder measurements as well. If in doubt, it is best to purchase a larger size as it is much easier for the wedding dress to be taken in than let out.
Choose an Era
Vintage wedding dresses differ by era. While some eras were known for tight, form-fitting gowns, others had a more conservative look. When buying a vintage wedding dress, it is important to be familiar with the characteristics of vintage wear for each decade. This helps to eliminate the chance of buying an imitation gown.
1920s
Wedding dresses of the 1920s are known for their loose-fitting sheath and narrow shoulders. These dresses do not contain a waistline; instead, they are unstructured and flow freely from the wearer's body. Vintage wedding dresses from this period best complement women with petite figures, smaller busts, and narrow hips.
1930s
Wedding dresses of the 1930s are more form fitting than those of the previous era. These dresses flatter a woman's curves and offer a slim and narrow cut. Dresses from this period were designed with tall, slender women in mind and are best suited for women with straight or hourglass figures.
1940s
Vintage wedding dresses of the 1940s are characterised by their puffed shoulders, peplums and sweetheart neckline. The puffed shoulders help to give the illusion of a smaller waistline. These dresses have either full or narrow skirts, which vary in length. These lengths grew shorter during the 1940s. Vintage wedding dresses from this period complement curvy women and those with fuller figures.
1950s
Vintage wedding dresses of the 1950s are fitted from the waist up and feature a larger bust area. The skirt of the dress is stiffened with hoops to give it a fuller shape. These skirts are found in both tea-length and full-length. The silhouette of the dress complements most body shapes. While the skirt hides a pear-shaped woman's bottom half, it flatters the curves of an hourglass figure, with a defined waist.
1960s
Vintage wedding dresses from the 1960s feature empire waists with long skirts that flow in a slim A-line. The waistline of the dress sits higher on the wearer's body, so the gown complements most body shapes and successfully hides the larger tummy area of apple-shaped women.
Choosing Vintage Accessories
Women should consider choosing vintage accessories to match the era and style of the dress. Accessories include a wreath of flowers for the woman's hair or a silk sash decorated with vintage silk flowers. Vintage hairstyle and make-up further complete the vintage look. If the dress is from the 1920s or 1930s, flowers with strong silhouettes, such as calla lilies, are most suitable; whereas, a dress from the 1940s is complemented by the popular red and pale pink roses of the time period.
Buying a Vintage Wedding Dress on eBay
Vintage wedding dresses are available to buy on eBay. Buyers simply need to navigate to the appropriate section by using the category search terms. Also, buyers can use the search box to type in some keywords that define the type of wedding dress that they are looking for. The more specific the keywords, the more precise the search results.
As with any type of vintage clothing, buyers should make sure that the wedding dress is authentic. Many dresses are reproductions and imitations of vintage wear. Check any photos for signs of wear and tear or discolouration. Ask the seller for additional photos and information regarding the dress's history. If considering an expensive vintage wedding dress, a buyer would be wise to consult with someone who is familiar with vintage wear in order to ensure that the item is as valuable as the seller claims.
Once buyers find their ideal vintage wedding dress, it is important to check that it is returnable in the event of a poor fit, or any other reason. Also, check the seller's feedback rating to see how other buyers have rated their service. If a seller is an eBay Top-rated seller, that means the seller has a good reputation for dealing fairly on eBay.
Conclusion
A vintage wedding dress can add a unique touch to any bride's special day. Many women choose vintage wear because it presents both their original style and feminine beauty. Vintage wear offers a timeless look and with so many decades of designs to choose from, a bride can easily find a style and fit that best suits her taste and body shape. The age of vintage wear means that a woman should investigate thoroughly before buying the gown; checking photos for signs of wear and tear and asking the seller plenty of questions, including whether it is possible to return the dress, if necessary. Women must also be sure to compare their own measurements with that of the dress' since vintage sizing differs from more modern sizing. When the buyer finally sees the gown, its condition must be inspected for any signs of damage that can compromise the dress's appearance. To complete the bride's look on her wedding day, she should consider choosing vintage accessories. With so many vintage wedding dresses available, eBay can help any bride look stunning on her special day.