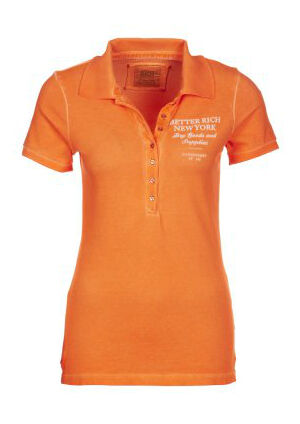 A women's polo shirt, popularly associated with golf and tennis, features a collar and an opening in the upper part with two or three buttons. These shirts may have a breast pocket and are usually made of knitted cotton fabric. A typical women's polo shirt has short sleeves, but it can also have long sleeves or no sleeves. A women's polo shirt is an alternative garment in situations where a T-shirt would be regarded as too casual, or where formal business attire leaves the wearer looking overdressed. Although these shirts remain popular amongst sports enthusiasts, the polo shirt is now so versatile in design that it can be worn in a variety of non-sporting settings. These shirts come in a wide array of colours and are manufactured by many leading clothing companies. They also come in various fabric choices. Each fabric offers the shirt a unique feel and quality of wear. Women's polo shirts are available to purchase from department stores and online shops. In order to help women to buy a polo shirt, this guide will discuss the history of polo shirts, provide insight on the various types, advise on how to care for them, and recommend ways to search for and buy a women's polo shirt at an online retailer such as eBay.
History
The history of the woman's polo shirt dates back to the 1920s. The tennis player, Rene Lacoste, decided that the attire worn for his sport was uncomfortable and stiff. As an alternative, Lacoste created a white, short sleeve, loosely knitted cotton shirt. The shirt featured an unstarched collar, designed to be turned up to block the wearer's neck from the sun, and a buttoned placket: an opening in the upper part. The back of the shirt hung slightly longer than the front, preventing the shirt from becoming untucked from the wearer's bottoms. This design earned the nickname the "tennis tail".
The shirt made its debut at a 1926 US Open Tennis Championship match, worn by Lacoste himself. The following year, Lacoste gave the shirt its iconic crocodile symbol on the left breast. This came from Lacoste's tennis nickname, "The Crocodile", which he gained from his aggressive playing style. The shirt's design proved a success and was quickly adapted beyond the tennis community because of its comfort and the breathability of the fine textured weave of the knitted cotton fabric.
In 1933, after ending his professional tennis career, Lacoste marketed his shirt across Europe and North America with the help of his friend and clothing merchandiser, Andre Gillier. Their company, Chemise Lacoste, was a huge success, and is still a leading manufacturer in the modern clothing industry.
Types of Polo Shirts
Women's polo shirts continue to grow in popularity. To meet high consumer demand, manufacturers and retailers have increased the number of styles available for this shirt.
Women's Performance Polo Shirts
Women's performance polo shirts are commonly associated with sportswear. The fabric is designed to remove perspiration from the wearer's skin. Performance wear regulates body temperature, keeping a woman's body cool in hotter weather and warm in colder weather. Its ability to dry quickly and its breathability make it ideal for fitness activities. Many performance polo shirts also offer UV protection from the effects of the sun. In addition, many are made of antimicrobial fabric to help to reduce odour. These shirts tend to be more expensive than traditional polo shirts because of the increased number of features that they offer the wearer. Popular performance polo shirts are made by sportswear companies such as Nike, Lacoste and Adidas.
Women's Blended Polo Shirts
Women's blended polo shirts offer the wearer durability and are stain resistant. They are relatively inexpensive, but are not good for sportswear. Instead, they are better suited for work environments and are a popular component of school uniforms.
Women's 100 Per Cent Cotton Polo Shirts
Women's 100 per cent cotton polo shirts are known for their extreme level of comfort. However, the shirt does come with some disadvantages. Unlike other polo shirts, 100 per cent cotton shirts tend to shrink if washed in hot water or dried in high heat. Additionally, this fabric is easily creased if it is not removed from the dryer immediately. There are various types of cotton and weaves which can be used to construction the polo shirt. Interlock cotton shirts feature a soft, smooth texture. Pique knit shirts are the most popular with their fine textured knit that features small holes. Combed cotton is cheap to manufacture and is often combined with a pique knit to create a heavier and more durable garment. Pima cotton is finer and softer than the other types.
Women's Jersey Knit Polo Shirts
Women's jersey knit polo shirts are more affordable than any other type of polo shirt. They are similar to a T-shirt and have gained the nickname "T-shirt with a collar". Unlike other styles, jersey knit polo shirts do not last well over time and are susceptible to stains. One advantage to this style in comparison to others is that the fabric can be printed or decorated with embroidery.
Caring for a Women's Polo Shirt
Women's polo shirts should be machine washed in cold water. Light and dark coloured clothes should be washed separately to help to preserve their colour. Polo shirts should then be tumble dried on a low setting to prevent the garment from becoming disfigured. Bleach can be used on white shirts, after checking the care label. However, bleach is never recommended for colours.
Women's polo shirts are prone to creasing, so they may need to be ironed before making a public appearance. Steam irons work best and should be used on a cool setting. To avoid creating extra work, women's polo shirts should be removed from the dryer immediately after the cycle has ended. The sooner the shirt is ironed after drying, the less effort will be required to remove the creases.
While some women choose to hang their polo shirts on wooden or plastic hangers, others opt to fold them and store them in a drawer. It is best to avoid wire hangers, as they leave imprints in the shoulder region, which can be difficult to remove, even by ironing. Storing the shirt in a drawer can cause unsightly creases if it is not folded properly. When folding, the shirt sleeves should be folded in, in an overlapping fashion. The bottom of the garment should be folded upwards and the top of the shirt should then be folded over the bottom.
Buying a Women's Polo Shirt
Women's polo shirts are widely available both in high street shops and from online retailers. Online marketplaces, such as eBay, offer buyers a large selection of women's polo shirts designed to fit various needs and budget.
Buying a Women's Polo Shirt on eBay
From the eBay homepage, you can used the search bar to look for "women's polo shirts". If you know the exact item you are searching for, entering this information, such as "Lacoste pink women's polo shirt", will give the most accurate results. If you are unsure about the exact colour or brand of polo shirt that you wish to buy, then using general search terms will allow you to browse through a wide range of results and may even give you some inspiration.
Before placing a bid on an item, you should always check the seller's returns policy in case the polo shirt does not fit properly or is not what was expected. While many sellers allow refunds with returns, postage, packaging and insurance costs are generally non-refundable. It is also important to familiarise yourself with sellers who have been awarded Top-rated status. This status is achieved by getting consistently positive feedback ratings from past buyers and offering a high level of customer service. Sellers with a high percentage of positive feedback have a reputation for dealing fairly in the eBay community and are known for providing good quality products. Sellers can be contacted by using the Ask a question link on the item listing page.
Conclusion
Women's polo shirts are ideal for both on and off the tennis court and finding the right shirt should be easy with so many choices available. When buying a polo shirt, women should consider what occasion the polo shirt will be worn for. If it is for in a game of golf or tennis, then opt for a performance shirt that offers the wearer breathability and moisture wicking properties. If it is for casual wear, then a cotton or pique polo shirt would be best. Women should also consider how to style the polo shirt. A long sleeve shirt is ideal for wear during autumn and winter, whereas a short sleeve polo shirt is better suited for warmer seasons. A short sleeve shirt can also be worn layered with another garment on top, while still looking fashionable with its collar raised. With so many polo shirts to choose from, eBay can help a woman to find the perfect look for her next informal occasion.