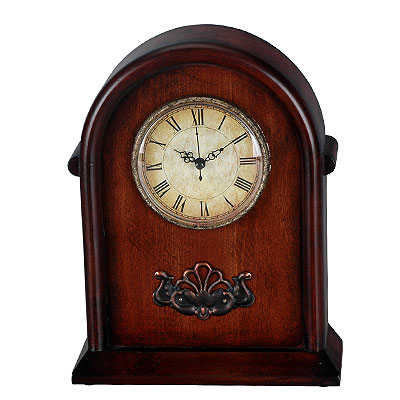 Wooden antique mantel clocks can add a beautiful and valuable piece of history to any shelf. With ornate craftsmanship, a variety of colours, and unique wood grains, they're a popular choice for antique buyers. Before heading out to browse in stores or online, however, a prospective buyer may benefit from considering a few simple points outlined in this guide. By understanding the various types of wooden mantel clocks on the antique market, what it is that defines them as antique, some of the typical features to look out for, and simple methods for wood and clock maintenance; a buyer can be better prepared to find the right wooden antique mantel clock for their needs.
History of Wooden Antique Mantel Clocks
Water clocks and sundials, dating back thousands of years, were some of the earliest timepieces. Built by the ancient Egyptians, their ceramic and stone construction used physical properties, such as the earth's orbit or liquid displacement, to measure the passing of time. Over the course of the following centuries, technological advancements fed the ever-increasing accuracy of time measurement, and materials such as wood became common for clock case construction.
Mantel clocks, including wooden designs, were invented in the mid-seventeenth century. Designed as small and practical timepieces, many of the first mantel clocks, known as chamber clocks, even had handles for easy transportation. Over history, varying wood species were used to construct ornate cases. As these intricately manufactured pieces were passed or sold down from generation to generation, many have become current antiques that are still functioning perfectly today.
Discover Wooden Antique Mantel Clocks
A wooden mantel clock's ability to be freestanding on a shelf means that it can be versatile as well as easily read. Their wooden construction generally only extends to the case of the clock, as interior mechanical components are made of metals such as brass. The wooden exterior, however, is considered by some buyers as more interesting to metal designs, with the changing wood grain and rich colours. It is important to note, however, that wooden clocks do have metal in their construction, often having brass ornamentation on the face and inside the case. It is expected, however, that a mantel clock that is described as 'wooden' has an exterior this is predominantly made from the material mentioned.
As well as their function and woodwork, these clocks are defined by their age. This is an important point for a prospective buyer to note before purchasing. Though the term 'antique' is somewhat debated, most collectors and professionals agree these items to be at least one hundred years old. Occasionally, buyers will find that 1930 is also considered a measuring year, but regardless, the important consideration is that not every old wooden mantel clock is defined as an antique. Considering that these popular pieces of history are still replicated today by manufacturers, the original antiques themselves should not be confused with 'antique style' or 'second-hand' pieces.
Parts of Wooden Antique Mantel Clocks
Clocks contain hundreds of moving parts,, springs and gears, which all need to be working well to allow the clock to keep accurate time. Below is a list of the components that make up most antique wooden mantel clocks.
| Part | Description |
| --- | --- |
| Power source | Allows the clock to continue working and is generally wound by a key. |
| Oscillator | Vibrates at a steady frequency, such as a pendulum, and is connected to the controller. |
| Controller | 'Pushes' the oscillator to make up for any frequency lost by friction, which releases a measured pulse. |
| Counter Chain | Combination of gears that converts the pulse from the controller into minutes and seconds on the indicator. |
| Indicator | The readable portion of the clock and commonly represented by two 'hands' and the numbers one through twelve, or numerals. |
| Chime | Additional mechanism that creates noise upon certain positions of the hands, usually on the hour, although it can be at shorter intervals. |
| Key | Used to periodically wind the clock and keep it running. |
| Case | The wooden exterior of the clock. |
Types of Wooden Antique Mantel Clocks
Considering that mantel clocks are defined by their simple ability to be freestanding on a shelf, those with wood construction end up being further categorised by additional criteria. Some pieces made during the Napoleonic Empire during the early nineteenth century are known as French Empire clocks, though they are often adorned with brass and other materials. Other varieties, such as the more common 'tambour' clock, have a gentle curve to the top to their case and a flat base.
It is important for a buyer to note that it is not simply the name of a mantel clock, such as 'tambour,' that clearly identifies its construction as wooden. In theory, any style of antique mantel clock could potentially be found in wood, brass, bronze or any other number of other materials. Below are listed some examples of antique mantel clocks that can be found in wooden designs.
| Type | Description | Advantages | Considerations |
| --- | --- | --- | --- |
| Tambour | A common and simply designed mantel clock, with very distinctive shape | Design fits most décor | Generally needs winding each week |
| Atmos | Runs using pressure and temperature from the atmosphere | Does not need winding | Often contained inside a glass box |
| Torsion | Pendulum operated clock with a dense disk or wheel sometimes decorates by balls | Runs longer than many other pendulum clocks | Difficult to operate and can be inaccurate compared to other designs |
| Decorative | Heavily ornate designs, often with sculpted figures or scenes larger than the clock face | Generally an interesting variation on the simple mantle clock | Elaborate design can possibly fail to match current décor |
| Carriage | Small clock with a handle | Designed for travel | Often found with brass construction |
Factors to Consider When Buying a Wooden Antique Mantel Clock
Before deciding on which of the above clocks is the right one for purchase, a buyer should consider a few further factors.
Maker's Mark – Most wooden antique mantel clocks are marked by their manufacturer which can give the piece valuable authenticity and further inform the buyer as to its origin.
Condition – A buyer should check to see if the wood is scratched or chipped, or in good repair.
Transport – Antique clocks are precision instruments and adequate transportation arrangements need to be considered.
Components – Considering that wooden antique mantel clocks are often well over one hundred years old, many of the internal pieces may have been replaced with modern parts, potentially changing the value.
Typical Features of a Wooden Antique Mantel Clock
1. Face
Every antique mantel clock has a carefully crafted face that will vary slightly in size. They are often made from enamel or hand-painted ceramics. From Roman numerals to numbers, there can be as many designs of clock faces as there are colours and typefaces, though they often remain minimal for easy reading.
2. Hands
A wooden antique mantel clock's hands are a distinguishing element against the background of its case, as they are generally made of metal. They can come in various shapes and designs, from straight to more ornate designs. They may feature a seconds hand, or just hands for the minutes and hours.
3. Woodwork
Wooden mantel clocks are distinguishable by the shapes in their construction. A buyer can chose from many different styles, from simple tambour curves to sculptural designs.
4. Wood Species
Antique mantel clocks are often sought after for the type of the wood that they were built from. Different wood varieties such as oak, beech and mahogany will give the clock different qualities such as colour and weight.
5. Chimes
Many antique mantel clocks have an hourly or even quarter-hourly chime, as well as a second-by-second tick. Chimes vary in their amplitude and frequency and can also come with a silencing option. The most common chime is known as the Westminster Chime.
6. Key Winding
Most wooden antique mantel clocks will require hand winding with the use of a metal key. Some have what is known as an 'eight day movement,' requiring winding once a week. Others have longer movements such as fourteen days. It is important to understand what each clock may need to maintain accurate time.
How to Care for Wooden Antique Mantel Clocks
Wooden antique clocks, like any other antique, require a certain level of care and attention in order for them to continue working for years to come. Below are some simple tips to help take care of these fragile devices.
Do not allow an antique mantel clock to overheat as it may warp the internal parts or damage the exterior finish. Mantel clocks, despite their name, should not be placed above working fireplaces or directly by radiators, and should be left out of direct sunlight if possible.
Treat the clock's antique wood finish in the same fashion to antique wood furniture, ensuring dust, moisture and pests do not jeopardise its quality.
A wooden antique mantel clock that is wound by hand must be done so regularly, and care must be taken not to wind it too far.
Due to their complex design, wooden antique mantel clocks should be taken to professionals for any serious cleaning.
Mantel clocks should be placed on even surfaces in order to tell accurate time. The owner can check the consistency of the second hand movement to learn if it is positioned correctly.
Wooden Antique Mantel Clock Manufacturers
Manufactures of antique clocks can be found all over the world. Below is a selection of some of the makers:
J. B. Joyce and Company
Simon Willard
James McCabe
Eli Terry
John Arnold
Ansonia
John Harrison
Joseph Knibb
Payne
George Graham
Martin Burgess
Richard Donisthorp
William Clement
William Potts and Sons
Finding Wooden Antique Mantel Clocks on eBay
Once you determine the type of wooden antique mantel clock that you want to purchase, visit the Antiques portal on eBay, select Clocks and start searching item listings. The Categories list on the left-hand side of the eBay page helps to narrow the search.
Searching for Wooden Antique Mantel Clocks on eBay
Search eBay listing titles for specific words when shopping for wooden antique mantel clocks. For example, to find a nineteenth century tambour clock, type 'Nineteenth Century Tambour Clock' into the search box, and then click the Advanced button to customise the results. Also visit eBay's Search Tips ppage for more advice on searching for antiques with keywords. If you can't find the exact wooden antique mantel clock you want, try shopping eBay Stores..
Conclusion
Wooden antique mantel clocks offer a buyer a unique, attractive and practical addition to their home. Due to the large amount of information that buyers may find upon first browsing mantel clocks, it can be a good idea to take consideration of the above-mentioned guidelines. It is advisable to be equipped with the knowledge of what separates a wooden antique from other used clocks, the specific features of the mantel clock to look out for, the variety of wood options on the market, and the care that should be taken to retain their value. Once you have collected this information, you can buy a wooden antique mantel clock safely and securely on eBay..