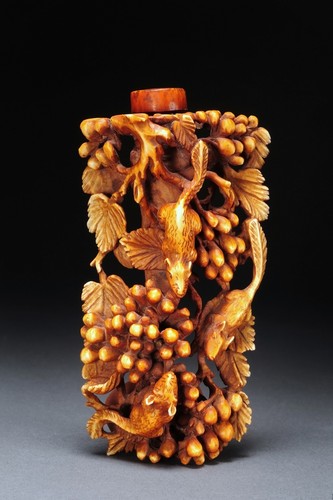 Purchasing an antique Chinese snuff bottle for a collection or personal use may not be as easy as purchasing other collectibles, since there isn't much consumer information about buying snuff bottles. This guide provides a complete overview of Chinese snuff bottles, from the types of snuff bottles that are produced, to the factors that affect one's buying decision. It includes a brief history of the Chinese snuff bottle and provides a list of manufacturers that produce them.
History of the Antique Chinese Snuff Bottle
Snuff bottles were first produced in China during the Qing Dynasty. It was designed to store tobacco, which was used to treat illnesses. Snuff bottles were manufactured with care and displayed beautiful designs. One of the most popular designs featured cobalt blue over glazed white porcelain. The intricately-crafted bottles were commonly given as gifts among the elite. As powdered tobacco, or snuff, became more popular and accessible, people in every social class in China owned snuff bottles. Today, snuff bottles are displayed in art museums, some are privately collected, and some are still used to store tobacco.
Discover Antique Chinese Snuff Bottles
Snuff bottles that were produced in China are considered Asian antiques that fit within the collectibles or art section of most museums and retailers. They are small enough to fit in the palm of your hand and can be displayed on a shelf. There are two reasons to purchase a snuff bottle. The first is for its artistic value, and the second is for its functional value, which is to store small quantities of tobacco.
Parts of the Antique Chinese Snuff Bottle
The antique Chinese snuff bottle consists of a few parts - the trunk of the bottle, the stopper and a spoon that fits in the mouth of the bottle.
| Part | Description |
| --- | --- |
| Bottle | Hollow, round trunk with a narrow neck and small opening at the top. The shape of the bottle may vary, depending on the design. It could be rectangular, an hourglass, or an animal. The variety is endless. The bottle may be carved and painted. |
| Stopper | The stopper keeps the bottle air-tight and substances within from falling out. Usually, it is a solid semi-circle and it may be attached to the spoon. |
| Collar | Some snuff bottles will feature a collar around the mouth of the bottle. The collar also sometimes bears intricate designs. |
| Spoon | A narrow rod attached to the stopper that fits into the mouth of the bottle. Some snuff bottles may not have a spoon. |
Types of Antique Chinese Snuff Bottles
There are several types of antique Chinese snuff bottles. Some of the most popular types include glass snuff bottles, jade snuff bottles, porcelain snuff bottles, and bone snuff bottles.
| Type | Description | Advantages | Considerations |
| --- | --- | --- | --- |
| Glass | This type of snuff bottle is made from glass. | Glass snuff bottles can be painted and designed with various colors. | Glass snuff bottles are not as durable as other types. They are prone to cracking. |
| Jade | This type of snuff bottle is made from jade. | Jade snuff bottles can be carved into many shapes and forms. These bottles are sold with a variety of patterns. | Jade snuff bottles are made from material of varying grades. Some grades are better than others. If the jade stone has been dyed or stained, the bottle will not be transparent. |
| Porcelain | This type of snuff bottle is made by heating raw materials such as clay to form ceramics. | Porcelain snuff bottles are available in many shapes and sizes. They are easily decorated with intricate pictures. | Porcelain snuff bottles generally hold much more tobacco than other types. Light smokers may consider other types. |
| Bone | This type of snuff bottle is made from various animal bones and ivory. | Bone snuff bottles are created with great care and are aesthetically pleasing. | Bone snuff bottles are much rarer than other types and are generally more expensive. |
| Copper | Copper snuff bottles are usually made with copper and enamel. | Most are painted with beautiful designs | The stopper is usually made of a separate material which may not match well with the bottle. |
| Stone | Snuff bottles are made of natural stone such as agate. | Natural stone bottles have unique patterns that set them apart from other types of snuff bottles. | Stone snuff bottles have rough tops which may not fit well with most stoppers. |
| Silver | These snuff bottles are made of silver or plated with silver, over enamel. | Silver snuff bottles are usually carved, resulting in intricate designs and features. | The prices of silver snuff bottles vary greatly. The material should be tested to determine silver purity. |
Factors to Consider When Buying an Antique Chinese Snuff Bottle
There are a few things to consider when buying an antique Chinese snuff bottle. The appearance of the bottle, the material it is made from, and the uses of the snuff bottle are three factors to consider.
Appearance – Chinese snuff bottles are produced in a limitless variety. The shape, colour, size, and design of the bottle are important things to consider. Some are carved and hand-painted, while others are moulded and dyed. Choose one that fits your preferences.
Material – The material from which Chinese snuff bottles are made is another factor to consider. It affects the durability of the bottle and the price. Snuff bottles made from silver are the most expensive, while snuff bottles made from glass are more prone to breaking.
Uses – Collectors buying for their personal collection may want to add unique bottles that have intricate designs that are ideal for display. For recreational or medicinal users who enjoy tobacco, you could choose either a personal snuff bottle that fits in the pocket or one that is a bit larger for a patio table.
Budget – A budget is often the deciding factor in a potential purchase and finding a hidden gem online is possible with some research and patience. Look at purchasing pieces that are of higher quality as those tend to increase in value at a more consistent rate.
Ask questions – The sellers are usually very helpful in offering up information on items, so do not hesitate to ask. Try to get information about the age, condition, size, and any other details they may have that would confirm that the item they are selling is a genuine antique Chinese snuff bottle.
Typical Features of an Antique Chinese Snuff Bottle
1. Hollow Bottle
Antique Chinese snuff bottles are hollow, which provides room to hold tobacco or other substances. Small bottles can hold enough substances to last for short durations, which is ideal for travel, while larger bottles have a capacity for much more and could be ideal for use at home.
2. Air-tight Top
The stoppers of most snuff bottles prevent the smell of the substance contained within from escaping the bottle. The stoppers also prevent moisture in the air from coming into contact with the substance and contaminating it.
3. Design
The striking and beautiful designs and colours of snuff bottles create a nice display in any home. Snuff bottles can be placed with other collectibles to enhance the appearance of a display case.
How to Care for Antique Chinese Snuff Bottles
The main concern with snuff bottles, as with other collectibles is dust. It is recommended to use a feather duster or cloth to remove dust and to clean the surface. Other concerns include tobacco stains, if the snuff bottle is used for that purpose. Use a wet cloth dipped in water to clean the surface. If the stain is hard to remove, use rubbing alcohol.
Popular Antique Chinese Snuff Bottle Manufacturers
Zhuozhou Jinya Jade Crafts Factory
Beijing Songshi Furniture Factory
Shakya Handicraft Limited
Lianyungang Jing Liu Crafts Company Limited
White Wolf Trading Company
Qingdao Higra International Trade Company Limited
Amoy Crafts Company Limited
Xiamen Yihang Industrial Company Limited
Chaozhou Wanhong Ceramics Industry Limited
Accessories and Add-ons for Antique Chinese Snuff Bottles
There are several accessories that you can purchase with the antique Chinese snuff bottle.
Snuff bottle spoon
Snuff bottle chain
Snuff bottle display case
Snuff bottle tray
Finding an Antique Chinese Snuff Bottle on eBay
Once you determine the type of Antique Chinese Snuff Bottleyou want to purchase, visit the Antiques portal on eBay, click on 'Asian Antiques&', then 'Snuff Bottles' and start searching item listings. The Categories list on the left-hand side of the eBay page helps to narrow the search.
Searching for an Antique Chinese Snuff Bottle on eBay
Search eBay listing titles for specific words when shopping for anantique Chinese snuff bottle. For example, to find an antique Chinese silver-plated snuff bottle, type antique Chinese silver-plated snuff bottle into the search box, and then click the Advanced button to customise the results. Also visit eBay's Search Tips ppage for more advice on searching for Asian antiques with keywords. If you can't find the exact snuff bottle that you want, try shopping eBay Stores..
Conclusion
Antique Chinese snuff bottles are made from several materials including glass, jade, stone, and silver. They are hand-carved or moulded and feature unique designs, patterns, and colours. Consider the advantages of each type of snuff bottle and determine which one is more appealing. There are several manufacturers and independent retailers that offer snuff bottles on eBay.
Once you have collected this information, you can buy an antique Chinese snuff bottle safely and securely on eBay..