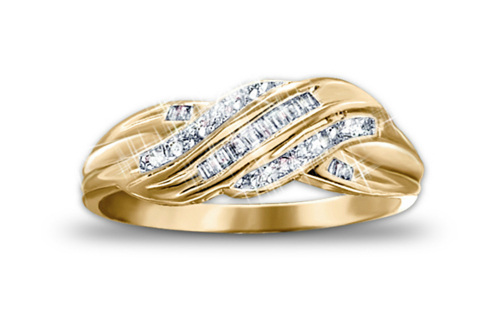 The eternity ring is a powerfully romantic gift, expressing everlasting love and commitment. Dating back to at least 2,000 BC, the eternity ring remains a symbolic representation of love. Eternity rings can be made of gold, including yellow, rose, and white. Alternative metals include silver, platinum, stainless steel, or titanium. Eternity rings are most commonly set with cut stones, such as diamonds, emeralds, rubies, sapphires, rhinestones, or cut glass. An eternity ring is a gift that will be treasured for many years, so care should be taken when it is chosen. The size of the eternity ring needs to be correct to ensure that the ring is not lost. eBay makes the selection and purchase of an eternity ring very simple, even for novice online shoppers. Using the tools provided by eBay, buyers can find a stunning array of eternity rings, catering to every budget, ring size, and taste.
Metals for Eternity Rings
The most common and traditional metal used for eternity rings is yellow gold. However, many alternatives are available, including other colours of gold, silver, platinum, stainless steel, and titanium. The choice of metal depends on the preference of the wearer and the available budget.
Yellow Gold for Eternity Rings
Yellow gold is the classic choice for eternity rings. It is a soft metal with a warm shimmer that is much loved by many. Yellow gold is made by combining pure gold with copper and zinc to get the beautiful colouring. The yellow tone to this gold varies according to the carat. The higher the carat, the richer the colour.
Rose Gold for Eternity Rings
Rose gold has a subtle pink hue. It is a combination of pure gold and copper, which produces the distinctive rose colour. While very beautiful, it is far more subtle than yellow gold. This subtlety, combined with the unusual colour makes rose gold a popular choice for eternity rings.
White Gold for Eternity Rings
White gold is pure gold combined with silver, palladium, or platinum. White gold has a very distinctive pale white sheen that catches the light and provides added sparkle. It is a little bit more expensive than other types of gold, but is much loved because of the dazzling white colour, and soft texture.
Silver for Eternity Rings
Silver is less expensive than gold. It is often favoured for use as an eternity ring because of its affordability. Another factor that makes silver particularly attractive is that it tends to work well with any clothing or other jewellery, and is less ostentatious than gold. Most silver eternity rings are simple and understated.
Platinum for Eternity Rings
Platinum is the rarest precious metal, so it is more expensive than other types. It looks very similar to white gold, but is slightly shinier with a colder, sparkling white tone. As well as the subtle colour differences, platinum is considerably stronger than gold or silver. It is resistant to scratches, bending, damage, and corrosion.
Stainless Steel for Eternity Rings
Stainless steel is hard, durable, and comparatively inexpensive. It has a bright, silver toned colour. It is scratch, dent, and corrosion resistant. Stainless steel eternity rings are popular because the metal is hypoallergenic, meaning people who are sensitive to most metals can wear stainless steel without fear of an adverse reaction.
Titanium for Eternity Rings
Titanium has seen an increase in popularity for use in eternity rings, engagement rings, and wedding bands. It is the hardest of all metals used to make jewellery. It does not scratch, tarnish, or corrode. Titanium has a burnished, silver grey sheen. Despite its strength, titanium is lightweight. It also does not react to the skin, and so is suitable for those with allergies or sensitivities to other metals.
Stones for Eternity Rings
eBay offers eternity rings with a wide choice of stone, so there is bound to be a ring suited to every buyer. The most common and most traditional stone used for eternity rings is the diamond. However, there are a variety of other stones used, including rubies, emeralds, sapphires, rhinestones, and cut glass. The available budget has an affect on the type of stone that can be chosen. While diamonds are a highly regarded stone with romantic connotations, other stones can be just as exquisite. Regardless of the choice of stone, an eternity ring is an expression of love.
Diamonds add sparkle and elegance to an eternity ring, but are very expensive compared to many other stones. Emeralds are a deep, eye-catching green. They are can be more subtle than diamonds, but equally opulent. Rubies are a deep, lustrous red and are favoured by many because of their intensely beautiful colouring. Sapphires are a vibrant blue, and make a striking impression. Rhinestones and cut glass are used for lower budget eternity rings and are available in a variety of colours. These stones, despite their low price, can appear stunningly beautiful in an eternity ring provided they are well presented.
Sizing for Eternity Rings
Getting the size of the eternity ring correct is essential. A loose ring is in danger of falling off and being lost. A ring that is too tight can cause pain and discomfort, or in extreme cases, can restrict circulation. Using the table below, buyers can measure an existing, properly fitting ring or the wearer's finger to find the accurate ring size.
| UK Ring Size | Inside Diameter (inches) | Inside Diameter (centimetres) | Inside Circumference (inches) | Inside Circumference (centimetres) |
| --- | --- | --- | --- | --- |
| A | 0.474 | 12.04 | 1.49 | 37.8 |
| B | 0.49 | 12.45 | 1.54 | 39.1 |
| C | 0.506 | 12.85 | 1.59 | 40.4 |
| D | 0.522 | 13.26 | 1.64 | 41.7 |
| E | 0.538 | 13.67 | 1.69 | 42.9 |
| F | 0.554 | 14.07 | 1.74 | 44.2 |
| G | 0.57 | 14.48 | 1.79 | 45.5 |
| H | 0.586 | 14.88 | 1.84 | 46.8 |
| I | 0.602 | 15.29 | 1.89 | 48 |
| J | 0.61 | 15.49 | 1.92 | 48.7 |
| K | 0.626 | 15.9 | 1.97 | 50 |
| L | 0.642 | 16.31 | 2.02 | 51.2 |
| M | 0.658 | 16.71 | 2.07 | 52.2 |
| N | 0.674 | 17.12 | 2.12 | 53.8 |
| O | 0.69 | 17.53 | 2.17 | 55.1 |
| P | 0.706 | 17.93 | 2.22 | 56.3 |
| Q | 0.722 | 198.34 | 2.27 | 57.6 |
| R | 0.738 | 18.75 | 2.32 | 58.9 |
| S | 0.754 | 19.15 | 2.37 | 60.2 |
| T | 0.77 | 19.56 | 2.42 | 61.4 |
| U | 0.786 | 19.96 | 2.47 | 62.7 |
| V | 0.802 | 20.37 | 2.52 | 64 |
| W | 0.818 | 20.78 | 2.57 | 65.3 |
| X | 0.834 | 21.18 | 2.62 | 66.6 |
| Y | 0.85 | 21.59 | 2.67 | 67.8 |
| Z | 0.858 | 21.79 | 2.7 | 68.5 |
The table above provides a straightforward guide to choosing the right size of eternity ring on eBay. It lists the measurements for the inside diameter and inside circumference to provide ease of use. Alternatively, buyers can purchase a ring sizer from eBay.
How to Buy an Eternity Ring on eBay
Buying an eternity ring on eBay is a simple process. There is a large selection on offer in an array of sizes, metals, and stone choices. Buyers can search using the box that appears on every page by entering a key phrase, such as "eternity ring". Buyers can then browse through the thousands of listings available, or they can choose to narrow their search using the useful tools provided. Buyers can limit their search results by price or condition. Entering specific information, such as choice of metal or stone, such as "diamond eternity ring", or a ring size narrows the search results considerably to only the most relevant.
Choosing a Seller
Choosing a seller is key part of the eBay buying process. Buyers should choose a seller that ensures that they receive the best quality eternity ring in a fast, efficient manner. The best sellers can be identified by their high percentage of positive feedback, or the presence of a Top-rated seller seal.
Safe Delivery
Eternity rings are usually quite expensive items, depending on the metal and choice of stone. Therefore, it is advisable to seek a seller that offers guaranteed delivery and postal insurance that matches or exceeds the value of the ring. This information can usually be found on the item listing but, if not, the buyer is able to contact the seller and ask. Buyers may need to pay any additional cost if this is not an option normally provided by the seller.
Conclusion
An eternity ring is the perfect expression of love and commitment. These rings have a long history, dating back thousands of years. Eternity rings can be made from a range of metals, such as stainless steel, platinum, titanium, or gold. They are also set with precious or cut glass stones. An eternity ring could be in inexpensive stainless steel set with rhinestones or cut glass, or at the other end of the spectrum, high quality titanium set with exquisite diamonds. Gold set with diamonds is among the most traditional style of eternity ring, but many other metal and stone choices are available.
eBay makes buying an eternity ring a straightforward and enjoyable experience. Buyers are free to browse through the many thousands of eternity rings available, or can use the filters and a specific search to view only the most relevant rings if they already know what they are looking for. eBay sellers offer a wide selection of eternity rings to suit every taste and budget.