What tie a man wears makes a world of difference when dressing for the day. Men's black ties are versatile and formal and come in many types. One could wear a black funeral tie on a sombre occasion or wear the same black tie with a business suit for an important meeting. Most men need to be prepared with several kinds in their wardrobe.
Types of Traditional Black Ties
Traditional ties feature a narrow end to tie around the neck that tapers down into a wider point at the end. Most are around 7 to 9.5 cm wide. Fashion trends dictate that men try to match the width of their tie with the width of their torso. Basically, a thin person should wear a 7-cm wide tie, while someone with broader shoulders can wear the wide ties. However, thin black ties have become quite fashionable as well. Black skinny ties are around 6 cm wide with some even narrower. They draw less attention while still accentuating the neckline and shirt. Since correctly tying a tie can be a challenge, some men prefer black clip-on ties. These feature a pre-knotted top that has a clip on the reverse side. It simply slides down over collar to secure in place. The only issue is that their length cannot be adjusted.
Types of Black Bow Ties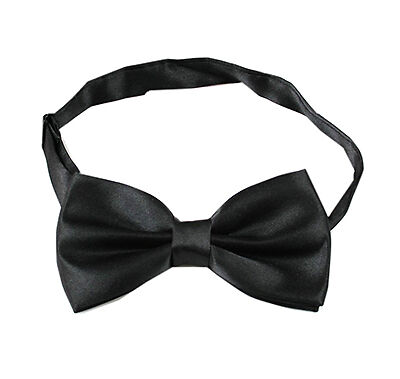 Bow ties are a bit more formal than traditional ties. Rather than hanging down in front of the shirt, they are tied into a small bow around the neck. Pre-tied bow ties slip over the neck and tighten in place with the bow already fixed. This works well for those who have to wear them often and do not want to deal with tying a bow every morning. There are also elastic black bow ties that need no adjustment. Self-tie black bow ties feature an hourglass shape at both ends of a skinny strip that men put underneath their collar to tie into a bow.
Tie Fabric
The most formal ties are made out of silk because the shiny material is attractive, durable, and does not wrinkle easily. However, silk is expensive. Many black ties are made out of polyester blends that feature the same shiny appearance and also have a little more texture.
Stylish Men's Black Ties
Besides a plain black tie, men have other more elaborate options. Spice things up with a black sequin bow tie that sparkles its way through a room, or consider some vintage black bow ties with character and history. For less of an impact, look at black ties with subtle patterns, such as stripes or chequered lines.