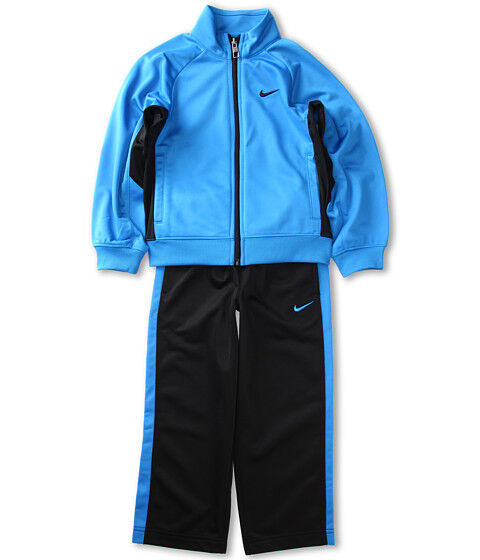 Kids' warm-up garments include exercise gear, track suits, jackets, trousers, tank tops, and gloves. Warm-up garments are intended to be used for warming up before exercise, sports, or dance, but can be used as actual exercise clothing, training gear, and more. Kids ' warm-up garments are normally loose, comfortable, and made of stretchable fibres that will accommodate stretching during workouts and warm-ups. It is important that warm-up clothing be breathable so that children don't develop rash or reddening caused by the clothes' lack of aeration or wickability.
Most warm-up garments are also thermal, allowing the fabric to either keep the wearer cool or warm according to the season. No matter what the warm-up garments are being used for, they should be made of high-quality material that won't easily wear away, they should be moisture wicking to prevent rash, and they should be lightweight so that they do not encumber the child during exercise. This guide presents the types of warm-up garments, their features, and purchasing options.
Types and Variations of Warm-up Garments
Warm-up garments for kids are usually made to fit a few various sports and activities, but they can also be made for a specific sport. For example, trousers made for cycling will be specific to cycling because it is necessary for them to be tight fitting in order to prevent fabric from being caught in the bike chain. Warm-up clothing made for running, on the other hand, is often suitable to a wide range of activities.
Basic Warm-Up Garments
Most warm-up garments can be considered basic wear, meaning that they are suitable for a wide range of activities. These garments include trousers, shirts, jackets, and sweaters designed for activities including yoga, dancing, walking, running, and other various sports. Usually basic sports gear for kids is plain but can come with patterns as well and is available in a wide variety of cuts and styles.
Football Warm-Up Clothing
Football warm-up clothing for kids will usually include shirts and trousers. The shirt should be aerated for breathability and should have appropriate moisture-wicking properties. Trousers can include any type of exercise trousers or shorts.
Warm-Up Clothing for Dancing
Dance warm-up clothing should be very elastic in order to accommodate the wide range of movements expected from a dancer. Depending on the type of dance, a different warm-up apparel will be required but generally, it includes basic warm-up trousers, leotards (either full-body or singlet), and sometimes a simple shirt-and-shorts set.
Dance warm-up garments are usually tight fitting and flexible. Like cycling garments, they must provide the wearer with unhindered movement. Dance clothes are also required to be minimal so that they do not get stepped on, caught or otherwise pulled during exercise.
Winter Warm-Up Clothing
Warm-up garments for winter should be aerated and breathable, but should also help maintain constant the wearer's body temperature. Whether these garments are intended for winter sports such as skating, hockey or skiing, or merely outdoor sports in the winter, the type of sport will determine the type of garment that should be chosen. These garments should be either lined with fleece or labelled as thermal.
Winter warm-up garments for kids should be light and flexible in order to allow full mobility. While coats and jackets are sometimes paired with winter warm-up gear, they are not suitable for many activities such as aerobics.
Special Warm-Up Clothing
Some sports including cycling, martial arts, and wrestling require special clothing for warm-ups and practice. In case of sports that require special garments, most of the time the kids' instructor or coach will tell the parents in advance what type of apparel they need to purchase.
Materials Used in Warm-Up Garments
Warm-up garments are required to be light, flexible, and aerated in order to keep children comfortable while exercising. Common fabrics include elastane, cotton, polyester, rayon, and fleece. Elastane or Lycra is most commonly used for stretchable warm-up garments such as leotards, cycling shorts, and trousers but it is also used as a base for winter warm-up garments because it absorbs sweat. Fleece is sometimes used to line winter warm-up garments in order to add warmth. Cotton is good at wicking away moisture, it is soft, and aerated. Polyester is resistant and dries easily and rayon has a smooth texture and absorbs moisture. Most warm-up garments contain blends of cotton, polyester, rayon, microfibre, and elastane. These materials help wick away sweat, allow oxygen to circulate, and keep children comfortable while warming up or practising a sport.
Kids' Warm-Up Clothing Sizes
Kids' warm-up clothing is sized according to either an S-L method or by age. It's also important to note that some clothing is sized larger or smaller depending on whether or not it should be worn loose or tight. For example, many dance leotards are quite small and some children can size up; however, this is not always true.
Basic Size Chart
The table below presents sizing information for kids' warm-up clothing. Note that the sizes for boys' and girls' clothing differ for children aged 13 and older.
UK Size

Chest (cm) Boys

Chest (cm)

Girls

Waist (cm) Boys

Waist (cm) Girls

Hips (cm) Boys

Hips (cm) Girls

3

55

55

53

53

58

58

4

57

57

54

54

60

60

5

59

59

55

55

62

62

6

61

61

57

57

65

65

7

63

63

58

58

68

68

8

67

66

60

59

70

71

9

70

69

62

61

73

74

10

73

72

64

62

76

78

11

76

75

66

63

79

81

12

79

78

68

64

82

84

13

82

81

70

65

85

88

14

86

85

72

67

88

92

15

89

88

74

69

91

94

16

92

91

76

71

94

96

S (Age 4-6)

-

-

-

-

-

-

M (Age 8-10)

-

-

-

-

-

-

L (Age 12)

-

-

-

-

-

-
It is important to have accurate measurements taken before purchasing warm-up garments in online shops or on eBay. While it is possible to try on clothing in stores, parents have to rely on accurate measurements when buying online. Also keep in mind that children above the age of 12 may or may not fit into children's warm-up clothing sizes.
Accessories to Warm-Up Clothing
Accessories to kids' warm-up garments can include anything from actual accessories to gear bags. Depending on the sport, most warm-up clothing will require appropriate footwear and socks. For example, cycling requires the use of cycling shorts or tights, running appropriate running shoes, and ballet or tap dancing dance shoes of different styles.
Common accessories for warm-up clothing include ankle warmers, special socks and shoes, lanyards for keys, and aerated undergarments. Since warm-up clothing isn't usually appropriate to wear in school, in public or after exercising, it's also important that children have a bag to store warm-up clothing before and after exercise.
Buying Kids' Warm-Up Garments on eBay
eBay features a wide range of kids' warm-up garments including top brands and budget brands from around the world. You can purchase kids' warm-up garments by going to the home page of eBay. Depending on what type of kids' warm-up garments you are looking for, you should type in different keywords. Examples include "kids track suits", "kids' leotards", "kids' football shirts", or similar searches. It is also possible to include other search terms such as the desired colour, size, or brand to refine your search results. You can use the eBay features to select your desired price range, size, age group, and gender and then scroll through a list of refined results.
There are thousands of sellers online offering a variety of different warm-up garments for kids. If you search, you are likely to find what you're looking for. Most sellers are also willing to communicate to let you know more about sizing issues, postage and return fees, and clothing quality so contact the seller if you have any questions.
Buying on eBay is a straightforward and fun experience and you should be able to find whatever you're looking for. However, it is important to keep in mind that unless you buy from a local seller, shipping might take some time, so you will have to wait for your products. Other than that, always remember to compare your child's measurements to those provided by the seller to ensure you are purchasing the right size.
Conclusion
Kid's warm-up garments come in many shapes and sizes and are suitable for a wide range of activities. The most common activities that require warm-up garments include football and dance. However, most activities that require training will require kids' warm-up garments. Basic warm-up clothing is appropriate for many activities but as listed above, some do need specialised garments and protective gear.
It's important to check the size and the material used in the warm-up garment before purchasing it. Exercise clothing should be either elastic or loose enough to provide unrestricted movement. Sizes may differ from a manufacturer or brand to another. Proper fit is important to ensure that the garments don't cause rash, reddening, or discomfort. Dance clothing should always contain at least one per cent elastane, while football shirts should normally be a little larger than normal shirts. When purchasing warm-up garments on eBay, online stores, or in local shops, the main considerations are intended activity, material, and size.