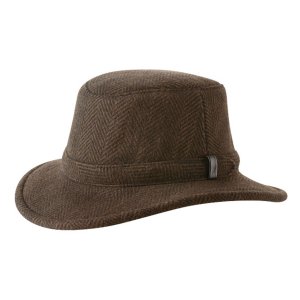 There are many styles of men's dress hats including the fedora, the bowler, the beaver or top hat, the boater, the bowler or derby hat, and many more. Fabrics can include everything from felt, fleece, or wool to a variety of synthetic fibres and leather. Men's dress hats are often used for attending formal parties, for adding stylish accents to an outfit, for creating a unique and distinct look, or for attending any event where a formal dress is preferred.
Dress hats can be work with a variety of clothing from casual to formal to create different looks and styles, according to the wearer's preference. Most people should consider the size and the material when purchasing a hat. For example, if they intend to wear a hat outdoors, a wool hat will lose shape and cause discomfort should it rain. It's also important to know which styles and shapes go with the face shape of the intended wearer. This guide presents the main types of hats and their features, along with tips for selecting the right hat and purchasing it from eBay.
Anatomy of the Hat
Each hat features three distinct parts, the band, the crown, and the brim. Learning the terminology associated with men's dress hats is important for learning to size them correctly, because often this terminology is correlated to measurements.
Crown
The crown is the top part of the hat and can be circular or oval in shape. The crown of a hat can be anywhere from a few centimetres to nearly a third of a meter in length. Most men find that medium to short crowns are most appealing but this is a matter of personal taste. Crowns can feature a hard and rigid body, a soft material that can lose shape when wet, or a combination for a semi-flexible hat. Crowns often feature a taper and sometimes an indent on the front side.
Brim
The brim is the part of the hat that extends away from the crown, usually to screen the face. Brims can have various lengths and can be slanted up or down. Common classifications of brims include short or narrow, wide or long, slanted or angled.
Band
The band is the ribbon or seam that runs around the bottom of the hat, connecting the brim to the crown. Most old-fashioned and high-quality hats will feature a band. The band helps the hat to maintain its shape.
Taper
The taper applies to some hats but not all. Tapering is the narrowing of the hat to one side of the top of the crown. Common examples of hats that taper include the Stetson or properly-moulded fedora. Sometimes, tapers have to be reshaped on hats such as the fedora or other wool hats. This is usually done by damping the hat, pinching the front together onto a hat stand and using the thumbs to create two indents.
Sweatband or Puggaree
Not present in all men's dress hats, the sweatband or puggaree is a band of fabric on the inside of the hat, meant to absorb perspiration. The sweatband can affect the fit of the hat by making it slightly smaller. Sweatbands are common on most hats that are designed to be worn outdoors and on most leather hats that might cause the head to sweat.
Types of Men's Dress Hats
There are many styles of men's dress hats but most of them fall into the following basic categories and are either variants or different styles under the same name. Some models were more popular than others in the past. For example, the fedora is now very popular, but in the past, the bowler and top hats were much more popular.
Bowler or Derby Hat
The bowler or derby hat is typically made of felt and features a round crown with a relatively small brim that doesn't necessarily extend over the forehead. Bowlers were popular as a 'gentleman's hat' after the top hat fell out of style in the 1800s. Today they are popular as both formal and semi-formal hats.
Fedora
A fedora hat is a soft felt or wool hat with a medium-length brim, and is commonly worn with a taper on the forward end. Fedoras are traditionally made of felt but can sometimes be made of wool as well. This hat was very popular in the late 1800s, but it is still one of the most popular dress hats for men today.
Top Hat
A tall cylindrical hat that is no longer in style for everyday wear, the top hat is usually worn only for morning or evening dress. It can be made of leather, silk, and sometimes felt. Top hats are also known as toppers, beaver hats, high hats, silk hats, chimney pot hats, and stove pipe hats due to their elongated shape. Top hats are now used as parts of very formal ensembles, magician outfits, but they can also be part of contemporary or unique fashion styles.
Trilby
A narrow-brimmed felt hat with fedora-style crown, trilby hats are usually favoured by the 'upper class' and are commonly worn at horse races. The trilby is a derivative of the fedora but has achieved much popularity in its own right. The narrow brim can usually be folded or buttoned up or down for a completely different look.
Walking Hat
A walking hat is similar to the fedora in material and style but generally much larger in width. The walking hat is known by more than ten different names but is characterized by a large floppy brim, medium crown, and usually a medium taper.
Gambler
The gambler hat features a small, round crown with a large, sometimes floppy brim. This is another hat that can be found under various names. The gambler is a derivative of the bowler with a larger brim and will sometimes closely resemble the Stetson or cowboy hat when the rounded crown is flattened.
Men's Hat Sizes
Men's hat sizes are usually listed in either a numerical or an S-M-L format. Usually more expensive hats will feature the numerical sizing while cheaper versions will be given the basic sizing. Men's hats are sized according to the circumference of the head and run from S or XS sizes to XXXL.
Men's Hat Size Chart
The next table is a guideline for men's hat sizes; each size corresponds to a range of head circumferences. To find the correct circumference of the head, measurements are taken at about 1.3 centimetres above the ears.
| Size | Numeric Size | Measurement (cm) |
| --- | --- | --- |
| S | 6 ⅝-6 ¾ | 54-55 |
| M | 6 ⅞-7 | 56-57 |
| L | 7 ⅛-7 ¼ | 58-59 |
| XL | 7 ⅜-7 ½ | 60-61 |
| XXL | 7 ⅝-7 ¾ | 62-63 |
| XXXL | 7 ⅞-8 | 64-65 |
It is important to note that the size of the hat is not based on the weight of a person, but instead on the size of the head. The above chart should be only used as a guideline. Buyers are advised to check the sizing details provided by the manufacturer when purchasing a dress hat, as sizes may slightly differ.
Choosing Men's Dress Hats
While it's true that men's dress hats were originally intended for formal wear, it is not true that they must be worn formally. Many men have taken to wearing hats as part of their everyday fashion or style, or whenever they want to dress up a bit. Depending on the fashion, it's perfectly fine for men to pair bowler hats with T-shirts or sneakers. However, most of the time, men's dress hats look most appropriate when worn with formal clothing including suits, blazers, formal trousers, and dress shoes.
Most men choose dress hats according to the shape of their face or to avoid accentuating certain features. Men with round faces should choose a fedora, gambler, or similar style hat with a medium brim and medium taper. The result is that the face will be lengthened but not dwarfed by an overly large hat.
Men with rectangular faces and a small chin and wide forehead should choose hats with a wide brim and a short crown like the fedora. Those with a large chin and narrow forehead should choose hats with medium to short crowns and small brims, such as the fedora, trilby, or gambler. Men with a square face should choose hats with a medium crown and small brim such as bowler hats, short top hats, and trilbies.
Buying Men's Dress Hats on eBay
eBay contains a wide selection of men's dress hats including popular fedoras, bowlers, and trilbies as well as fancier options such top hats. eBay also features different qualities and styles. For example, many dress hats on eBay are sold as party novelties or fashion accessories. These hats are not always up to the quality standards of high-street shops but are more affordable. eBay also has a range of very high-quality men's dress hats in a range of styles and fabrics and these are usually priced to match the quality.
If you're buying men's dress hats on eBay, go to the home page to begin your search. From there, decide what style of hat you are looking for and type the relevant keywords into the search bar. Options include 'men's fedora', 'men's silk top hat', or even a generic term such as 'men's formal hat' if you aren't sure what you are looking for but want to see what is available.
You can select your desired size, colour, and sometimes style to narrow your search. It is also important that you check the size chart to make sure that hats aren't sized differently. Asking the seller or looking at size charts should clear up any issues before you make a purchase. Once you have selected an item, you can choose your payment and mailing options.
Conclusion
There are many styles of men's formal hats, including the fedora, and trilby, and each one is best suited to be worn with certain outfits and for different occasions. Men should choose the hats not only according to style and fashion trends, but also considering the features and overall shape of their face. Some hats, such as the fedora, are stylish and look good with most men. Others, such as the top hat, can be tricky to wear outside of a party or informal events.
People buying hats should consider the size, the quality, and the material as these will all affect the eventual outcome of the hat. More expensive hats are usually of better quality and will last longer, maintain their shape better, and generally look better than budget hats. However, for casual wear, a budget hat can be just as appropriate. To select the correct size when buying a men's dress hat from eBay, buyers should measure the head circumference of the wearer and compare it to sizing charts available.