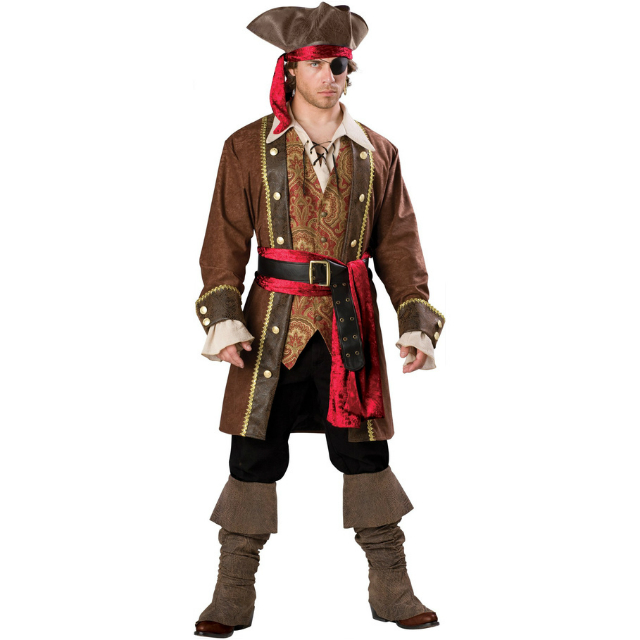 Men searching eBay for period costumes can find items from several eras including ancient times and Edwardian, Elizabethan, and Regency eras. Men's period clothing can refer to a number of clothing replicas from periods of fashion throughout history. Worn for fancy dress parties, theater plays, and historical re-enactment events, men's period costumes can come from a variety of historical eras starting with medieval times.
Men's period clothing on eBay includes a variety of costume, fancy dress, and historical reenactment gear that can be used in many occasions. Prices, styles, and models vary per the seller and buyers can choose clothing quality based on their needs.
This guide includes information about various period costumes and the essential types of clothing to represent each period. Men should purchase period costumes according to their normal clothing sizes. In most cases, when not used in theatre, period costumes are most popular for fancy dress including themed parties, photo shoots, and other occasions which require costume, such as Halloween.
Types of Costumes
When selecting a costume to buy from eBay, the main thing to consider is the occasion for which the costume will be used. This section presents the main types of costumes available for sale on eBay.
Period Costumes for Theatre
Most men should consider that theatres generally have certain requirements for period costumes that similar clothing on eBay might not reproduce. For example, a period costume for theatre should match those worn by the rest of the troupe, be of very high quality, allow free movement, and not be prone to rips and tears. Many men's period costumes on eBay are sold as just that, costumes. It is important to check the description or ask the seller about the quality of the costume and what it can be used for. Most of the time, theatre costumes will be labelled as such which means that it isn't usually difficult to tell these costumes from standard costume versions.
Costumes From Greek and Roman Periods
eBay features Greek and Roman period men's costumes including robes, sandals, hoods cloaks, togas, gladiator costumes, and armour. The Roman period was defined by four classes of citizens, the ruling elite, the Roman citizens, soldiers, and slaves. Each of these classes dressed in a different manner befitting their status.
Roman soldier and gladiator costumes are perhaps the most popular and easily recognisable from this period. Outfit assembles include swords, shields, helmets in a variety of styles, and lace-up sandals. Also part of these costumes are cloaks that either tie over the shoulders or attach to armour; chest pieces in leather, plastic, or copper; leg guards and arm guards; and armoured skirts. Other Roman- or Greek-style costumes are usually simply robes in white, red, or gold.
Medieval Period Costumes
The medieval period is perhaps one of the most recognisable for knights and peasants. Men's medieval costumes include a variety of styles suitable for both fancy dress and theatre. Men's costumes from the medieval period can range from imitation to genuine chain-mail and steel armour, cloaks, swords, shoes, doublets, breeches, and more.
A typical knight costume should contain armour, helmet, sword, mace, knife, boots or armoured boots, and an overcoat if the uniform is intended to be formal. Period dress of the time also includes chain mail hoods which can be worn with or without armoured clothing so long as the breeches and the doublet or medieval style shirt beneath are up to period. Typical medieval fabrics are rough colours including red, brown, blue, and white.
Renaissance or Elizabethan Period Costumes
Renaissance and Elizabethan dress are interchangeable. This period is most popular for pirates, jesters, soldiers, and court dress. Typical costumes include priests, pirates, and knights with minimal armour, usually chain mail and leather. A pirate costume should include boots and scruffy clothing of the time for authenticity, or a loose white shirt and tight-fitting breeches with a sword for a media-styled look. Soldiers of the time included archers and swordsmen, although both wore similar dress, usually a chain mail cowl, boots, breeches, and a long doublet or leather vest.
Renaissance clothing varies from the very simple and media-recognisable costumes to very realistic and authentic period pieces. Many of the renaissance costumes are hand made for accuracy and style due to the fact that such costumes are in high demand for Renaissance fairs, re-enactments, and Shakespearean festivals.
Regency Costumes
The Regency period of England refers to the nine years between 1811 and 1820 when the Prince of Wales ruled England in stead of his father. However, in period dress, the term is usually applied to the dates between 1795 and 1837 to indicate the styles and fashion of the time.
Men's Regency fashion includes hats, tailcoats, waistcoats, loose-fitting shirts, boots or clogs, and high white socks. Men often wore bright colours, flower embroidery and lace ruffles on shirt necks and sleeves, especially when in the court. Often, many men also wore heavy overcoats made of brocade or other fabric while outdoors or during winter. Hats of this period include the top hat and military hats as well as wider-brimmed hats that can be replicated by today's floppy-brimmed gambler, and leather walking hats.
For Regency costumes, buyers might have more luck finding quality pieces by searching for individual items rather than full costumes. Searching a shirt, boots, breeches or trousers, or tailcoat separately will generally produce much higher quality results than finding a complete costume with those pieces. However, for fancy dress, the costume is normally more than sufficient.
Victorian Era Costumes
Made popular by modern steampunk fashion, the Victorian era encompasses the years between 1837 and 1901 during the reign of Queen Victoria. The fashions of the time were often quite similar to the fashions of the Regency era except with more conservative colours and styles for men. The waistcoat, tailcoat, and top hat were all quite common among gentlemen while colours tended to be more subdued and pants tended to be looser. Shirts featured fewer lapels and frills; however, it was during this period that the bow-tie rose to prominence.
Men looking for a Victorian era costume can pair dress trousers with a white shirt, bow tie, waistcoat, and tailcoat. Pocket watches were common for the time as were cropped haircuts and hats. Poorer citizens wore grey, dirty white or brown clothing, often baggy, loose, and ill fitting with leather shoes if they could afford them. The Victorian waistcoat was seen on the rich and poor as an element of most clothing outfits.
Victorian costumes on eBay include full dress for court-style clothing as well as working-class clothing and items that would be more appropriate for a coal miner, chimney sweeper, draper, or other popular characters of the time.
World War I and II Costumes
World War I and World War II costumes incorporate the fashion styles of the early 1900s as well as some soldiers' uniforms depending on the reason for the costume. For example, a gentleman's World War I costume might include a top hat or bowler hat, waistcoat, tailcoat, and usually suit trousers with dress shoes. An army uniform from the period will include uniforms, helmets and hats, most of which are quite similar to what is still used today. There are a variety of WW2 and WW1 costumes available on eBay but many of them can also be pieced together.
Contemporary and Retro Costumes
Contemporary and retro period costumes refer to men's costumes from very recent periods. These include the '60s, '70s, '80s, and even '90s and can refer to popular culture, musicians, or even dress according to the period. In most cases, retro costumes will point out the most flamboyant features from a recent period in order to make it more recognisable. Most of the time contemporary costumes can be pieced together using vintage clothing found on eBay or purchased as a full costume set.
Buying Men's Period Costumes on eBay
eBay's collection of men's period costumes includes every period of dress, style, and fashion. Men looking for period costumes should visit the home page and search for the costume or costume element of their choice. For example, searching "gladiator sandals" will find you clothing options that would be appropriate with a Roman costume while searching 'breeches' will find clothing more appropriate for Regency and Victorian period costumes.
When looking for period costumes on eBay, you can either choose to search all of eBay for suitable elements for your costume, or narrow your search down by selecting period dress. From there, you should be able to select your exact period of interest to narrow the search even further.
It is important to compare your size measurements to those on any size charts. Most eBay sellers will list measurements for their standard clothing sizes so that you can check to make sure they fit. If size measurements aren't listed, it is possible to contact the seller to ask for specifics. Another important consideration is that if you need the costume quickly, you should purchase from local eBay sellers to reduce mailing time. If you're not sure about the mailing time, ask the seller for an estimate.
Conclusion
eBay is home to thousands of period costumes and accessories from every era. Whether for theatre, fancy dress, or costume parties, period costumes on eBay come in every size, shape, and priced to match a variety of budgets. Men looking for period costumes can choose to shop from a selection of full costumes and period regalia, or to find individual items to create a personalised costume.
A simple search on eBay can come up with a variety of clothing from various eras, but not all clothing will be categorised by its era. It's important to search for individual items such as armour or replica swords rather than simply 'medieval costumes' unless the costume is intended to be something basic such as a cape, cowl, or other easily-available costume. Most sellers on eBay are willing to provide information on sizing, postage, and quality of the costumes which means that most people can easily find what they are looking for on eBay.