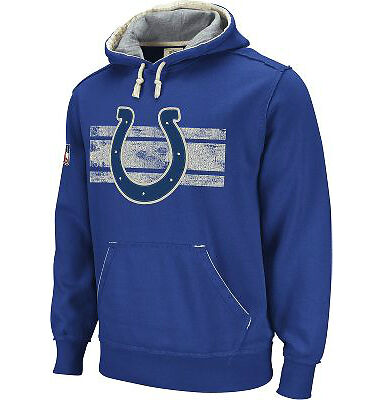 Men's vintage hoodies include both vintage styles and used hooded sweaters. Most men looking for vintage hoodies are either buying specific brands, logos, or simply trying to save money on warm outerwear. Hoodies, also known as hooded sweaters, are made of woven cotton or fleece that can be blended with synthetic materials including rayon, polyester, Lycra, and more. Most commonly, men's hoodies are made of napped fleece that is smooth on the outside and woolly on the inside for warmth and comfort. Some men's hooded sweaters are also ribbed, meaning that they are woven with Lycra and have some stretch properties.
Usually appropriate for both indoor and outdoor wear, hoodies are a good choice for mildly cold weather but should usually be paired with a T-shirt, tank top, or other clothing. Men purchase vintage hoodies for a variety of reasons but some of the considerations include fit, condition, price, and value. This guide explains what to look for in a quality hoodie, as well as some differences between vintage and modern hooded sweaters.
History of the Hoodie
The hooded sweatshirt, hoodie, or hoody is a derivative of formal wear for monks in the medieval ages. While fabrics have changed since those times, the basic design of long sleeves, loose body, and hood or cowl remain the same. The modern style of the hoodie originates in the 1930s USA, where it was marketed to men working in cold temperatures in New York. The hoodie evolved into easy-to-wear, anonymous clothing in hip hop culture and later in popular media. However, the term 'hoodie' did not become popular until sometime in the 1990s when the garment reached wide-scale popularity for the academic culture as well as the working man. Hoodies became symbols of teams, schools, colleges, and universities. Popular culture and media also embraced the hoodie, adding logos, quotes, and images to hoodies to represent bands, movies, and television.
Today, hoodies are sold as sports apparel, academic institutions memorabilia, and pop culture fashion items. They are generally preferred as a warmer alternative to the basic T-shirt and can be used as either a basic outfit or to display a favourite media or cultural brand. They have now entered into mainstream fashion, being worn as casual, everyday clothing, despite some criticism from shops and law enforcers who either ask hoodie wearers to leave or to pull down the hood upon entering a shop or store.
Changes in Hoodie Styles and Sizing
There have been some changes in the hoodie over the years; however, it is still mostly similar to the original style. Today, there are two types of hoodies, the pullover and the zip-up. Some variants of the hoodie include gothic and sportier styles; however, these are rare. Men looking for vintage hoodies can choose from either style, although each has its own advantages.
Styles
Pullover hoodies feature a solid front body that can be decorated with a full and uninterrupted logo. This is the most common style for plush-style hoodies with fleece lining because it provides the opportunity to include large front pockets. Pullover-style hoodies are usually more casual than zip-up hoodies because they tend to be looser and only available in S-M-L sizes.
Zip-up hoodies are the style most often seen in designer hoodies. These hoodies may or may not feature logos and pockets and can often be seen in popular wear such as tracksuits, designer styles, and even academic styles. The zip-up hoodie is usually more slim fit than the pullover hoodie and can range in sizes from the traditional S-M-L sizes to the more fitted traditional sizes.
Sizing
The major change between vintage and modern hoodies is the sizing. Many men will find that a 1980s hoodie is snugger than a similar hoodie from the same brand produced today. Usually this is because of vanity sizing, but does not affect all brands. It's important to check the measurements on older hoodies and compare them to similar measurements on a modern version of the hoodie in order to ensure a vintage hoodie purchased online will fit well.
Choosing Appropriate Quality in Men's Vintage Hoodies
Men's vintage hoodies are generally made of high-quality sweater fleece or sweater cotton with dual layers of knitted and woven cotton. The inside of the hoodie is usually made of fleece and warm, while the outside is knitted and smooth. Men should consider the current quality of the hoodie, its condition, and current price. Purchasing a vintage hoodie should involve examining or reading the description of the hoodie to discover any problems or issues it might have, looking at the hoodie or photos of the hoodie to determine if it has any stains, and then checking the original price of the hoodie. Fleece hoodies are usually warmer than standard ones, but are often sold for the same price.
In some cases, the current price of a hoodie will be much higher than its original cost. For example, a vintage band or team logo hoodie that is not made anymore might be a collectors' item and worth a lot of money. However, the value is reduced if the hoodie is damaged, stained, or in poor condition. If the vintage hoodie is intended for being worn, it's important to ensure that it is in good condition so that it will protect the wearer from the weather as intended. Men who are concerned with exact quality should look for mint or like-new hoodies in order to ensure that the hoodies are up to quality standards and not overly used.
Looking for a Specific Brand or Logo
Most of the time, men looking for vintage hoodies are searching for specific styles, logos, and brands rather than simple articles of clothing; however, the reverse is also true. Searching for these vintage options usually is not difficult, but there are duplicates available for many popular styles. For example, a 1980s hoodie from a popular football team might be available on eBay or in other vintage stores, but it is often also possible to find replicas and duplicates for a cheaper price. In most cases, this is not an issue, but some men prefer to purchase the duplicate so that their hoodie is new rather than vintage.
Usually the easiest place to find specific hoodies is online, in vintage shops or on eBay. When looking for hoodies with specific bands, logos, or teams online, it's usually important to specify either 'vintage' or the year in order to come up with authentic results rather than modern versions. Men can search for either an exact hoodie or a specific style that they find appealing, such as pullover, zip-up, sports, or academic hoodies.
Buying Men's Vintage Hoodies on eBay
Buying men's vintage hoodies on eBay is one of the fastest ways to find most styles. You can visit the home page to begin the search for whatever styles you want. A simple search for a "men's vintage hoodie" will bring up a variety of used and vintage replica hoodies that you can choose from. A more specific search such as 'men's vintage Adidas hoodie' will turn up results in that category although it might be necessary to specify 'used' in the search if that is what you are looking for. Unique search ideas include specifying whether the hoodie should be a zip-up or pullover, the year of the make, or substituting 'used' or 'retro' instead of 'vintage' in the search.
You should examine photos, read the full description, and check the shipping times before deciding on a hoodie to purchase. In most cases, buying from local sellers will increase the shipping speed, but might limit the availability of some hoodies. eBay can be used to find hoodies from nearly any year, style, or brand, but it is important to read descriptions when purchasing vintage items. Some hoodies might have damage due to being worn, while others might be replicas rather than the original vintage item. In either case, reading the description and viewing the photos of the hoodie before purchase can save you time and trouble.
Conclusion
Men's vintage hoodies can be purchased new, used, or as replicas. Most men search for vintage hoodies in order to find specific styles, but vintage clothing can also be purchased to save money or to afford a more expensive brand. Some vintage hoodies, however, can be more expensive than their modern counterparts if they are a collectors' item. Men looking for vintage hoodies can purchase pullover or zip-up styles from designer brands, from favourite sports teams, or from bands.
Searching for vintage hoodies is best done in online shops like eBay because it is easy to type in a search and quickly find the desired item; however, men can find good items in vintage shops as well. In either case, it is important to note the size, the condition, and the quality of the hoodie before purchase. Today, hoodies are a part of fashion as well as utilitarian wear. However, hoodies are not always welcome in shops and stores and should therefore be worn for activities such as exercise or staying at home.