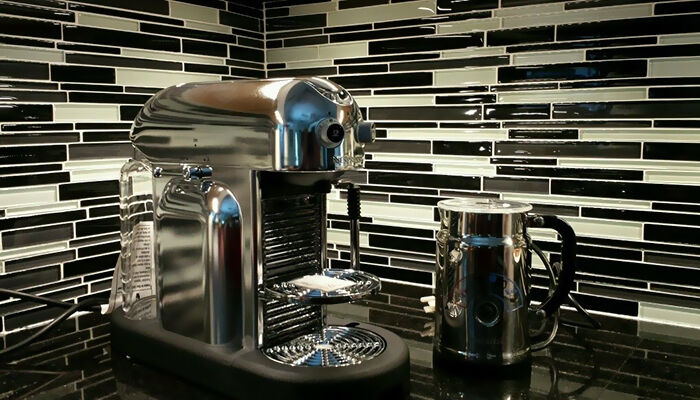 The colourful way to drink coffee
Nespresso by Nestle is a quick, simple and delicious way of producing perfect cups of coffee
at the touch of a button.
A Nespresso machine can save you time and money without compromising on quality. Plus
with a variety of flavours and strengths, you can have a different blend every day.
Nespresso Machines
Your own personal barista
The innovative design of
Nespresso machines
is a blend of technology, style and substance.
Various manufacturers including Krups and Magimix make Nespresso machines which are all
compatible with standard Nespresso capsules.
While more expensive machines offer a wider range of features, more affordable models are
just as capable of producing equal quality coffee from the same ground coffee pods.
Available Nespresso machine designs include:
U

Looks at home in any kitchen with pure and sophisticated design. Fully automated capsule piercing, brewing and ejection.
− High-pressure pump
− Programmable cup sizes
− Ristretto, Espresso & Lungo
Essenza
Simple, compact and sleek. The Essenza machine by Krups is a highly affordable and attractive Nespresso design.
− Automatic volume control
− Great for smaller spaces
− Espresso & Lungo

CitiZ

A perfect blend of top technology and retro-modern design, the CitiZ Nespresso machine is a great option for your contemporary kitchen.
− Energy saving mode
− High-pressure pump
− Espresso & Lungo

Pixie

Winner of the RedDot design award, the Pixie condenses a range of innovation features within its small and robust exterior.
− Automatic power off
− Automatic volume control
− Espresso & Lungo
Lattissima


The intuitive One Touch System of the Lattissima simplifies the use of highly advanced technology.
Includes a milk frother for Cappuccinos and Lattes.
− Energy saving mode
− Built-in milk frother
− Espresso & Lungo

Maestria

For the full coffee making experience, look no further than the Maestria. Prepare milk froth like a Barista using the classic steam pipe.
− Manual Cappuccino preparation
− Manual volume control
− Espresso & Lungo
Nespresso Grand Crus
Capsules, colours and perfect cuppas
There are 21 different varieties of
Nespresso capsules
– known as Grand Crus - available for
any compatible Nespresso machine. Each capsule has its own unique characteristics and is
rated on a scale of 1-12 by strength and intensity.
Nespresso Grand Crus are categorised by size of coffee cup, as follows:
Ristretto (25ml)
– A very short shot of espresso coffee that is ideal for first thing in
the morning or a late afternoon boost.
Espresso (40ml)
– Slightly larger than a Ristretto, Espresso is brewed by forcing a
small amount of pressurised boiled water through finely ground coffee beans.
Lungo
(
110ml)
– Italian for 'long', Lungo refers to coffee made with more water and
resulting in a stretched espresso.
Milky coffees such as lattes and cappuccinos can be created using the aeroccino accessory -
a simple device that heats and froths milk to add to the Grand Cru of your choice.
A Rainbow of Roasts
Each Nespresso pod contains 10 Nespresso Grand Cru capsules. The characteristics of each
Grand Cru can be seen in the table below, listed by intensity (highest first).
| | | | |
| --- | --- | --- | --- |
| Grand Cru | Description | Cup Size | Intensity Rating |
| | Intense, bitter coffee with a full and creamy flavour. | | |
| | Long roasted at low temperatures for velvety texture. | | |
| | An espresso with a distinct personality and spices. | | |
| | Full-bodied espresso with subtle fruity notes. | | |
| | Hints of cocoa with a strong character and body. | | |
| | Sweet and woody with a taste that lasts on the palate. | | |
| | Decaffeinated espresso with subtle cocoa flavour. | | |
| | Slightly bitter blend of dark-roasted beans. | | |
| | Well-balanced espresso with a touch of roasted caramel. | | |
| | Subtly acidic with red fruit and wine flavours. | | |
| | Sweet caramel flavours mixed with the Livanto Grand Cru. | | |
| | A mix of the Livanto Grand Cru with dark chocolate. | | |
| | Combining velvety vanilla with the mellow Livanto Grand Cru. | | |
| | An espresso with a rich aroma and strong cereal notes. | | |
| | Fruity, sweet and biscuity. Slightly acidic. | | |
| | Elegantly balanced satin sweet flavour with note of toasted grain. | | |
| | Balanced coffee combining roasted and subtle floral notes. | | |
| | Mild and smooth with typical malty tastes. | | |
| | Light-bodied espresso with refreshing citrus hints. | | |
| | Refreshingly floral with surprising woody taste. | | |
| | Slow roasted for a smooth, creamy body. | | |
| | Lightly roasted for an aroma for red fruit. | | |
How it works
What makes Nespresso taste so good?
The innovative Nespresso capsule system has been developed to deliver exceptional flavours
and aromas with every cup.
The Capsules
Each Nespresso capsule is hermatically sealed to protect the freshly ground coffee
inside from oxidation, keeping the coffee fresh until the moment you taste it.
The pressurised capsules preserve the 900 aromas of freshly ground coffee for one
whole year, ensuring a fine cup at the beginning of every day.
The System
The pressure pump of each Nespresso machine provides the power needed to pierce
the capsule film and release its many different aromas.
Pressurised water flows evenly through the ground coffee at a set temperature to
provide a taste full of flavour and depth.
Stirring things up
Buying your first Nespresso machine
With a range of fresh coffee blends, attractive machine designs and fantastic flavours, it's not
surprisingly you're taste buds are tempted.
Use our handy checklist to help you start your Nespresso collection:
- Consider the features you think you'll use the most decide on your budget.
- Check the size and style to suit your kitchen.
- Try a variety of Nespresso Grand Cru capsules to see which flavours and strengths
you enjoy.