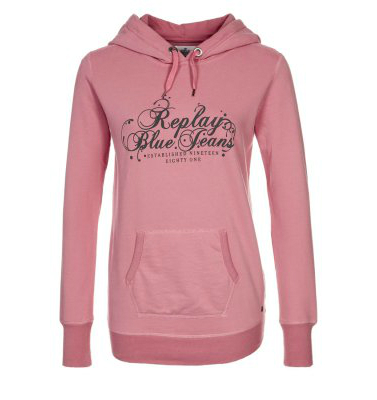 A fashion basic, the hoody has practical roots as cold-weather gear for workers and athletes. In the 1930s, Champion, a company based in the United States, began manufacturing thick, hooded sweatshirts for high school athletes. As with varsity jackets, the hoody became a favourite with athletes' girlfriends and eventually for women around the world. The expanding influence of hip-hop music in the 1990s reached the fashion industry, and notable designers such as Tommy Hilfiger, Calvin Klein, and Ralph Lauren used the hoody's energetic street appeal in their high-fashion designs. The hoody remains a perennial fashion favourite that continues to be updated by many designers.
This buying guide provides an overview of the various types and styles of women's hoodies, and it offers suggestions on how to choose a hoody that accommodates the consumer's budget, style, and size. The guide also features advice on how to accessorise a hoody to make a distinctive fashion statement.
The online auction website eBay offers a wide array of new and used women's hoodies. This guide also provides tips to the consumer on how to choose and purchase women's hoodies on eBay.
Types of Women's Hoodies
While the more common women's hoody is a sporty zip-up sweatshirt with a hood that can be drawn close to the wearer's head with a pull string, this comfortable fashion staple is available in a wide array of fabrics, styles, colours, and detail choices. Hoodies are a great addition to any woman's wardrobe, whether for a casual Saturday at the park, at a loft party, or even at work. Hoodies can be worn with jeans, trousers, dresses, miniskirts, and long, flowing skirts. As long as the hoody is well proportioned to the wearer's figure and the outfit as a whole, it is a stylish, fashion-forward addition to any wardrobe.
Casual Hoodies
Many women's hoodies are designed for casual wear, and eBay features a vast selection of these garments. Perfect for cool weather, buyers can find hoodies made from fleece, microfibre, velour, cotton knit, and cotton/poly blend, as well as cotton/spandex blends for a trim fit and easy layering. Hoodies that serve as outerwear are made of heavier materials such as thick knits, leather, suede, faux fur, and wool. For additional versatility, these garments also feature removable hood linings made with faux fur, shearling, or fleece, as well as detachable hoods.
While casual hoodies are generally designed with long sleeves, they are also available with short sleeves, ranging in length from three-quarters to above the elbow. In addition, eBay features stylish sleeveless hoodies that are appropriate for wearing indoors and outdoors. The more common length of the casual hoody is a flattering hip-length cut that complements most wearers and fashion choices. Hoodies designed for casual wear are available with front hip pockets, a front pouch, interior pockets, or no pockets at all.
Casual hoodies that resemble trim-fitting jackets are available with full-length front zippers and half zippers. Zipper styles include a closure that matches the colour of the hoody, a contrasting colour closure, and silver- or gold-coloured zippers for a bit of flash.
The woman who prefers a pullover hoody can find a wide selection, ranging from an athletic-style choice with a sporty graphic to a casual, chic hoody with buttons, toggles, and designs on the front. Hoodies with retro designs and graphics remain a popular choice among consumers.
For women who prefer a stylish, sleek look, eBay features long knit hoodies that are cut well past the hip and extend to the wearer's mid-thigh. This style complements slim jeans, leggings, long skirts, and even miniskirts when the hoody is left unzipped for an updated duster coat look.
Fitness Hoodies
Hoodies are also available for the athletic and fitness-minded woman. While casual hoodies are made from many fabrics that may not withstand regular workouts, hoodies designed for exercise feature light, moisture-wicking fabrics that move with the wearer. Cotton/spandex blends provide support for the core muscles, and mesh sewn near high-stress areas such as the underarm and bust provides ventilation during an intense workout.
Training hoodies are available with long sleeves, short sleeves, or no sleeves at all. For runners, skaters, and bicyclists, a hoody that features reflective trim at the hood, sleeves, and body allows the wearer to be seen at dusk or at night.
Fitness hoodies are designed for self sufficiency during a workout, with exterior and interior pockets that zip to keep keys, cell phones, identification, and other essentials secure. Pullover hoodies also generally feature a front pouch that allow the wearer to warm her hands during a cold-weather run or workout. Most training hoodies also provide a pull string in the hood that enables the wearer to draw the hood tight around her head, protecting her ears, head, and neck against cold wind and weather.
Dressy Hoodies
The hoody is a fashion mainstay that accommodates any woman's style. While hoodies are well suited for casual and athletic wear, they also transition well to a chic fashion statement. Whether in the office, a party, or on the move, a fashion hoody updates a woman's look with a wide array of colours, styles, and fabrics.
Women have many choices when selecting a hoody that is appropriate for the office, whether the accepted work style is casual business or more formal. Fit and fabric are key considerations in a traditional office setting. A fitted hoody that is tailored with darts and attention to detail is a good choice, especially when made with a high-quality fabric such as linen, silk, suede, and cotton blend.
Hoodies incorporated into fitted or flared dresses are also available on eBay and are a great addition to a casual business wardrobe. Hoody dresses are designed in every length from mini to knee-length to mid-calf to maxi. These dresses feature many sleeve styles, including long sleeves, three-quarter sleeves, short sleeves, and batwing sleeves. Some are also sleeveless. Because of the body-conscious style of hoody dresses, knits and supple fabrics such as cotton jersey and modal are frequently utilised in these designs.
Women's hoodies that are more fashionable than functional are easy to find on eBay. Trendy details such as rhinestones, faux gems, beads, studs, faux fur trim, and even feathers add style to these hoodies. In addition, patterns such as block colours, goth-inspired designs, polka dots, and plaid bring this fashion staple up to date. For party wear and club hopping, buyers can choose hoodies with fashion-forward details that include ruffles, faux fur, velour, and sequins.
Accessorising Hoodies with Style
There are many ways for a woman to wear a fashion hoody so that it is not mistaken for gym wear. A simple way is to layer a thin hoody under a jacket. If the hoody material is thick, this layering combination may feel bulky and uncomfortable. Leather bomber jackets, cropped waist-length jackets, and long blazers are all chic companions to the hoody. A light scarf that is casually but neatly tied or draped finishes the look.
A fitted hoody over a casual dress, perhaps in modal cotton or a sueded silk blend, presents a wonderful contrast between the athletic and feminine looks in one outfit. Be aware of wearing too many patterns that create visual confusion. If the occasion calls for mixed patterns, similar patterns work well together, such as horizontal stripes on the hoody and a smaller vertical stripe on the dress or skirt. Alternatively, different patterns in similar colour schemes, such as polka dots and a floral print, also blend well for a trendy look. For a casual event, a hoody made with a cotton/poly or a cotton/spandex blend may be appropriate to wear. Leggings or skinny jeans combined with casual booties or funky high-tops complete the outfit. For an evening out or a house party, fabrics such as suede, satin, or faux leather add a luxe touch to the outfit. Finish the look with fashionable booties, knee-length boots, or sleek flats.
Hoody Sizes and Fit
Because hoody sizes vary widely depending on the brand, manufacturer, and even the year the garment was made, buyers should check the seller's sizing chart before selecting a hoody. When in doubt, consumers can contact the seller directly to ensure the garment is a good fit. This chart is a general reference for selecting the appropriate size using a measuring tape. For the bust size, measure the bust at the fullest area in front and over the shoulder blades in back. For the waist size, measure at the narrowest part of the natural waistline without cinching the tape. For the hip size, measure at the widest part of the hip while standing without tightening the measuring tape.
To measure the sleeve length, the arm should be measured while relaxed at the side. The tape should span from the centre of the back of the neck, over the point of the shoulder, and over the outside of the arm to the wrist bone.
| | | | | | | | | |
| --- | --- | --- | --- | --- | --- | --- | --- | --- |
| Size | 4 | 6 | 8 | 10 | 12 | 14 | 16 | 18 |
| Bust (cm) | 76 | 80 | 84 | 86 | 90 | 94 | 99 | 104 |
| Waist (cm) | 58 | 66 | 66 | 69 | 71 | 76 | 81 | 87 |
| Hips (cm) | 81 | 84 | 88 | 92 | 96 | 101 | 106 | 110 |
Shopping for Women's Hoodies on eBay
While you can spend days looking for the right hoody in department stores or sporting goods stores, eBay offers an extensive selection of women's hoodies to suit any size, style, use, and budget. Start your search on the eBay home page. In the search box on the home page or any other page within eBay, enter "women's hoody". Note that the search function is not case sensitive.
After you enter "women's hoody" in the search field, the powerful eBay search engine will display suggestions for other product categories that help narrow your choice. In addition, it may provide expanded search terms such as "women's sweater" or "women's hoody Adidas". Thousands of listings are provided, enabling you to browse the general listings for women's listings or to refine the search by entering details such as "women's hoody Juicy Couture" or "women's hoody bling."
Because hoodies can vary in size or colour, you may prefer to search locally to ensure a good fit or to save time and shipping costs. This choice works well if the seller is comfortable with an in-person pickup after your transaction is completed successfully. You may search for local listings by entering your postcode to get a list of sellers close to you.
Conclusion
Hoodies are more than a comfortable, utilitarian variation of a sweatshirt. While there are many women's hoodies that fill that need, eBay offers a wide array of choices that are specifically designed for the fitness buff or serious athlete. These training hoodies are made from fabrics that optimise the wearer's workout by providing ventilation and support. Moreover, hoodies that serve well as outerwear are available on eBay, utilising attractive heavier materials that flatter the wearer while protecting her from the weather.
With the garment's design origins in the hip-hop era, eBay offers a dizzying selection of hoodies to match any fashion sense. Buyers have the choice of hoodies that are casual, trendy, funky, retro, feminine, and chic, and also meet every size, style, and budget requirement.
By researching the seller's feedback ratings and comments as well as the seller's policies and shipping costs, a consumer can easily add one or more of these fashion must-haves to her wardrobe.