The Devils Whore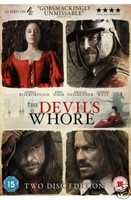 Set during the English Civil War, from 1642 to 1660, The Devil's Whore is the diarys of the war and struggles of a 17 year old girl named Angelica Fanshawe.
Starring Dominic West, Andrea Riseborough and John Simm,
Best thing i've seen in 20 years. Well worth buying. if you like John Simm then its a must 'cause he's at his best here. A VERY SEXY MINI SERIES!!