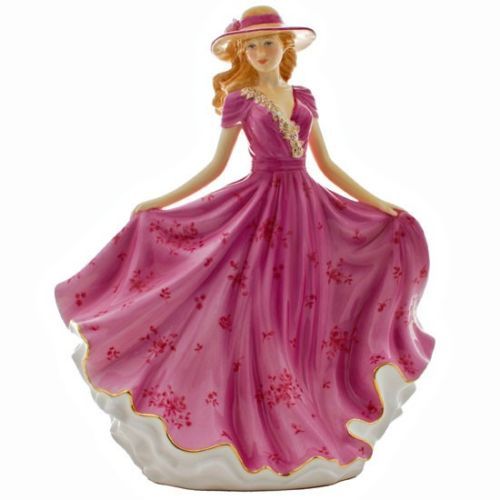 Sirens and street sellers, Dickens's characters and dancers, Regency belles and Victorian maidens, the list of figurines produced by the Royal Doulton company are literally too many to cover. Since the beginning of the 20th century, Royal Doulton has produced hundreds of different figurines all of different subjects and schools of art. Among these, the Art Deco Royal Doulton figurines, produced between 1920 and 1939, are some of the most sought after. Offering collectors some of the finest-quality, beautifully painted models available, Royal Doulton's placement among British china manufacturers speaks volumes of the line's quality and true value, and explains why collectors are so keen to purchase these gems of art and decor.
Just admiring Royal Doulton is not enough, however. In order to become a true collector or at least avoid overpaying for a piece, a buyer must take heed to understand what it is he or she is trying to purchase and how to go about doing so properly. To that effect, learning the do's and don'ts of buying Art Deco Royal Doulton figurines is important before any collector goes ahead with what can be a steep investment.
Do Understand the History of the Royal Doulton Line
The Royal Doulton company, which is now a part of the larger WWRD (Wedgeford, Waterford Crystal, and Royal Doulton) holdings company, is one of the United Kingdom's oldest and most respected manufacturers of tableware and collectables. Started in 1815 by John Doulton, John Watts, and Martha Jones, the company began by producing only stoneware, but steadily increased its offerings over the years to include everything from fine china and vases to home decor accessories and figurines. Through the years, this has led to literally thousands of different products and lines. Within the figurines department, the Art Deco works of Leslie Harradine are some of the most sought-after and notable pieces.
Royal Doulton, Art Deco, and Leslie Harradine
Leslie Harradine, born Arthur Harradine, was a figurine modeller who worked with the Royal Doulton company from the early 1920s through the 1950s, at the height of the French-inspired Art Deco period. Harradine was actually originally apprenticed to the Royal Doulton company as early as 1902, however his interest and talent in figurine modelling was largely ignored during his time there, and he was relegated to designing vases, though he did receive some attention from art director Charles Noke.
Partly in frustration and partly due to opportunity, Harradine decided to leave England and emigrate to Canada with his brother Percy in 1912. However, the toll of World War I led him to return to a home in Bedfordshire around 1919. Charles Noke soon learned of Harradine's relocation and immediately contacted him with a job offer with Royal Doulton's Burslem location. However, having grown quite fond of independent work, Harradine agreed only to work for Royal Doulton on a freelance basis.
Despite this arrangement, Harradine went on to create hundreds of figurines for Royal Doulton, beginning with "Contentment" (HN395) in 1920 and ending with "The Beggar" (HN2175) in 1956. Harradine's figurines were very much a product of their times, clearly rooted in the Art Deco school of design and among the most produced of designs throughout his tenure with Royal Doulton. Most collectors, when referring to Art Deco Royal Doulton figurines exclusively refer to the early lines created by Harradine between 1920 and 1939.
Don't Try to Collect Them All
The number of Royal Doulton figurines which have been created since the 19th century reaches the thousands. And while it may seem that concentrating on the Art Deco period and/or Leslie Harradine is a good way to limit one's collection, trying to acquire all of these figurines is simply not a realistic goal for a variety of reasons.
Scarcity of Pre-WWII Figurines
The first issue that anyone trying to acquire all Art Deco Royal Doulton figurines encounters is scarcity. The Art Deco period was short, from the 1920s through the few years following World War II. Royal Doulton figurines in the Art Deco style are even more narrow, representing those designed between 1920 and 1939. However, all Royal Doulton figurines produced prior to WWII were in a generally limited supply. This is because of both manufacturing techniques as well as the physical losses that occurred as a result of the war. Therefore, any Art Deco Royal Doulton figurine that was retired, that is to say no longer issued new, prior to WWII, is incredibly rare.
Harradine's Extensive Body of Work
The next issue that a buyer may encounter when it comes to Art Deco Royal Doulton figurines is the massive body of work produced by this most popular artist. Throughout his time, freelancing for the Royal Doulton company, Leslie Harradine designed more than 300 different figurines, the earliest of which were retired prior to the World War II. Though not all of these figurines are Art Deco, the prospect of trying to collect even all of Harradine's Art Deco Royal Doulton figurines is nearly impossible for everyone, save the professional collector.
Do Set Realistic Goals
Because of the issues associated with Art Deco Royal Doulton figurines specifically, many Royal Doulton collectors choose to set realistic goals for what they want to buy. This may include concentrating on a limited number or specific group of figurines. Two popular methods for doing this is concentrating on a thematic series or an HN series.
Collecting a Thematic Series of Art Deco Royal Doulton Figurines
Within the Art Deco period, there are several series completed by Harradine and others that are grouped together as thematic series. This includes figurines such as those based on "The Beggar's Opera" as well as the popular Dickens series. Both of these series were designed during the Art Deco era, but were produced for many years following WWII, sometimes as late as the 1990s. Choosing to collect Art Deco Royal Doulton figurines according to a theme makes searching easier, and since the figurines are designed to 'go' together, produces a beautiful display once complete.
Collecting an HN Series of Art Deco Royal Doulton Figurines
Another viable option for collecting Art Deco Royal Doulton figurines is to do so based on their HN number. Short for "Harry Nixon" who was the first head of the painting department at Royal Doulton, every figurine from "Darling" in 1913 to the one created five minutes ago is given an HN number, which is stamped on the bottom of the figure's base.
HN numbers were initially meant to designate series of figurines such as those listed above, though many HN series are amalgamations of designs from a certain period. There are over 45 different HN categories, however, those that fall into the Art Deco period are listed in the table below.
| | |
| --- | --- |
| HN Series | Design Years |
| | 1918-1923 |
| HN600 | 1924-1927 |
| HN1300 | 1929-1930 |
| HN1400 | 1930-1932 |
| HN1500 | 1932-1933 |
| HN1600 | 1933-1935 |
| HN1700 | 1935-1936 |
| HN1800 | 1937-1938 |
Among the HN groupings listed above are both large and small batches of figures. HN1500, for example, contains only seven total figurines, all by Leslie Harradine. Other groupings, such as HN500, cover a span of several years and contain dozens of figurines by multiple artists. Which group of Art Deco Royal Doulton figurines one chooses to collect should therefore be based on the level of commitment that the buyer has to getting all of the figurines offered within that group.
Don't Forget About Shopping on eBay
When all is said and done and the buyer is confident about his or her choices when it comes to buying Art Deco Royal Doulton figurines, the next step is determining where to purchase those items. Since all figurines made in the Art Deco period have been retired, they cannot be purchased from the company itself or any other traditional retailer. Instead, collectors are relegated to the collectables market, meaning antique shops, boot sales, flea markets, and eBay. The final choice, shopping online with eBay, is one of the simplest and most convenient ways to buy.
How to Get Started with eBay
Users who have never used eBay before can quickly get started in the buying process by registering for an eBay account.. In addition, getting setup with PayPal is also advisable, since it is a great way to streamline the buying process and protect personal financial information.
Once an account is set, using eBay to search for Royal Doulton figurines could not be easier. Buyers can begin to search on any page through using the main search bar. Try to be as specific as possible, and enter HN numbers, if known. Also, because of the limited supply of Art Deco Royal Doulton figurines , realise that it may be necessary to search periodically in order to view new inventory.
Conclusion
On the collectibles market, Royal Doulton figurines are among the most treasured. One of England's oldest china companies and one associated with renown names such as Wedgeford and Waterford Crystal, Royal Doulton's quality and value is tough to dispute. However, the thousands of figurines that the company has produced are too numerous for any one collector to acquire. For that reason, a concentration on Art Deco Royal Doulton figurines is a good place to start.
The do's and don'ts of buying Art Deco Royal Doulton figurines unfortunately mean continuing to narrow one's scope for collection, though. With many items produced during the short period of 1920 to 1939, as well as the relative scarcity of those retired prior to the end of WWII, the task of collecting them all is reserved for only the more dedicated and well-endowed amongst collectors. However, there are several ways for collectors to still enjoy Art Deco Royal Doulton figurines through knowledge and concentrating on specific themes or HN numbers.
Once ready to buy, using eBay for Art Deco Royal Doulton figurines is a must. With a worldwide marketplace with 24/7 service and a constantly-rotating stock accessible from the comfort of your own home, using eBay could not be easier. Indeed, collecting Royal Doulton and eBay go hand-in-hand making both buyers and sellers happy and satisfied.