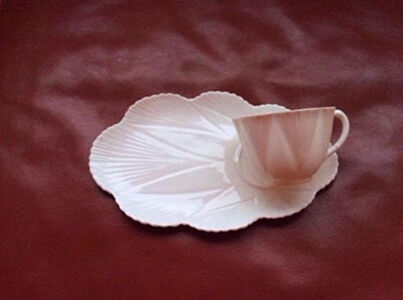 The Art Nouveau movement was an artistic and philosophical movement that rose to prominence from 1890 to 1919. Originating in Europe, the Art Nouveau movement influenced artists and philosophers on a global scale. The Art Nouveau philosophy, which stood in contrast to the rational approach of the neo-classical movement, emphasised nature and man's perceptions of nature as a core part of its beliefs. This focus on nature and its impact on the individual influenced artists to create paintings, sculptures, and decorative art pieces that visually expressed the Art Nouveau philosophy.
For collectors of antique china, Art Nouveau china pieces can be a popular addition to their china collections. Art Nouveau china pieces can be found locally in antique shops and auction houses as well as online at marketplaces like eBay. Like all antique items, however, purchasing Art Nouveau china relies on buyers doing some research and applying some buying tips to make sure they purchase authentic Art Nouveau china. Before shopping, buyers should know how to establish if an Art Nouveau china piece is authentic, who created Art Nouveau china, and how to determine the value of an Art Nouveau china sale to make the most satisfactory purchases.
Do Know How to Identify Art Nouveau Stylistic Elements
Although Art Nouveau china was made from the 1890s to 1919, not all china created during this time frame was made in the Art Nouveau style. The Edwardian Baroque and Arts and Crafts art styles were concurrent with the Art Nouveau movement but used distinctive design elements inspired by gothic, medieval, and folk arts. Conversely, the Art Nouveau movement was a modern take on creating representation forms in art and architecture and strove to break free of the art movements that preceded it. It is, therefore, necessary for buyers to become familiar with the design elements that characterise the Art Nouveau style before shopping for china pieces instead of relying on the dates of a china piece's creation.
Art Nouveau Style Elements
The Art Nouveau style included design elements which were distinct in their exaggerated forms. Rarely using straight, symmetrical lines, Art Nouveau designers favoured dynamic curves that mimicked the shapes found in nature. The addition of deep, curving lines to Art Nouveau pieces caused art critics at the time to refer to the Art Nouveau style as employing "whiplash" or "dynamographic" lines.
Buyers shopping for Art Nouveau china should look for the application of organic lines and shapes within a china piece to determine if the china can be classified as Art Nouveau. These lines and shapes can be superficial, such as the addition of Art Nouveau decorations painted on the surface of a china piece, or part of the china piece's form, like a cup handle that includes sinuous curves and carvings. Art Nouveau china often included representations of animals and plants as well, so buyers should look for china pieces that include flowers, vines, birds, or dragonflies when shopping for Art Nouveau china.
Do Look for National Names Associated With Art Nouveau
Art Nouveau literally translates from French to English as "new art" and is the name most associated with this style of art in French- and English-speaking countries. Other countries used different names when referring to the Art Nouveau movement, however, so buyers should become familiar with these names before shopping for Art Nouveau china.
| | |
| --- | --- |
| National Name Associated With Art Nouveau | Used in |
| | Italy |
| Jugendstil | Germany |
| Modernisme | Spain |
| Modern | Russia |
| Sezessionstil | Austria |
| Niewe Kunst | The Netherlands |
Because the Liberty of London department store was one of the first retail shops that featured decorative arts and textiles created by Art Nouveau artists, the Art Nouveau style in the U.K. can be referred to as the "Liberty Style". The Liberty Style name is most often associated with fabric- or paper-based decorative arts, however, so buyers rarely see it attributed to china pieces fashioned in the Art Nouveau style.
Do Consider Makers When Determining the Value of Art Nouveau China Pieces
Because Art Nouveau china was designed and manufactured during a specific time period, it is often associated with famous makers and artists who were active during this era. When shopping for Art Nouveau china, buyers can focus their search efforts by looking for china pieces created by these manufacturers and artists to quickly find china pieces created in the Art Nouveau style.
Famous Manufacturers
To respond to the popularity of the Art Nouveau movement, many large scale china makers commissioned artists to create Art Nouveau china pieces. Royal Doulton Art Nouveau pieces were released by the Royal Doulton Company, a collectibles and china maker founded in 1815. Wedgwood, famous for its blue and white pottery, also released Wedgwood-style Art Nouveau china pieces . Art Nouveau china pieces created by famous manufacturers have the added benefit on the collector's market of being sought after by both Art Nouveau collectors and collectors of a famous china maker's objects. This can cause some of these china pieces to be highly valued, especially if a piece is rare.
Famous Artists
Many famous Art Nouveau artists did not have the resources necessary to produce china pieces on a large scale. To overcome this obstacle, they often partnered with china manufacturers to release china pieces they designed. When looking for Art Nouveau china pieces, buyers can search for famous Art Nouveau artists like Victor Horta, Hugo Leven, Rene Lalique, Alfons Mucha, or Peter Behrens. Buyers can also search for famous Art Nouveau artists, like Louis Comfort Tiffany, who established studios that could release china pieces independently.
Establishing Maker and Artist Authenticity
Since Art Nouveau china pieces created by famous makers and artists can be highly valued, buyers should make sure they check a china piece for authenticity before purchasing a piece. Typically, china makers and artists use hallmarks to establish a piece's provenance. These marks can be found on the bottom of a china piece and often include a number of marks to signify the piece's maker, the artist that created the piece, and where the piece was made. Hallmarks can be forged, however, so buyers who are considering a very expensive china purchase should also have a piece appraised by a reliable antique china expert before buying the piece.
Do Factor Condition Into Art Nouveau China Evaluations
The condition of any antique china piece affects the value of the piece. To make a wise Art Nouveau china piece purchase, buyers should check a piece for condition issues while shopping. Some signs of age, like the smooth patina that forms on china over years, is desirable and helps to authenticate a piece's age. Other condition issues, like chips or cracks, severely diminish a piece's worth. Buyers should also be wary of purchasing any china pieces that contain crazing, which are the fine cracks in the glaze of a china piece, or stains.
Don't Assume China Pieces Are Authentic Art Nouveau Based on Their Appearance
Because the Art Nouveau style has remained popular since it was first introduced to the public, many modern china makers create china pieces that include Art Nouveau design elements. Because of this, buyers interested in owning authentic Art Nouveau china should check a piece's age before purchasing a piece. To check a piece, buyers should look for maker and artist hallmarks on the piece and limit purchases to pieces that have been thoroughly authenticated. Buyers should also examine a piece to see if it has the type of patina and craftsmanship an authentic Art Nouveau piece would contain.
Don't Forget the Value of Supplemental Items When Purchasing Art Nouveau China
On the collector's market, antique purchases that include supplemental items can increase the value of a piece. These supplemental items for Art Nouveau china include the china's original packaging and the bill of sale when a piece was first purchased. Letters from artists who were commissioned to create a china piece or set are highly valued by collectors. Buyers can also find that photographs of a piece in its original setting are an added benefit when authenticating and purchasing an Art Nouveau china piece.
Buying Art Nouveau China on eBay
Buyers interested in purchasing Art Nouveau china can visit eBay to find a wide selection of china pieces. On eBay, buyers can search for Art Nouveau china made from porcelain, ceramic, or earthenware. eBay features decorative Art Nouveau china objects, like figurines , as well as utilitarian objects, like bowls or jugs . Buyers can search eBay to establish a new Art Nouveau china collection or browse eBay to find replacement pieces that can be used to complete a china set they already own.
When shopping for Art Nouveau china on eBay, buyers should check out the details about a piece to learn about a piece's condition and authenticity. Buyers should look for pictures and descriptions about a piece's hallmark to begin establishing its age and maker. Authentication items like original documents, packaging, and photographs can also be used to establish a piece's provenance. Any defects on the china piece, like chips or scratches, should be evaluated to determine how much they affect the value of a piece. If buyers have any questions about an Art Nouveau china piece they are considering for purchase, they should contact an eBay seller through the "Ask a question &" option located in an eBay product listing before beginning a purchase transaction.
Conclusion
Art Nouveau was a global movement in philosophy and art that challenged the importance placed on rationality and symmetry by its philosophical predecessors. To assert Art Nouveau's focus on perceptions and nature, Art Nouveau artists created paintings, sculpture, architecture, and decorative art objects that included exaggerated, organic style elements. Buyers looking for Art Nouveau china pieces should use the distinct appearance of objects designed in the Art Nouveau style as the first indication that a china piece may be authentic. Art Nouveau-inspired designs remain popular, however, so buyers must check for proof of authenticity before purchasing any Art Nouveau china. Authenticity is often established by the inclusion of a china maker's or designer's hallmark on a china piece or supplemental items that can be used to track a piece's provenance.
Buyers can search for Art Nouveau pieces that include one of the many names people of different nationalities use when referring to the Art Nouveau style. Condition issues can drastically affect an Art Nouveau china piece's worth, so buyers need to individually assess each piece of china that they may purchase for defects. Once buyers understand what to look for when evaluating Art Nouveau china, they can visit eBay to browse through a wide selection of Art Nouveau china pieces with many functions and distinct style features.