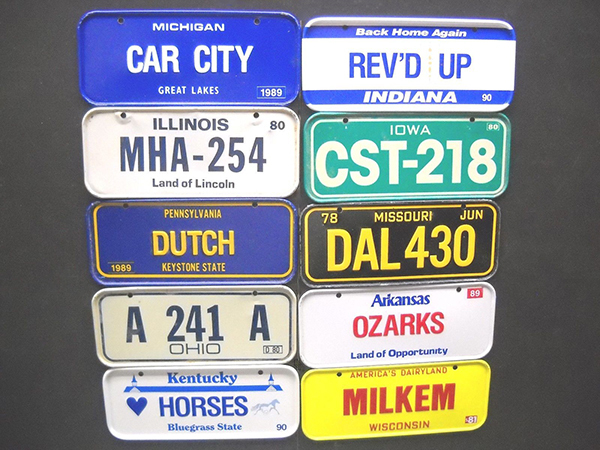 The "cherished" in cherished numbers initially referred to the sentimental value that was given to registered plates by their owners. This could be anything from the first number in a series to a registration that has been passed down through generations. However, in recent times, cherished number plates are more descriptive of personalised plates that have been strategically selected to mean something significant. So in essence, personalized number plates are cherished number plates, but not all cherished number plates have to be personalized.
The Driver and Vehicle Licensing Centre (DVLC) was put in place to allow vehicle owners to transfer a registration mark from one vehicle to another. With the advent of the retention and entitlement certificates, buyers are now able to purchase cherished numbers for future events, even for their young children who cannot yet legally drive. The DVLC was subsequently changed to the Driver and Vehicle Licensing Agency (DVLA), and buyers with retention certificates have to pay a small DVLA annual fee to maintain their rights to the registered cherished number.
Buyers who are looking to purchase cherished numbers need to understand how they work, the process involved in buying them, the different types of registration marks available, and the possibility of cherished numbers as an investment option.
Do Learn How Cherished Numbers Work
In an attempt to personalize the registration plates, buyers attempt to formulate words by combining letters and numbers that resemble letters. The usage of numbers cannot be avoided because the registration system insists that no more than three letters can be used consecutively without a number in between them.
For instance, a doctor or nurse would be interested in a registration number plate that reads H34 LTH. While 3 and 4 are obviously not the letters E and A, most person would automatically see the word HEALTH. Another example would be BD55 MAN. When this combination of letters and numbers are printed on a plate, the 5s seem more like Ss and the D can be seen as an O. Therefore, the plate seems as if it reads "BOSS MAN". Plates like these are easily bought and sold due to its personalized yet generalised characteristics.
Do Know How to Buy a Personalized Cherished Number Plate
It is difficult to buy cherished numbers, but the process is not as simple as buying a new plate whenever an interested wishes and simply exchanges them on a whim. There is an legal process because buyers are legally acquiring or trading the "right" to display a cherished number on a plate on a specific vehicle.
Do's of Transfer Rules
There are a few things that buyers should keep in mind when a cherished number has to be transferred from one owner to another. Below are some of the do's that buyers should consider.
Do ensure that the cherished number to be purchased can be legally transferred to the intended vehicle. Do ensure that the car from which a previously owned cherished number is transferred has current road tax and MOT documentation. Do consider a retention certificate if a desired personalized cherished number becomes available before acquiring a taxed and insured vehicle. This certificate grants entitlement to the number and is valid for one year, after which it can be renewed.
Do not purchase a cherished number plate that has an indicated year that is younger than the intended vehicle. In essence, if the buyer's vehicle had an original plate with an A year prefix, the buyer cannot replace it with a plate that has an L year prefix in the number as this makes the vehicle appear younger.
Don't Ignore the Display Rules
A new registration format started in 2001, which revised certain regulations regarding the construction and display of the registered numbers and the plates. These new regulations affected all vehicles that were registered on or after September 1, 2001, as well as replacement plates that were installed on or after the same period. The changes affected the font of the letters and numbers, the size and spacing, the colour and reflectivity, and the addition of national emblems.
Font
Do ensure that only the mandatory Sans Serif font typeface is used. This standard is put in place to allow the plates to be easily read by both humans and automatic systems. Don't add any variants such as italic or multiple strokes. A 3D effect can be added to the typeface for style.
Size and Spacing
Do include characters that are 79 mm high and 50 mm wide. The letter I and the number 1 are exceptions to this rule. Do ensure that the stroke width of each character is 14 mm and that each character within the same group has a space off 11mm between them. Character groups should be 33mm apart. Lastly, do keep in mind that each character is allocated a 79 x 50 mm rectangular block.
National Emblems
Buyers have the option of displaying a national emblem on their plate. These emblems are the various U.K. flags with the respective abbreviations added. For instance, the British Union Flag has GB, the Scottish Flag has SCO, and the Welsh Flag has Wales added.
Colour and Reflectivity
The regulations also provide a standard description for the plates, strength, visibility, and reflective ability. Do make sure that the front plates comprise a white background with black font, while the rear plates comprise the colour font on a yellow background. Also, do ensure that the plates have an inscription of the British Standard Number, the trademark, name, or other manufacturer identification, the postcode, and name of the supplier's outlet. If a border is being used, do not choose a reflective one as this goes against the registration standards.
Do Learn the Various Vehicle Registration Mark Types
In 1903, when the Motor Car Act was passed, a requirement came about for all vehicles to be registered and to openly display number plates. Since that time, various number systems have been implemented. The first system stayed in effect until 1932. When buyers enquire about cherished numbers, they should have an idea of the registration mark types available along with their layout and other distinct characteristics.
The Suffix System
After the initial system was exhausted, a newer, more flexible system was introduced to satisfy the demand for more registrations. The new format was made to provide more information about the registered vehicles. The format displayed letters for regional identification, and an ID number that followed the implemented sequence. This information was already added to the original format, but the new format also includes a year of issue, which is indicated by a letter code at the end. This is referred to as the suffix registration mark .
For instance, the first sets of numbers ranged from AAA1A to YYY999A . The A suffix represents 1963, which was the year that this system was introduced. Therefore, 1964 plates would range from AAA1B to YYY999B . The range for the succeeding years remained the same, except that the suffix changed accordingly. The table below illustrates the suffix codes and the dates of issue for car registrations during that time.
| | |
| --- | --- |
| Suffix | Dates of issue |
| A | January 1963 - December 1963 |
| B | January 1964 - December 1964 |
| C | January 1965 - December 1965 |
| D | January 1966 - December 1966 |
| E | January 1967 - July 1967 |
| F | August 1967 - July 1968 |
| G | August 1968 - July 1969 |
| H | August 1969 - July 1970 |
| J | August 1970 - July 1971 |
| K | August 1971 - July 1972 |
| L | August 1972 - July 1973 |
| M | August 1973 - July 1974 |
| N | August 1974 - July 1975 |
| P | August 1975 - July 1976 |
| R | August 1976 - July 1977 |
| S | August 1977 - July 1978 |
| T | August 1978 - July 1979 |
| V | August 1979 - July 1980 |
| W | August 1980 - July 1981 |
| X | August 1981 - July 1982 |
| Y | August 1982 - July 1983 |
There were two main advantages to this system. Firstly, it became easier for people to determine a vehicle's age, and secondly, the individual number sequence for a vehicle could be annually reused.
The Prefix System
The suffix series was played out by 1982, so a new format was once again introduced in 1983. The new system could be considered as the suffix system in reverse because the year indicator was now located at the beginning of the number. This format became known as the prefix registration mark , and is initially ranged from A1AAA to Y999YYY . The table below illustrates the prefix codes and the dates of issue for car registrations during that time.
| | |
| --- | --- |
| Prefix | Dates of Issue |
| A | August 1983 - July 1984 |
| B | August 1984 - July 1985 |
| C | August 1985 - July 1986 |
| D | August 1986 - July 1987 |
| E | August 1987 - July 1988 |
| F | August 1988 - July 1989 |
| G | August 1989 - July 1990 |
| H | August 1990 - July 1991 |
| J | August 1991 - July 1992 |
| K | August 1992 - July 1993 |
| L | August 1993 - July 1994 |
| M | August 1994 - July 1995 |
| N | August 1995 - July 1996 |
| P | August 1996 - July 1997 |
| R | August 1997 - July 1998 |
| S | August 1998 - February 1999 |
| T | March 1999 - August 1999 |
| V | September 1999 - February 2000 |
| W | March 2000 - August 2000 |
| X | September 2000 - February 2001 |
| Y | March 2001 - August 2001 |
The prefix system also had the same benefits as those achieved by the suffix system. It provided quick information about the vehicle's age, and the numbers were reusable.
The Current System
Both the prefix and suffix systems inevitably started to run out, so a third system emerged in 2001. That system is still being used today; hence, the term "current". The current registration mark comprises three groups including two letters to identify the region, two numbers to represent the year, and three letters that are randomised to represent that specific registration.
The last three letters are often the focus of cherished numbers because they can spell a whole or fraction of a name. For instance, the registration number BD55 SAM, would be broken down as the following: BD = Birmingham, 55 = September 2005, and SAM are random identifier letters that could represent the names Sam and Samantha.
Don't Forget Cherished Number Investments
Cherished numbers can also be bought as an investment option, when the number acquired can hold some sentiment to other people than the initial owner. The more people that are interested in a number, the higher the resale value. Therefore, even if a buyer is not interested in a fancy plate or has no immediate plans for reselling the registration, it is always a good idea to purchase a cherished number that other people may want to cherish as well.
Investment chart
The chart below shows some real registrations that have been bought and sold with high returns. It also shows the cost increase in just a few months after the last sale.
| | | | | | |
| --- | --- | --- | --- | --- | --- |
| Registration | Date 1 | Price (in pounds) | Date 2 | Price (in pounds) | Increase (in per cent) |
| OBR 133N | Feb-11 | 650 | Sep-11 | 3,500 | 438.00 |
| 1 PEY | Feb-04 | 5,200 | Jan-10 | 20,681 | 298.00 |
| HEN 2Y | Jun-05 | 6,300 | Jan-10 | 20,000 | 217.00 |
| HLS 6 | Mar-11 | 1,900 | May-11 | 5,600 | 195.00 |
| 7 GAG | Dec-10 | 1900 | Jan-12 | 5,250 | 176.00 |
| 3 HDA | Feb-11 | 1,900 | May-11 | 5,100 | 168.00 |
| 11 EEE | Oct-09 | 2,100 | Feb12 | 4,500 | 114.00 |
| 79 PB | Sep-08 | 5,600 | Jan-10 | 11,830 | 111.00 |
| 3 GFS | Mar-11 | 1,900 | May-11 | 3,800 | 100.00 |
Buyers should note that some fees and or taxes may have been subtracted from the amounts in the chart above. However, all registration numbers fetched at least 100 per cent return on investment.
How to Buy Cherished Numbers on eBay
It is not always easy to buy cherished numbers online, but eBay simplifies the process. The first thing that you should do is perform a search for cherished numbers from the eBay home page and take a look at the various types of registration marks available. With the initial search complete, you can now apply filters based on the type of cherished number that you are looking for. For instance, you can filter the results by registration mark type, issue dates, or specific letters that you want in your cherished number.
If you are already aware of the specific cherished number type and year that you need, you can quickly bypass some, if not all of the filtering process by entering specific keywords in your search. If you enter a search term like " M cherished number ", the returned results would already filter out all other letter options thus making the selection process less daunting; you can then select a prefix or suffix type if you wish. Once you make a selection, you can consult the seller to discuss transfer and registration processes if necessary, before making a payment.
Conclusion
Buying cherished numbers can be frustrating and confusing for buyers who do not have any knowledge on the subject. The first thing a buyer should do is learn the story behind cherished numbers and how they work. Buyers should then familiarize themselves with certain processes that affect the purchase of a cherished number including transfer and display policies.
Given that the aforementioned details are read and understood, buyers should learn about the three main registration mark formats that dictate the placement of the letters and numbers on the plates. Understanding the formats also enables the buyer to decide if the year indication on a plate can be used on their current vehicle based on age specifications. With this knowledge, a buyer can also determine a good cherished number for investment purposes and the plausibility of keeping it on retention. Finally, a quick search and browse on the eBay website can provide access to many cherished numbers for sale.