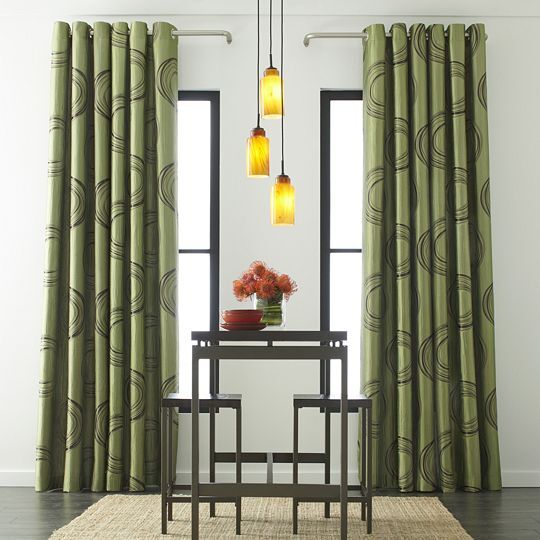 For some rooms in the house it is the curtains which become the most important style decoration. Choosing the correct type of fabric,, which involves selecting the material used along with the colour and pattern, can be a tricky buying consideration, especially because of the extensive choices on the market.
With regards to this, shopping in DIY or home décor stores may only provide a limited amount of choice. Not knowing if a more preferable curtain fabric is available in another store may also etch itself into your mind. Buying online eliminates these worries as countless numbers of fabrics can be viewed next to each other.
One site useful for bringing up many types of listings is auction website eBay, where items can also be arranged by specifications such as their colour, size and price.
Different Types of Fabric
If looking to buy curtains for the very first time or simply fancy a change for an existing set of curtains, knowing the different types of fabric that are commonly used to form curtains is useful.
The different weight of the fabrics used is important to consider for what type of curtains are preferred inside the room. Lighter curtains may provoke a subtle and airy appearance, adding to the casual appearance of a room and are generally more affordable for the average homemaker. Some designers point out they may not fall well when hung however, and can also let too much light into a room.
Medium to heavier weighted curtain fabrics can add a more distinguished appearance to a room, often presented in rich, flavoursome colours and textures. More formal areas of a house suit heavier curtain fabrics. Although one worry is that they may not fold well when drawn together.
The table gives some common examples of fabrics used to make curtains and which category they commonly fall into.
Lightweight
Cotton
silk
muslin
linen
challis
Medium-weight
Heavyweight
Specific Fabrics
For some of the most popular materials used in the manufacture of curtains, this section will look at those most accessible for the average UK buyer.
Do and Don't For Buying Curtain Fabric
DO consider what the fabric is being bought for in the first place. If creating curtains from scratch or adding extra patterns to an existing pair then research carefully into how it should be used. For example, if putting up entire curtains, then look at how much fabric is needed for different looks.
DON'T try and save money by cost-cutting in both the amount and also quality of fabric bought. Buying too little fabric for example can have detrimental effects when coming to make seams, hems and linings in terms of the finished size. Also take into consideration that some fabrics may wear in the wash and shrink during dry cleaning.
DO consider the room the curtains will be hung in. Review the existing style of the room and look at the different fabrics which can complement it. Alternatively, a room and the furniture inside can be styled to suit the appearance of a certain fabric. Many colour schemes and pattern designs can be chosen between.
DON'T buy a particular style or colour of curtain fabric without also reviewing the curtain poles in which it will be positioned onto. Also, some heavier curtains may require a sturdier frame to hang on without causing the pole to break.
DO consider how geographical features can affect the curtains. Will strong sunrays be hitting the curtain on a regular basis for example? Brighter, thinner and more lightweight fabrics tend to fade faster. Darker materials can cope better with this and will also protect the room itself from potentially annoying strong light seeping in.
DON'T buy curtains without assessing what time of year it is first. Lighter materials such as cotton may suit summer climates where the windows will be open on a regular basis, whilst darker and thicker/ heavier fabrics may help keep a room insulated in colder temperatures.
DO be prepared to buy synthetic materials. Although some homemakers may prefer authentic silks and linens, some artificial fabrics such as faux silk can have the same effect and are usually less expensive. Some nylons and polyesters at the lower end of the market can have a shoddy look to them however; so look out for these.
DON'T buy fabric without knowing the specific size measurements. Use a tape measure to evaluate the window in question and then also how far the curtains should fall down to.
DO not overpay for a curtain fabric. Although it is important to not undervalue this purchase as an efficient and well groomed curtain fabric can last for years, the wide selection can make prices fluctuate. If anything, it is advisable to buy more fabric than is estimated to be needed despite this pushing up the cost.
DON'T be scared to make multiple purchases if needed. If buying online and unsure about how a certain fabric will actually look in the room, buying the smallest amount possible will allow you to do this and then check it out first hand before committing to buy more. Buying completely different fabrics will also allow you to try different styles in different rooms at different times of the year.
DO consider eBay before committing to buy any type of curtain fabric. This is because the range of choice is more extensive than can be found elsewhere and that search results can be narrowed by different factors. Many deals can be found also which can save buyers money and give more confidence when making a purchase.
Using eBay to Buy Curtain Fabric
This section will look at some of the ways to search out curtain fabrics and then make a final purchase.
To bring up the relevant fabrics for curtains then entering the most applicable category is beneficial. To do this from the eBay home page, select the 'Home & Garden' category and then 'Curtains and Blinds..' Typing "fabric&" into this section will then bring up all the relevant items that have been listed by all the various sellers.
Further categories for which curtain fabric will have been listed inside will include: 'Curtains & Pelmets,,' 'Other Curtain & Blinds&' and 'Curtain & Blind Accessories..'
By entering one of these categories then further options can be refined from the menu on the left hand side of the page. The main considerations which buyers will tend to look for can be sorted between. These include:
Colour – be it black, beige or even multi-coloured, the colour of fabric is one of the most crucial style considerations.
Brand – To guarantee of bit of quality, specific home décor brands can be bought up; these include Hand Made, Laura Ashley and Sanderson. If a certain brand of curtains already grace a room, then it can be useful to find a matching style if necessary.
Style – Some curtain fabrics can be classified by a particular style such as contemporary, modern, traditional and vintage.
Room – Often, an idea is already known of where the fabric will be used in terms of which room it will be used in. Narrow down the results by curtain fabric suitable for the bathroom or bedroom for example.
Fabric – The fabric is another really important aspect to look at as it can quickly bring up one or more materials which will be most appropriate.
Other more general buying considerations can be refined on eBay also. These include the condition in which the fabric should be in, be it used or new,, along with the price range. The vast majority of fabrics can be found for low amounts, meaning the average UK buyer can afford most types.
Conclusion
eBay has copious amounts of different curtain fabrics in an array of styles, colours and designs to choose from. Search results can also be narrowed down in accordance with personal preferences to make the shopping experience quicker and easier.
Before committing to buy a piece of fabric, make sure to know exactly what is being bought in terms of the size specifications and the actual material itself –different characteristics of certain fabrics make them suitable for varying types of curtain.