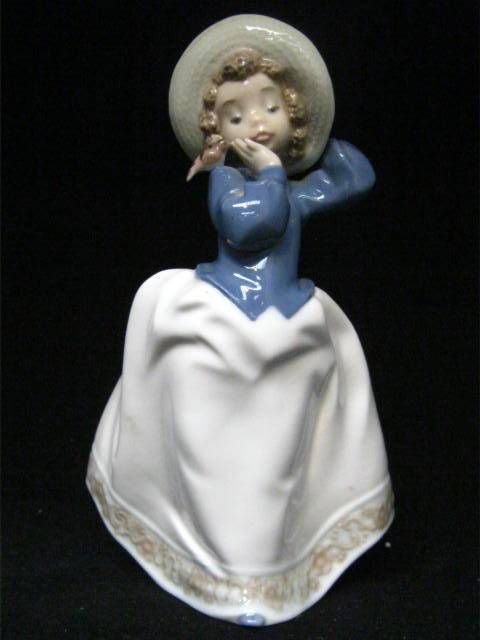 Founded in 1953 by the Lladro brothers in Almassera, Spain, this Spanish company produces collectable porcelain figurines. 1956 marked the year when the business started producing the beautiful sculptures that made them famous. A unique blend of hard-paste porcelain and a special glazing process, both heavily guarded secrets, give the figures their unique characteristics and look that are treasured by collectors worldwide.
When buying Lladro figures, shoppers should keep a few things in mind, including any themes they want to collect, the figures' finishes, and whether or not they wish to purchase from a collection. Various do's and don'ts help collectors make the right choices when it comes to purchasing porcelain figures. These tips include comparing the various figures that are available and purchasing the ones that best fit a specific budget or already established collections that shoppers own. When searching for Lladro figures, shoppers can often find them in local collectable shops and online on various sites, including the Lladro website and eBay.
The 5 Do's of Buying Lladro Figures
For those who like to collect Lladro figures, a wide variety of figures exist, both in local shops and online. Whether collectors want to buy one of the newest Lladro pieces or they seek figures from a retired collection, they should follow some do's and don'ts when shopping. For instance, collectors should have a working knowledge of the Lladro line. This includes the various themes that can be found, any collections available, the finishes of the figures desired, and how to best authenticate figures. The sections below detail five do's that can be followed when buying Lladro figures.
1. Do Learn About Lladro Figure Finishes
When collecting Lladro figurines, most collectors focus on a particular type of finish. The chart below details the various finishes that are available.
Figurine Finishes

Description

Most popular finish

Provides a glossy finish on figurines

Usually applied after an initial firing

Finish lacks the glossy look of glazed

Achieved by applying a rougher surface to the item to cut down on light refraction

Made from a different type of porcelain

Pigments added to give figures a look similar to stoneware or pottery
Most matte pieces were retired in 1991. Today, collectors can only find the most popular pieces in both a glazed and matte finish.
2. Do Learn About Lladro Figure Themes
Based on moments in life, many Lladro figures focus on love and relationships. The list below includes some of the most common Lladro figure themes, which range from events to holidays to other favourite occasions.
* Relationships
* People
* Animals
* Flowers
* Angels
* Sports and Professions
* Fantasy
* Traditions of Spain
* Variety of Religions
* Christmas
3. Do Learn About Lladro Figure Collections
In addition to themes and different finishes, Lladro figures come in a variety of different collections. Most of the collections themselves carry a theme. The table below provides more information on some of the Lladro figure collections.
Collections

Description

Re-Cyclos Collection

Based on Lladro's classical pieces

Features new items from some of Lladro's most important designers

First released in 2005

Legend Collection

Features delicate and translucent porcelain, mixed with gold and precious stones

Fanciful

Released at the end of the 1990s

Christmas Collection

Includes a variety of Christmas-themed items

Tree toppers, nativity sets, ornaments, figures, and other Christmas related items

Black Legacy Collection

Originally named "Black Heritage"

Name changed for political correctness to "Black Legacy"

Celebrates the culture of African-Americans

Gold Club Collection

An invitation-only club

Restricted to those collectors who spend a certain amount or more in a given year on Lladro items

Privilege Collection

Replaced the Lladro society membership

In turn, was replaced by the Gold Club

Pieces released from 2001 to 2010

Lladro Society Collection

Pieces produced from 1985 to 2000

Only available to collector club members

Replaced by the Privilege Collection in 2001

Goyesca Collection

Inspired by the Spanish artist Francisco Goya

All items were limited editions and are sold out

Hard to find, even in the secondary market

Elite Limited Edition Collection

First became available in 1974

Made up of large, intricate, and elaborate pieces that have more technical complexity

Capricho Collection

Sold between 1983 and 1991

Retired due to the lace, delicate pieces being damaged during shipping
The above collections represent some of the most popular Lladro collections. Other collections include Lithophanes, Talismania, Classic Children's Tales, and more. Another hot area for collectors includes retired collections, which shoppers can find online at sites that specialise in retired Lladro figures.
4. Do Authenticate Lladro Figurines
When purchasing Lladro figures, collectors should ensure the authenticity of the items they want to buy. Collectors can look for certain verifying marks and numbers that they can use to make sure the figures they purchase are real Lladro figures. Located on the bottom of every figure, the Lladro mark includes a blue bell-shaped or tulip-shaped logotype, the name Lladro, and 'Made in Spain'. To look at the different logos the company has used over the years, collectors can visit the Lladro site. When on the site, collectors can also check the serial number found on the bottom of the figurine or on the authenticity card that comes with it. Another option involves contacting the Customer Service department at Lladro. They should authenticate the figure in question free of charge.
Buyers can also search Lladro catalogues, as they contain every authentic piece. Better yet, the catalogues contain the suggested retail prices for figures, and this allows shoppers to compare asking prices to the suggested values. If all else fails, a local appraiser who specialises in Lladro figures may be able to help. This usually involves going through a local shop that sells the figurines. The shop should have some recommendations and may even be able to provide contact information.
5. Do Compare the Lladro Figures That Are Available
Before purchasing any Lladro figures, collectors should compare the items of various sellers if possible. Shoppers can often find a lower price when they comparison shop. Collectors know what they want when buying and should compare the various figures that are available. They should also look carefully at any photos provided if they do not have access to the items themselves. Ultimately, collectors need to compare item prices and conditions with whatever budgets they have set for the items they want.
The 5 Don'ts of Buying Lladro Figures
In addition to various do's, collectors need to keep in mind an important list of don'ts to help them during the buying process. The following section contains five of the most relevant don'ts to follow when buying Lladro figures.
1. Don't Forget to Check Seller Ratings
When buying Lladro figures online, always look for any information that is available about a seller. This can help shoppers decide whether they want to buy items from a particular seller or not. Even when buying figures in an actual shop, collectors can look online beforehand to see if anyone has posted any positive or negative comments anywhere about a particular seller or shop.
2. Don't Hesitate to Ask Questions
Collectors should not hesitate to ask sellers any questions about items they are interested in buying. Online sites usually have a contact form or link that allows shoppers to contact the seller directly. Most sellers want their customers to have a full understanding of the items they plan to buy, and they gladly answer any questions.
3. Don't Spend More Than Intended
One important consideration when buying Lladro figures involves setting a budget and sticking to it. If seeking a particular item, shoppers should search for that item first to ensure they have enough funds to buy it. They can then focus on other items to round out their collections.
4. Don't Forget to Include Shipping Charges
Another consideration when buying Lladro figures online includes any shipping or handling charges that collectors have to pay. Sometimes sellers offer free shipping, but if an item has to be returned, the cost to ship the item back usually falls on the customer. Understanding how the shipping charges and rules work is an important part of the process when buying online.
5. Don't Forget to Rate Sellers
A final consideration involves rating a seller after completing the buying experience. Most websites have a setup for this, while a physical location might require shoppers to go to an online site to leave positive or negative feedback. Shoppers should be sure to have their items in hand and examined before leaving feedback or reviews for a seller or shop.
Finding Lladro Figures on eBay
If you want to shop for Lladro figures online, go to the eBay marketplace for many high-quality and reasonably priced product options. To search eBay, enter keywords into the search box on any eBay page. Try using terms like ' Lladro matte figurine ' or 'Lladro clown figurine', for example. Simply use words that describe the product you want. When viewing the list of results, try narrowing down the choices by clicking on the category or filter options. Doing this displays only the listings that match your new selections. For instructions on how to search the site using keywords, visit eBay's Search Tips page. You can also visit specific eBay Shops for more product options.
Remember to pay attention to details when you look through each product listing. Read about cost, quality, size, colour, and any other important item specifications. Use the Ask a Question link on the seller's listing page to contact the seller directly to ask any important questions about the product. Finally, be sure to read through the seller's feedback. This gives shoppers a great overall view of the seller's previous sales history.
Conclusion
Beautiful and often intricate, Lladro figures have been collected by lovers of porcelain figurines since the company first started manufacturing them in 1956. Collectors can find a variety of themes, including those that feature animals, angels, and various fantasy figures, but themes mainly tend to focus on family and romantic relationships. Other popular themes include religion, Spanish traditions, Christmas, and flowers, among others. The uniqueness of each piece makes Lladro figures popular collector's items.
Figures belong to one of two categories, those currently being sold and those retired pieces that collectors can only buy from second hand websites, individual collectors, or local shops that might trade in retired Lladro figures. Also, if collectors want special releases reserved for Gold Club members, then they need to join the club. As long as shoppers keep the above do's and don'ts in mind, they should have a great shopping experience.