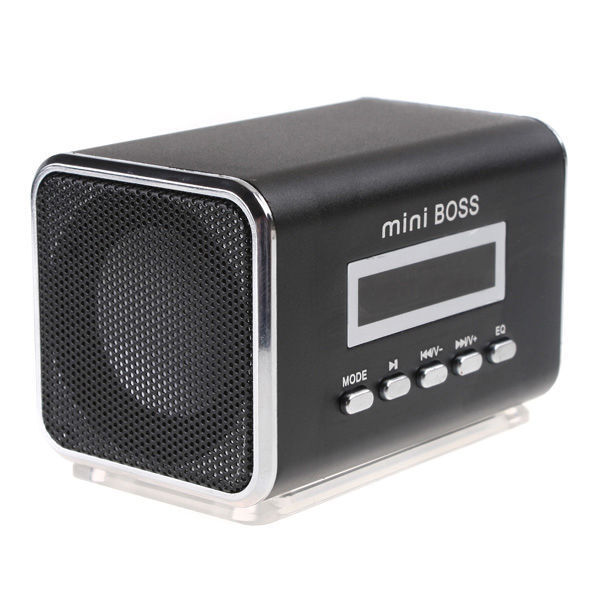 Mini speakers are small speakers that are often used with portable multimedia devices such as smartphones and tablets as well as with computers. Often seen as a compromise between convenience and power, mini speakers can still deliver great sound. In contrast to bulkier larger speakers, they are ideal for use on holidays and are great for students or people who find themselves moving around frequently.
Choosing Mini Speakers
Mini speakers come in various shapes and sizes, and they can vary when it comes to power and sound quality as well as functionality and connectivity. The following five do's and don'ts may be helpful when trying to find suitable mini speakers.
Do Check Out Capsule Mini Speakers
One of the more ubiquitous types of mini speaker, these little round capsule speakers are ideal for carrying around in a small bag or even a handbag or for taking from room to room to listen to music. They usually have an integrated cable and can be used with any device with a 3.5 mm connector. This includes most portable multimedia devices, such as iPods and iPads, other tablets, MP3 players, PCs, iPhones, and various other mobile phones and smartphones. They are also known as hamburger speakers because of their distinctive shape, with two semi-spherical sections one above the other, and can be expanded out when in use and then folded back down for compact storage and transportation. One of the great features about capsule speakers is that they can be linked up with each other for bigger sounds, which makes them very versatile.
Considerations When Buying a Capsule Mini Speaker
Capsule speakers are available in several colours, including black and white, but also vibrant red and blue, hot pink and grey amongst others. Some come with a plug to charge from the AC mains which can be very handy - otherwise they will need to be charged from a PC. Battery life is typically about 12 hours, which compares very favourably against similar types of mini speaker.
Don't Buy a Speaker That Doesn't Connect to the Device
While it sounds like common sense, it always pays to make sure that speakers are compatible with a particular device. In the case of capsule speakers above, they are typically compatible with a large range of multimedia devices. This is also the case with many other mini speakers. Mini speakers may also have USB ports to connect to or charge from computers. Due to their design, mini audio docks are obviously a little more specific when it comes to the device they are intended to work with. However, it is sometimes possible to connect other devices to audio docks, so long as the necessary cables, connections and/or adaptors are present. Another connectivity option is to go down the wireless route. Bluetooth is the general choice here, and Bluetooth speakers can work with any Bluetooth device, including smartphones, tablets and laptops.
Don't Dismiss Wireless Speakers
Wireless speakers are easy, no-fuss solutions to connectivity and trailing cable issues. There are two basic options - Bluetooth and AirPlay.
Bluetooth Speakers
Bluetooth is the obvious option and a great choice if the speaker is to be used with multiple devices, so long as they are all Bluetooth enabled. This includes Android smartphones, iPhones, and various others. The range varies slightly from speaker to speaker, but generally speaking around 10 metres is the maximum. Bluetooth can work through walls, but any obstacles will affect the overall transmission distance so this needs to be kept in mind. Bluetooth technology is improving all the time, and the sound quality of more modern speakers is much better than that of earlier models.
AirPlay Speakers
For iPhone and iPod users, there is also the option of AirPlay. AirPlay has several benefits over Bluetooth. Unlike Bluetooth, it does not use audio compression. This means better sound quality, although differences in sound quality this will not be as noticeable on a mini speaker as on a larger home stereo system. Because AirPlay works with a local WiFi network, it also has better range than Bluetooth. However, this can also be a disadvantage, as WiFi is not always available outside the home. For this reason, AirPlay is more suitable for those using mini speakers in the home rather than outside. In contrast, Bluetooth works with its own network and does not require WiFi. AirPlay is also more expensive, with price increases tending to be passed on to the customer.
Do Consider Where the Speaker Will Be Used
As alluded to above, location is a key consideration when it comes to making a mini speaker purchase. Not everyone buys mini speakers to use outside the home, and they might always be used inside in place of, or instead of, ordinary home speakers. This could be because of budget considerations, convenience, because the user moves frequently, or various other reasons.
Speakers for Outdoor Use
However, it is often the case that mini speakers are required to be small because they are required to be portable, and this means moving them around to different locations. They may often be used outside, for example, at barbeques, impromptu picnics, or while hiking or camping. If so, it is a good idea to check out the casing and the general robustness of the speakers. Reviews can be helpful here, and there are some products specifically recommended for outdoor use if this is important. Look out for features such as dustproof, screwless or water resistant casing. Some speakers are even available with their own small backpacks for handy transportation.
Do Check Out the Wattage
The key indication of how powerful speakers are is the RMS (root mean square) power, expressed in watts. Mini speakers are typically around 2 watts RMS or 3 watts RMS. For louder sounds, more speakers can be added and used together.
Find Mini Speakers on eBay
Finding mini speakers on eBay is easy and can be done in two ways. The first way uses the tabs found to the left of the homepage. The Electronics & Technology tab links through to the Sound & Vision option, from which All Categories followed by Audio Docks & Mini Speakers can be selected. There is then a choice to select either portable mini speakers Portable Speaker Systems or audio docks Audio Docks. The second way uses the search facility found at the top of the homepage. To use this system, simply type in relevant phrases such as "portable mini speaker", "Bluetooth mini speaker" or "capsule mini speaker".
Conclusion
Mini speakers are a great purchase for use in the home, while travelling or on holiday. Some can be used outdoors and they are available in both wired and wireless forms. The two wireless technologies are Bluetooth, which can be used with all Bluetooth enabled devices, and AirPlay, which is solely for use with Apple devices. Bluetooth can be used anywhere, while AirPlay requires a WiFi network, but AirPlay is usually considered to have the edge on sound quality. Mini speakers are available in various shapes and sizes, one of the most popular designs being the capsule mini speaker. This can be used with any device with a 3.5 connector and is a versatile system that can be linked together for bigger sounds. Docks are another option but are more specific when it comes to the devices they can be connected with. Speaker power is expressed in watts RMS. When looking for mini speakers, consider where and how the speaker will be used, and always ensure that it has the appropriate connections to hook up to the intended device.