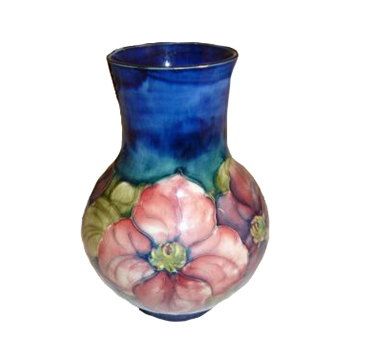 The Moorcroft pottery line was started by William Moorcroft when he was hired to work for the pottery manufacturer James Macintyre & Company Limited in 1897. Soon, he was in charge of the company's art pottery studio, mainly due to his innovation and skills as a maker of earthenware. Once put in charge, his first release, Florian Ware, gained great acceptance and won him an award for his efforts in 1904. Resentment grew between the employer and the master craftsman during the following years, and his studio was closed down in 1912. Undeterred by this setback, Moorcroft set up his own company and was soon producing pottery once again. To this day, Moorcroft pottery, especially the brand's vases, can be found in the collections of many art lovers around the world.
When buying Moorcroft vases, collectors should follow certain guidelines to ensure they have the best possible experience. This includes learning more about the Moorcroft company and some of the items it produces. When looking at vases, shoppers should follow certain do's and don'ts for purchasing. This helps make their experiences at local retail shops and at online shops easier and safer as they choose the best vases for their collections at fair prices.
Moorcroft Pieces
When perusing Moorcroft's many products, collectors should have an idea of what they want to buy. Most often this involves Moorcroft vases, but other pieces also exist for consideration. The section below details the different pieces available to collectors.
Bowls
Including both small and large sizes, the line of Moorcroft bowls comes in a variety of different shapes. Collectors often seek pieces with colour patterns and designs by world-famous pottery makers, such as Walter Moorcroft, Rachel Bishop, and Emma Bossons. The wide variety of Moorcroft bowls allows collectors the luxury of being selective about what they purchase.
Candlesticks
While not in common usage in today's society as a primary means of lighting, collectors and romantics alike still buy beautifully crafted Moorcroft candlesticks to hold their candles. Made of clay in a variety of heights, most have a floral or other design painted on the surface before the final firing. Intricate and beautiful, these candlesticks add considerable value to any collection and can help create the most romantic of moods for a dinner or spending time with a significant other.
Charger Plates
Thought to have come into fashion in the 1800s, Moorcroft charger plates serve as a base plate for the main dinner plate. Intricate in their design, most have a variety of interesting objects painted on them, from arrangements of fruit to ships, floral patterns, animals, landscapes, and more. These beautiful plates find themselves treasured by Moorcroft collectors the world over.
Clocks
Decorated with some of the most famous Moorcroft designs, the company produces many different Moorcroft clocks. While some are used primarily as mantle clocks, they are all beautiful pieces that find their way into many collections.
Ginger Jars
Originating in China, ginger jars are used to hold a variety of spices besides ginger. They have a distinctive shape, a wide mouth, a bulging body, and are topped off with a domed lid. Moorcroft ginger jars use many of the Moorcraft patterns for decoration.
Jugs
Distinctive in shape, Moorcroft jugs have become very popular pieces amongst collectors. They come in all shapes and sizes with many favourite Moorcroft designs painted on them.
Lamps
Manufactured in both traditional and contemporary styles, Moorcroft lamps come in a variety of different shapes and sizes. Whether used as a home furnishing or as part of a collection, Moorcroft collectors worldwide seek out these illuminating pieces.
Plates
While traditionally used mainly to serve food, Moorcroft plates sometimes have a more decorative purpose. Like charger plates, these items come in a multitude of Moorcroft designs, making them desirable to a wide range of collectors who use them as display pieces.
Vases
Moorcroft vases come in all shapes and sizes. Available in almost all of the different patterns that Moorcroft offers, these vases have become one of the staple offerings for collectors worldwide. The following table provides more information on some of the more popular pieces.
Vase Shapes

Description

Cube Vase

Easily placed into corners due to their shape

Short with a wide mouth

Flowers could need extra support to stay upright

Most common vase type

Flared at the top of the vase

Taller blooms require support from shorter blooms on the side

Tall with a narrow mouth

Designed to only hold a single flower

Bloom could require additional support

Tall, medium-sized vases

Perfect for longer and thicker stemmed blooms

Pitcher Vase

Tall with a mouth that typically flares out

Similar to a pitcher used to serve drinks, complete with handle
If collectors intend to actually use their vases, they should try to choose styles that fit the blooms or arrangements they typically use. If the flowers involved need side support, keep this in mind when purchasing blooms.
5 Do's of Buying Moorcroft Vases
When buying Moorcroft vases, shoppers should keep in mind some simple advice. They can use the information located below to help them make a more informed decision when buying Moorcroft vases.
1. Do Compare Vases
When buying vases, shoppers should compare the various items that are available based on price, condition, and design. This allows them to get the best prices for the items they want while still getting the vases that best fit their needs.
2. Do Know the Desired Shape
Vase shape remains an important consideration when buying. The major determining factor in the shape of a vase for use comes down to flower types and quantities that shoppers expect to place in the vases. Collectors who do not expect to put blossoms into the vases and who plan to use them only for display can simply choose a shape based on aesthetic appeal.
3. Do Look for Signatures
William Moorcroft was known to sign his name or initials on almost every piece he produced. To authenticate an original piece, look for the William Moorcroft signature or his initials on the bottom of the piece. In some cases, vases may not be signed and have to be authenticated using other methods.
4. Do Check Any Feedback
Looking at how other collectors rate their shopping experiences with a particular seller allows shoppers to make a more informed choice about the places they want to shop. The general rule is that if a shopper wants to have a positive experience, then they should buy from sellers with positive online reviews or word-of-mouth feedback. This is a great way to ensure a better overall shopping transaction.
5. Do Ask Questions
If collectors are unsure about a product, they should not hesitate to ask sellers any questions they have. This helps shoppers determine if they want the vases in question or if they want to keep looking at other items.
4 Don'ts of Buying Moorcroft Vases
Just as shoppers should keep in mind certain things to do when purchasing Moorcroft vases, they should also avoid certain things when buying. The following section details the different don'ts to keep in mind when shopping for Moorcroft vases.
1. Don't Rush to Buy Moorcroft Vases
When buying a vase, a shopper needs to make sure that the vase meets all of the desired criteria, including an affordable price. Also, the vase's quality should come into consideration. Design needs to be factored into the decision, as well, since many collectors buy Moorcroft vases based on this factor alone. Once satisfied with these areas, shoppers can purchase vases with confidence.
2. Don't Spend More Than Intended
When perusing Moorcroft vases, shoppers should keep in mind the budgets they set for themselves. This allows them to buy the vases they want without spending too much on each item. After setting budgets, shoppers should stick to them.
3. Don't Forget to Include Any Shipping and Handling Fees
When buying Moorcroft vases online, shoppers should keep all costs associated with shipping and handling in mind. Sometimes the seller may offer free shipping, which is a bonus that many buyers appreciate. Shoppers should keep in mind, though, that if they have to return items, they usually have to pay the return shipping themselves, depending on the exact reason for the return.
4. Don't Forget to Leave Feedback Upon Completing the Process
After completing the buying process, shoppers need to remember to provide feedback for a seller. This usually involves waiting until the item has arrived since an important part of the process involves the promised condition of the item. Retail websites often have feedback pages readily available, but buyers may have to request instructions for ways to provide reviews for local shops.
Shopping for Moorcroft Vases on eBay
After deciding to buy a Moorcroft vase on eBay, you can find items by browsing the marketplace. The first step involves doing a search by entering keywords into the search box located on any page. Shoppers can use such keywords as 'Moorcroft flambe glaze vase' or ' small Moorcroft vase' to pull up matching item options. The results can be narrowed by colour, cost, quality, size, and other criteria specific to the item sought. If shoppers find themselves unsure of how to use eBay's search functions, they can visit the Search Tips page for more advice on how to use keywords to find Moorcroft vases. Shoppers can also peruse eBay Shops for more options.
For those who are unsure about a listed item, they can use the Ask a Question link found on any seller page to find out more information. Buyers should also look at the seller's feedback rating to help them find sellers with good ratings based on their interactions with other shoppers.
Conclusion
Whether buying a Moorcroft vase to place flowers in or for a collection, knowing the patterns and designs that are available and which ones best suit the intended use can go a long way towards ensuring that shoppers buy the right vases for their needs. Shoppers should also keep in mind the vase shape that best suits the arrangements, if any, that they expect to use in the vases. Flowers with weaker stems more than likely require some kind of support on their sides, and that could include other shorter blossoms or other decorative items.
Shoppers may also want to keep in mind other Moorcroft pieces they want to buy and match the designs to the vases they purchase. By doing so, they can match up the items, thus forming a set, which in the end can serve them better as far as a look of uniformity among their collections. Collectors should keep that in mind along with these common do's and don'ts when purchasing items on eBay or in local retail outlets.