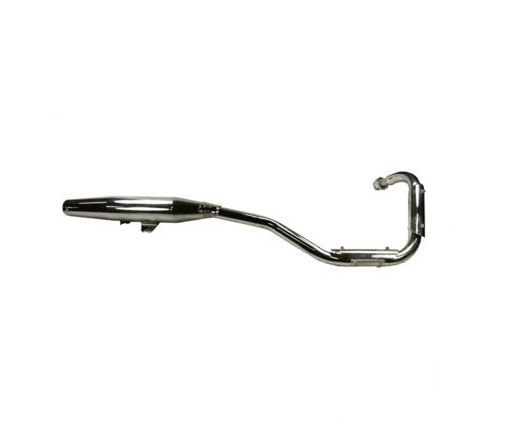 A motorbike exhaust system carries the toxic fumes a bike produces away from bike riders. Constructed of heat-resistant materials, motorbike exhaust pipes get very hot while in use, and bike users should avoid touching them or risk getting burned. Most motorbike exhaust systems also play the role of environmental safeguard and feature catalytic converters as part of their construction.
To buy the right motorbike exhaust, bike owners need to understand how an exhaust system works, what parts comprise an exhaust system, and the more common materials used. They should also learn how to choose sellers based on their interaction with other customers. Bike owners should also understand the importance of giving a seller a rating upon completing their shopping experience. Combining this knowledge with a list of do's and don'ts allows owners to vastly improve their shopping experience for motorbike exhausts at local auto part shops and online at sites such as eBay.
The Do's and Don'ts of Buying Motorbike Exhausts
Motorbike riders should follow a straightforward list of do's and don'ts of purchasing a motorbike exhaust, which can save riders both time and money. By knowing which product to buy, they can focus on getting the right motorbike for their specific model at the right price. The following sections provide some important do's and don'ts when purchasing a motorbike exhaust.
Do's When Buying a Motorbike Exhaust
By following certain guidelines, shopping for a motorbike exhaust becomes much easier. The following section contains some advice on what to do when purchasing a motorbike exhaust, including knowing the different parts of a motorbike exhaust system, researching the different types of systems available, and the material types these systems are made from.
Do Know How a Motorbike Exhaust Works
A motorbike exhaust system's main function involves diverting toxic exhaust fumes away from the bike rider and out through a pipe, or pipes, at the back end of the bike. Unlike a car exhaust, which uses a single pipe to vent exhaust, motorbikes feature several different connected pipes, one to each cylinder. As the exhaust is blown out of the cylinder on the exhaust stroke, the pipes carry it away from the rider and any passengers.
Do Know the Different Parts of a Motorbike Exhaust System
Shoppers need to understand the importance of how the different parts of a motorbike exhaust system work together. By each component doing its part, the exhaust system can remove the toxic gases without harming the rider or bike. The following section covers the various parts of a motorbike exhaust system, including different exhaust system types, such as a header-back or cat-back system.
| | |
| --- | --- |
| Exhaust System Parts | Description |
| | Assembly designed to direct the exhaust gases away from the cylinders to the tailpipe and away from the bike |
| Header-Back System | The part of the exhaust system starting from the header outlet until where the exhaust comes out of the tailpipe |
| Catalytic Converter | A few bikes come with catalytic converters; helps clean pollutants from the exhaust; located between the manifold and the tailpipe |
| Cat-Back System | The portion of the exhaust system from the catalytic converter back to the tailpipe; these system types generally use larger pipes |
| | Where the exhaust system vents the air to, eventually releasing it into the atmosphere; use caution when working around this area as it can become very hot |
| | Helps keep the sound issuing from the exhaust system within appropriate levels; located near the end of the tailpipe |
Once a rider knows the various parts of a motorbike exhaust system and how they work together, they can focus on buying the exhaust system that best fits their particular bike. This should allow them to achieve the horsepower levels they want while still staying within their specified budget.
Do Research on the Types of Motorbike Exhausts Available
Bike exhausts come in various types, from full-system exhausts to slip-on and flange-on exhausts. The table below details the different exhaust types.
| | |
| --- | --- |
| Motorbike Exhaust Types | Description |
| | Connects to the head of the engine; provides better high-end performance; suits those who run their bikes at full throttle |
| | Connects to the opening where the stock muffler connects; intended for bikes that stop and go a lot; great low-end power |
| Flange-On Exhaust | Bolts to the existing exhaust system, replacing the stock muffler; allows for bike owners to retain original headers; adds horsepower |
Each different motorbike exhaust type has its advantages and disadvantages. Keeping these in mind while shopping should allow motorbike owners to get the best exhaust system for their particular needs.
Do Learn the Various Materials Used in a Motorbike Exhaust
The exhaust system materials play a large part in motorbike performance. The lighter a material, the better performance of the bike. Bike riders should also look for durable materials that have corrosion resistant properties. This helps assure that the exhaust system lasts a long time. The following table describes the various materials used in an exhaust systems, including aluminium, carbon fibre, and stainless steel.
| | |
| --- | --- |
| Exhaust Material Types | Description |
| Aluminium | Lightweight and durable; popular exhaust system material type due to its strength-to-weight ratio |
| Carbon Fibre | Lightweight, heat resistant, and strong; more expensive than other exhaust system materials |
| Stainless Steel | Heavier than other exhaust materials; durable and corrosion-resistant |
| Titanium | Lighter than steel and twice as strong as aluminium; allows for the use of less material; resistant to corrosion |
Budget plays a big part in the available materials a bike owner can afford. Buy the highest-quality material exhaust system possible, based on budget, when shopping.
Do Compare Motorbike Exhausts
When shopping, motorbike owners should make sure and compare the various exhaust systems available. They should keep in mind their use needs, motorbike exhaust cost, and the overall horsepower benefits that a particular system provides. Make sure to compare as many systems as possible and purchase the exhaust system that best fits all three criteria.
Do Develop a Budget When Purchasing Motorbike Exhausts
Motorbike owners should develop a budget for the parts they want to purchase. This allows them to focus on finding and comparing exhaust parts that fall within their price range while shopping. Sticking to a budget keeps shoppers from regretting a purchase later.
Don'ts When Buying a Motorbike Exhaust
In addition to various steps shoppers should take while shopping, bike owners should also avoid certain activity. The sections that follow provide information on 5 don'ts for shoppers when purchasing motorbike exhaust parts.
Don't Forget to Check Seller Feedback
Before making a final decision to purchase motorbike exhaust parts, bike owners should check to see how others have rated their experience with a seller. They can typically find this information about a business or seller online and by reading third-party customer service websites. Shoppers also should keep in mind that just because a seller has one negative rating does not make them unfit to buy from, especially if most of the other feedback is on the positive end of the spectrum.
Don't Hesitate to Ask Sellers Questions
Shoppers who have any questions about a product should not hesitate to ask the seller their questions. This allows bike owners to keep informed about the product specifications they want to buy and then effectively choose the best options for their needs. Knowing how a part works and what a particular bike requires can also keep shoppers from purchasing any unnecessary or unfit exhaust parts.
Don't Leave Negative Feedback Before Contacting the Seller
If a problem develops with the part, contact the seller first to seek a solution. Maybe the problem was not with the seller at all, but with the shipper. Most sellers want to provide their customers the best shopping experience possible. If a seller refuses to help fix a problem they helped create, then shoppers should give negative feedback to help others avoid having the same issue with the seller in the future.
Don't Forget to Leave Feedback After Receiving Motorbike Exhausts
After receiving the product, shoppers should make sure to leave feedback. This way, future shoppers can base their decision to buy from a particular seller based on the feedback others have left for them. This might prevent them from having to go through any of the negative experiences that others have.
Don't Forget to Figure in Shipping and Handling
If an item requires shipping and handles, extra fees could apply. Bike owners need to determine who holds the responsibility for paying for the shipping and handling charges. Sellers should inform buyers of who is expected to pay this fee. If not, shoppers should not hesitate to ask a seller about this issue.
Shopping for Motorbike Exhausts on eBay
After deciding to purchase a motorbike exhaust on eBay, shoppers should first perform a search on eBay for product listings. They can do this by entering keywords into the search box on any eBay page. This brings up a product listing that allows shoppers to search for motorbike exhaust by cost, condition, and manufacturer, among other criteria important to the purchase of a motorbike exhaust.
Shoppers who find themselves having trouble searching for motorbike exhausts with keywords can peruse eBay's search tips page for additional information on searching for product listings with keywords. They can also go to eBay shops for more product options. When searching for motorbike exhausts, shoppers can use keywords like " Honda exhaust system " and " universal motorbike silencer " to pull up more product listing options.
Shopping on eBay allows bike owners to buy the products that they seek quickly and easily. If for some reason, shoppers have further questions about a listing, they should ask sellers through the Ask a Question link found on all listing pages. Upon completing a transaction and receiving the product, shoppers should give feedback on their experience. They should also check the feedback rating of a seller before buying to see how others have rated their eBay experience with that particular seller.
Conclusion
Shopping for a motorbike exhaust becomes easier when motorbike owners know what type of exhaust system they need. They should know which materials they require their exhaust system to be constructed of, whether they need the whole exhaust or only just a certain section, and how much they want to spend when buying an exhaust. After determining which part to purchase, shoppers should then look at the parts available and determine the part that best fits their needs and budget.
Regardless of the motorbike exhaust purchased, shoppers should make sure that the exhaust conforms to the requirements of their bike model. The parts must meet the manufacturer's specifications and the size of the motorbike. Shoppers should also buy motorbike exhausts that fit their style of driving, a full-system for long bike rides or and a slip-on for stop and go riding, as well as for infrequent use. Knowing the exact motorbike exhaust that they need allows shoppers to purchase the parts they want on eBay quickly and easily.