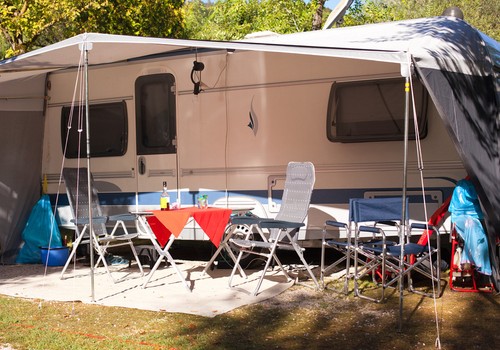 Travelling the countryside is an experience that many choose to engage in at least once in their lives. For many, a motorhome provides them with a home away from home while on the move. Rather than staying at an inn or pitching a tent, recreational vehicles (RV) sublimely combine transportation and overnight accommodations. Those who use them frequently often personalise them similarly to how they decorate their house or flat to make their stay more comfortable.
Following some simple do's and don'ts assists buyers to properly shop for and buy accessories for their motorhomes. For example, purchasing extras that are functional makes the experience of camping or living on the road more convenient and enjoyable. By choosing items that increase the aesthetic appeal, a buyer improves the appearance and creates a homey environment. There are several places from which motorhome accessories are available. These include camping supply stores, sporting goods stores, discount stores, and from online marketplaces like eBay.
Do Consider Buying Interior Motorhome Accessories
Many practical and decorative motorhome accessories are designed for use inside the home. Since these vehicles are used by people for vastly different reasons, needs vary. For some, the motorhome is intended to provide convenience when travelling and allows them to camp without incurring the mess and hassle of sleeping outdoors. For others, it provides a luxurious vacation option. Still others use their motorhome as their primary residence. The accessories required for those who use it frequently are more extravagant and decorative than the ones required by those who are "roughing it".
Furniture to Accessorise a Motorhome
Sometimes the furniture that the motorhome comes equipped with is functional but not comfortable or aesthetically pleasing. By personally choosing the drapes that divide rooms or the curtains and blinds for the windows, owners add his or her style to the vehicle. Replacing the bed with one that fits personal preferences ensures many comfortable nights. With limited living areas, replacing tables, chairs, or bench seats to better utilise the space greatly affects the functionality of the motorhome.
Heater for Warmth
When travelling, having the comforts of home makes a trip more agreeable. Since nights can be often cooler than anticipated, having a camping heater makes the difference between a cold, sleepless night and a cosy slumber. With RV furnaces and camping heaters, there are many options available allowing buyers to choose the one that meets his or her needs and fits into the budget.
Kitchen Equipment
Although cooking over a campfire is enjoyable, having the appropriate kitchen equipment gives a person more versatility in culinary options. The right equipment ensures a kitchen that functions like a regular one. Combination sink and stove units along with compact refrigerators provide a good deal of function without taking up much space. This is optimal in the limited capacity of a motorhome.
Do Consider Buying Exterior Motorhome Accessories
There are several practical and decorative motorhome accessories available for the exterior. For example, several types of covers are produced to protect the body of the vehicle. Awnings are options that affect the comfort of those riding or residing in the motorhome, as well as make it homier in appearance. Aftermarket steps make ascending into and descending from the RV easy and safe.
Awnings
Awnings are an attractive and functional item to add to a motorhome. They provide accents over the windows and door, making the motorhome look more like a living establishment and less like a vehicle. With the additional shade they offer, they keep the vehicle and its occupants cooler, limiting the amount of artificial cooling needed.
Cover and a Hitch Cover
While the motorhome is not in use, it is a good idea to place a cover over it. Using one to cover the entire vehicle protects it from the elements and dust during the off season. For the rest of the time, consider using a special cover, which is designed specifically to go over the hitch. This maintains its structural integrity and reduces the chance of it rusting.
Steps
Reinforcing the steps of a motorhome is a great way to improve its value. They provide a safer method to enter and exit the vehicle than the factory installed ones. Many different types are available in a variety of styles. Purchasing steps that are attractive and sturdy improves the appearance while providing assistance climbing into and out of the vehicle.
Don't Overlook Water and Waste Accessories
Buying the correct water and waste accessories for a motorhome is imperative to reduce problems and increase comfort and enjoyment. Issues with improperly functioning waste implements, such as a bad toilet, have the potential to ruin a vacation, as well as damage his or her property including the motorhome itself. Sickness caused by poor drinking water is also a problem that is easily avoided.
Toilet
Installing the right toilet in a motorhome prevents a host of potential problems. The optimal toilet uses water efficiently, reducing the frequency of water tank refills and trips to a disposal site in order to empty the waste tank. A good toilet properly maintains and eliminates odours to provide a more enjoyable camping or travelling experience. Comfort is also something that requires consideration when shopping for toilets. It should be an adequate size to take up as little space as possible while being high enough to be used comfortably.
Water Filters
Water filters are important accessories to buy for the motorhome because not all public water supplies are equally pure. Ensure that the drinking water in the motorhome is safe and tasty by purchasing a water filter for the kitchen tap. Furthermore, adding a second filter to the shower removes impurities from that water. Since the skin, the body's largest organ, absorbs that which is on it, it is a good idea to make sure that the shower water is clean.
Don't Underestimate the Importance of Security
While travelling, the last thing people want to worry about is their personal safety and the security of their property. By installing proper security, such as clamps and a wireless security system, they sleep soundly wherever they park, as well as leave the home unattended. A few options are listed on the table below, as well as a brief description of each.
| Security System | Description |
| --- | --- |
| | Prevents theft of the motorhome; disables the steering wheel; usually steel |
| | Prevents the theft of the following equipment hitched to the motorhome: an automobile, a trailer, a boat, an all-terrain vehicle; lockable clamp connects car to motorhome |
| | Prevents tire removal; prevents theft of motorhome; constructed of steel |
| | Optional features include door and window transmitters, interior motion detector, exterior motion detector, smoke detector, remote lock, siren and strobe alarm |
Not only does a security system ensure the safety of the occupants from intruders, it deters burglars while the owner is out. Hitch clamps, steering locks, and wireless alarms systems reduce the risk of financial loss. They also provide the owner with peace of mind.
Buying Motorhome Accessories on eBay
Once you have decided to purchase accessories for your motorhome, perusing the vast selection on eBay is a logical choice. Merely go to the eBay home page and type "motorhome accessories" into the search bar to conduct a general search. This allows you to view all of the objects that fit that topic.
To limit the options and simplify the search, type a few descriptive words or phrases into the search bar. For example, enter something like "water and waste accessories", "motorhome awnings", "motorhome cooker and sink units", or "motorhome heaters". Look through the photographs of the listed items and read the accompanying information to narrow your choices and make a decision.
Choosing a Seller on eBay
To ensure a satisfactory buying experience, spend some time researching the sellers. Look at their ratings and read the feedback left by previous customers. This provides information regarding any negative incidents that they had with the vendor including slow delivery, rude communication, or inaccurate product description. By checking the feedback, you avoid dealing with the same issues and reduce the likelihood of a negative purchase.
Conclusion
There are many reasons why owners choose to purchase accessories for their motorhome. Some choices are based on practical reasons, such as toilets, water filters, and heaters. Some choices are for the protection of the motorhome, the belongings, and passengers within, like a good security system. Covers are available for protection during off season periods and times of disuse.
Many accessories are purchased in order to make the motorhome more homey and comfortable for long term travels. Beds, table sets, and window treatments like drapes and blinds improve the appearance of the motorhome and make it seem more like a home. Buying extensive kitchen sets and equipment makes cooking on the road or while camping an easier and more enjoyable experience. Since motorhome use is designed to be convenient and comfortable, shopping for the accessories should be as well, which is why many head to eBay for their motorhome accessory needs.