Make up trends are ever changing but one name that has won legendary status since it took the beauty world by storm is Sheer Cover Studio. Women swear by Sheer Cover products, but is this mineral make up sensation the right choice for you? Our essential buying guide is here to
help.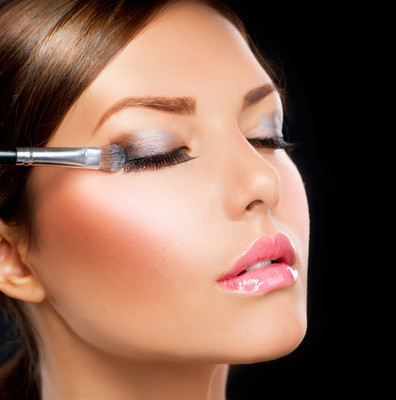 What's in your guide
Why try mineral make up?
Buy the right shade
Be red carpet ready
How to highlight and conceal
A complete set
Ease of application
What to consider before buying
Getting the correct shade of foundation is the priority when it comes to obtaining a flawless complexion. Sheer Cover has simplified its ranges into four shades, each of which allows you to blend the perfect match to your skin tone. Decide what 'job' you want your new make up to do and buy accordingly. A concealer is just that and won't do the job of an all-over base.
Why try mineral makeup?
For many women, the appeal of mineral make up lies in the promise of its lighter coverage without caking. Fans of the product say its fine powder texture helps them achieve a dewy, yet shine-free complexion. If you are looking to try these cosmetics for the first time, the Sheer Cover Studio make up set could be good-value introduction to mineral makeup. Sheer Cover Studio mineral foundation has SPF 15 for sun protection and a formula that is free of oils, dyes, perfumes and talc.
Buy the right shade
When it comes to colours, you can buy Sheer Cover with confidence without needing to sample it in the shops. Here's how. The make up sets come in four shades: Light for fair skin, Medium, Tan for olive and tanned skin or skin which has yellow rather than pink undertones, and Dark for rich and deep skin tones.
Blending
This isn't as hit and miss as it might sound. Each colour set consists of three pots of Mineral Foundation in varying shades, meaning you can blend them together for a perfect match to your skin tone. For example, the light set of powders consists of one Bisque, one Buff and one Latte. The advantage of this feature being that you can alter the blend to suit your exact undertones and, as the year goes by, account for your summer tan. You can use a blending pot to keep your colour-matched product to hand. Individual 1.5g pots of each colour are available to buy separately whenever you start to run low on your personal shade.
Conceal and brighten
Sheer Cover Conceal & Brighten Trio and the Concealer Duo include a choice of shades to suit light, medium, tan or dark skin tones. These products have a creamy texture and a high pigment concentration to conceal any redness or flaws.
Be red carpet ready
A Sheer Cover Studio make up kit contains everything you need to conceal, cover and highlight your skin for a glamorous look. The system is even marketed as offering an 'air-brushed' finish that Hollywood celebrities would be proud of.
If you are buying the introductory kit you will receive the Conceal & Brighten Trio, Perfect Shade Mineral Foundation (in your chosen shade), Sun-Kissed Bronzing Minerals and the Lengthening Mascara & Lash Extending Fibres. A set of makeup brushes – a foundation brush, contour brush and concealer brush – are included in this set for your convenience.
How to highlight and conceal
Sheer Cover mineral concealer has a creamy consistency to apply using a concealer brush to the under eye area or to cover flaws. Duo Concealer has a choice of warmer or lighter cream in one compact, to be used individually or blend together for a perfect match. The Conceal & Brighten Trio consists of a convenient set of creams used to conceal everyday blemishes or scars, with a light creamy highlighter to dab on for highlights around eyes and brows.
A complete set
Yes, you can build your make up routine around Sheer Cover Studio products. The Bronzing Minerals pot is a finely textured shimmering product to warm up and contour your cheek-bones, t-zone and nose. There's also Lengthening Mascara available in black/brown. Try out the Lash Extending Fibres if you've a special occasion that calls for some extra flutter-factor. Create your base with Mineral Foundation and Sheer Cover Concealer then boost your look with eye shadow colour palettes in all the latest shades. These Sheer Cover eye shadows also have the same light and silky mineral make up texture.
Ease of application
You don't have to be a make up artist to use Sheer Cover cosmetics, just follow a few simple tips on how best to handle the mineral make up formula. Here's a guide to how to make the switch from your usual brand to your new Sheer Cover products.
Conceal & Brighten Trio
1. Moisturise your face and neck and allow to dry.
2. Sweep your own concealer brush or a Sheer Cover brush across the concealer cream, after blending the products together to match your skin. Gently dab the product around your nose, under your eyes and cover up any scars, blemishes or spots until you are happy with the finish.
3. The Sheer Cover Brightener should be swept on to open your eyes and lift your brow bones. A little goes a long way, so dab on and blend in gently with your concealer brush or a clean fingertip.
Mineral Foundation
1. Spend a little time deciding which shade of mineral foundation is a natural match with your skin tone, or decant power from two pots together to create your personal colour blend.
2. After securing the product's lid, turn the foundation upside down once. Return to upright position and open the pot, using the powder that has collected in the lid.
3. Softly dip your
foundation brush
into the lid. Turn your brush upright and tap the handle against the lid once or twice to distribute the product through the bristles.
3. Use a circular motion to apply the powder to your face, starting at the jaw and working slowly inwards, blending the cover evenly across your cheeks, forehead, nose and chin.
Sun-Kissed Bronzing Minerals
A shimmering sheen of fine bronzing powder can be applied using the contour brush. Just sweep on the powder until you've achieved a subtle glow.