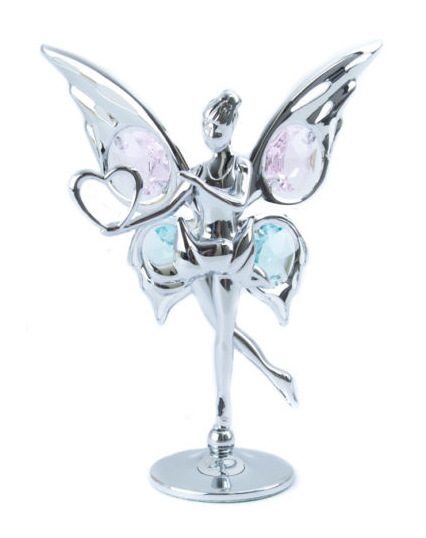 Swarovski crystal sculptures are a great option for those who enjoy this type of art or who are looking for an item to start collecting. Those who are thinking about collecting Swarovski sculptures should learn more about these beautiful creations. Before someone starts collecting these sculptures, it is a good idea to become familiar with important details, including the identities of some of the company's famous designers. A new collector may also want to learn about some of the different collections of sculptures that the company has produced throughout the years.
When shopping for sculptures, it is important that the buyers are not fooled by fakes and that they know what to look for in real Swarovski crystal. Furthermore, it is important for collectors to know how to take care of their sculptures because these are valuable items that need proper care in order to stay in excellent condition for as long as possible. These crystal sculptures can be purchased from brick and mortar gift and department stores as well as on many online sites, including eBay.
Do Learn About Swarovski
A buyer should know what Swarovski sculptures are before attempting to buy any. Swarovski is the most recognised brand of crystal in the world. This luxury brand is well known for its clarity, cut, and beauty. Swarovski also produces a wide variety of other items, including jewellery, in addition to sculptures. The brand was first established in 1895 in Austria.
In order to find some of the best figurines and sculptures, buyers should do some research to learn about some of the designers the company has employed over the years. Additionally, it may be a good idea to check out some of the collections Swarovski has produced throughout the years. Swarovski is constantly coming out with new sculpture designs, so a buyer does not have to worry about not finding a style that he or she likes.
Do Consider the Creations of Different Designers
When a buyer is shopping for Swarovski sculptures, he or she has a choice of creations designed by several famous designers. After doing a bit of research, buyers may even find that they particularly like the work of certain designers and want to exclusively collect pieces from those artists. Some of the top designers to check out include Max Schreck, Elisabeth Adamer, Nicole Dupont, and Michael Stamey. Max Schreck joined Swarovski in 1976 and is the one who came up with the iconic Mouse design. Actually, Schreck's designs sparked the entire animal figurine series. He is also the one who is given full credit for creating the Lovebirds series of figurines. Elisabeth Adamer is a newer designer who joined the company in 2004. Adamer is responsible for working on a number of Swarovski products, including bears, goats, flowers, and tigers. Nicole Dupont is a designer who worked on the Your Special Treasures collection, and Michael Stamey joined the company in 1977 and is the designer of the Second Annual Edition Trilogy Mother and Child series. Some of the other designs by Stamey include Orchids and a number of ocean items.
Do Consider the Various Sculpture Collections
Someone who is starting to collect sculptures and figurines should also learn about the themed collections that have been produced by the company. Some of the popular collections include themes that focus on the Chinese zodiac, Hello Kitty, underwater, flowers, and art objects. Regardless of what a buyer's interests are and whether he or she wants to focus on collecting certain categories, such as animals, vases, or flowers, or simply choose random eye-catching designs, he or she can find many beautiful possibilities. A buyer may want to start with items from a certain collection or, as an alternative, select a sculpture based on a favourite animal or flower. After a collector has figured out what type of sculptures he or she likes, it is easy to branch out from there. The sculptures also come in different styles, including elegant and whimsical, so it is relatively easy to find something that reflects personal taste.
Do Learn How to Clean Swarovski Sculptures
Any buyer who is investing in Swarovski crystal sculptures should learn how to properly clean the items. An owner does not want to risk damaging a collection of figurines in any way. Crystal can be difficult to clean without scratching the surface, which is why a collector needs to be careful. First, the owner should gently dust the surface of the Swarovski crystal with a feather duster to remove hair or dust from the item. If the owner is cleaning a smaller piece, he or she could use a clean makeup brush in order to get all the details. If the owner is really worried about scratching the sculpture, he or she could use compressed air to dust it.
After dusting, the collector should wipe figurines down with a special Swarovski crystal polishing cloth that does not scratch the surface like other types of cloths might. If anything has built up on the surface of the crystal, it can be rinsed in lukewarm water. If that does not work, the owner might want to try a mild dish soap that has been watered down. Stronger commercial cleaners should not be used on crystal.
Don't Be Fooled by Fake Sculptures
When shopping for sculptures, it is important for the buyer to know how to identify authentic pieces. These tend to be expensive items, so it is not surprising that many fakes are on the market. Precision cutting by the company's machines means that each crystal has its facet juncture pointing upwards. When checking to see whether an object is a Swarovski, the buyers should look for that extra lustre. These crystals tend to have more sparkle than fake ones, particularly when they are seen in sunlight.
It is also important for buyers to look for the Swarovski logo when they are purchasing these crystals. The company's logo has changed over time, so buyers should take that into consideration if purchasing older items. The original logo was a flower and then changed to the letters S.A.L. The current logo of the company is a swan, but that is being replaced by the name Swarovski on the sculptures. It is a good idea to purchase these sculptures from authentic dealers in order to avoid being duped into purchasing fakes.
Collecting Discontinued Sculptures
Swarovski is producing new sculptures all the time, but collectors may also want to look for items from lines that have been discontinued. Because these sculptures are so popular, a large market exists for these older pieces. Thus, if a buyer decides he or she wants to find some of these older pieces, it is not usually difficult to locate them on the resale market. A buyer may want to search websites that are dedicated to these older figurines as they usually provide detailed information on them and may even help the buyer locate specific items.
Finding Swarovski Sculptures on eBay
If you are looking to start a collection of Swarovski sculptures or add to a collection you have already started, you can find some great items on eBay. The first thing you should do is try some of the search options on the site, such as the keyword search. All you have to do is type in keywords, such as Swarovski bear, into the search box and then browse through the listings. You might be able to save time by using some of the categories or filters in order to cut down on the number of product listings.
The site also has a number of other tools that you should consider. For instance, both new and experienced eBay users find the feedback feature to be very helpful. This lets you see what other buyers have said about a seller. When deciding whether to purchase an item, you should look at how many other buyers purchased from the seller and what they said about him or her. After you have purchased an item, you can leave your own feedback in order to help other buyers who are interested in making a purchase.
Conclusion
Swarovski is probably the most well-known brand in the world when it comes to producing stunning crystal jewellery and sculptures. This luxury brand has been producing innovative designs for more than a hundred years. If someone is interested in collecting Swarovski crystal, it is a good idea if he or she learns about the company, including details about some of the key designers and the collections the company has produced. This can help a buyer find the sculptures that he or she wants to purchase.
Swarovski is a luxury brand of crystal sculptures, so it is important for a buyer to learn how to recognise and avoid fakes that are on the market. It is also a good idea for a buyer to know how to properly care for his or her collection of figurines because crystal can be easily damaged if it is cleaned improperly. Swarovski sculptures and figurines are beautiful pieces to add to collections and make excellent gifts for friends and loved ones.