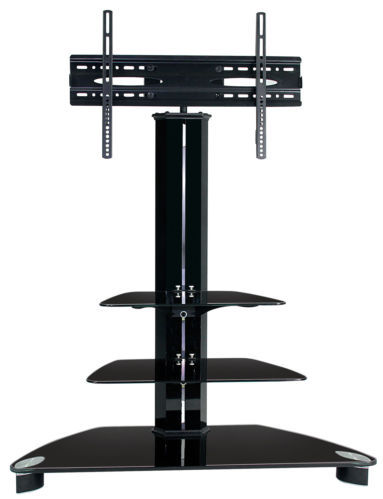 A TV stand is not only used to hold a television. It is also an essential element in adding to the style of the living room. Coordinating the stand with the furniture in the room becomes easier due to the variety of styles and designs on offer. However, various other factors also need to be considered. For example, the size and shape of the stand will fit certain styles of living room, with smaller flats and apartments benefitting from compact TV stands and corner units, and larger homes being able to accommodate units that provide a cleaner look, maintaining a more discreet presence in the home. Since flat-screen TVs are generally found to be the norm now, most people find that smaller sized TV stands are sufficient to cater to their needs. However, the term 'entertainment centre' is also used to describe TV stands that incorporate several different compartments to hold the television, other video and audio components and systems, DVD and CD collections, books, and even ornaments.
Buying TV Stands
When buying a TV stand, there are a number of important elements to consider. These will include the size of the stand, its height, its shelving and layout, its style, and so on.
Size
The dimension of the room will be important in determining the size of the TV stand. In general, depth will not be an issue when buying stands for flat-screen TVs as stand will be deeper than the TV. For traditional CRT TVs, however, depth is an important factor to consider, and the stand needs to be deep enough so that the television doesn't extend beyond the front. This is both hazardous and unsightly. If the television will be the only thing stored in the stand, small units will suffice, depending on the size of the TV. If additional items will be stored within the unit, however, a larger cabinet will be required. Extra wide units, for example, will provide sufficient room for books, vases, photographs, and additional items to be placed either side of the TV.
Height
The height of the TV stand will be based upon the position of the sofas and chairs within the room. When watching television, the ideal sightline will be to have the centre of the TV at the same height as the rooms seating. For example, if there are low sofas in the room, the TV should be positioned in a low stand. If the room has high seating, higher stands will be appropriate.
Shelving
The amount of shelving within any TV stand will be related to its size - generally, the larger the stand, the more shelving it will have. While most stands will have 1 or 2 shelves, they can easily contain up to 8. The amount of shelving that will be appropriate when buying a TV stand will be based upon the number of items that it is intended to store. For example, it may be best to have one shelf for DVDs and Blu-rays, and a separate one for CDs. In addition, shelving size needs to be taken into account. Some will be smaller compartments, appropriate for small items like CDs, while others will be larger, and suitable for other electronic goods like DVD/Blu-ray players, music players, and gaming systems. It is, therefore, essential for any buyer to figure out exactly what they are likely to store in their stand before they start shopping.
Mobility
Some TV stands come with wheels to allow them to be moved and turned easily. If the TV isn't very big, this can come in handy, allowing the TV to be easily turned to optimise the viewing position, and reduce glare if there is light hitting the screen. If the TV needs to be transferred between rooms, a mobile stand will also be beneficial.
Style
TV stands come in a huge variety of different styles and designs. Choosing the right stand will come down to personal preference. It is important to maintain a consistent aesthetic in the home, so buying a stand that reflects the personality of the room is important. For example, if the room is laden with heavy wooden furniture, consider a TV stand made out of similar material. If there is a glass coffee table in front of the TV, find a stand that compliments this, perhaps one with glass windows and cabinets.
Types of TV Stands
There are a huge range of TV stands to choose from. Each different type of stand will have its own style and design features. Here are some of the major types to choose from:
Hutches
Hutches are essentially TV stands that are enclosed, with cabinets, doors, and drawers used to hide away electronic equipment and other items. These are ideal for homes that want to avoid making the TV the focal point within the room.
Consoles and Credenzas
These are generally fairly short and wide - usually about 30 inches tall or less - and have a lot of storage space. They are, therefore, excellent for doubling up as both a TV stand and a storage unit to house regular household items like pillows, blankets, throws, and other items that may compliment the living room.
Platforms
Platform TV stands are more minimalist, featuring upright shelves with no sides, backs, or doors. They are commonly made from metal and glass.
Corner Stands
These stands are specifically designed to fit into the corners of rooms against both walls. Usually they are ideal for smaller rooms where space is limited, providing the best possible utilisation of space. In addition, they can be bought as either platforms or regular, solid stands.
Wood Stands
Wood stands are popular with more rustic looking living rooms and bedrooms. Hardwoods such as maple, oak, teak, mahogany, ebony, and cherry are all excellent options, being both durable and beautiful. Hardwood designs are generally more expensive than other materials. Wood veneer is, therefore, another good option. This is made by covering less expensive woods with strips of premiums woods, maintaining a beautiful look but reducing the unit's price significantly.
Metal and Glass Stands
Stainless steel is generally the metal of choice for metal stands, but brass and aluminium are also options. Stainless steel stands won't rust and can come in a variety of different finishes since they take both chrome plating and powder coating well. Glass is not usually used as the frame, but will commonly be found as shelving and doors.
Picking a TV Stand
Choosing the right TV stand for any property involves thinking about the space available, the size of the television, the specific uses of the stand (only for the TV, for additional storage, as an entertainment centre etc.), and the style and design. This will be personal to each buyer and their needs. To start with, therefore, it is important to fit the design of the stand to the aesthetic of the room. This is the most important element. Once this has been done, consider type - will it be a corner unit, a platform, or a regular stand? Then, consider its uses - when doing so, it is important to determine size and height as well. Once each of these questions have been asked and answered, it will be time to start shopping for an appropriate stand to fit the room.
Find a TV Stand on eBay
To purchase a TV stand, go to the eBay homepage. Start by clicking on the Home & Garden link under the All Categories tab. Hover over Furniture & Living and click on Furniture. Finally, click on TV & Entertainment Stands to bring up a list of search results. Now search through the listings and refine the search by using the options down the left hand side of the page. As an alternative, use the search function at the top of the page to search for specific items. For example, for a new glass platform stand, type in "glass platform TV stand new" and see what comes up.
Conclusion
A TV stand can be used for a variety of different purposes and can add a great deal to the style and aesthetic of any room. They can be either minimalistic, such as a simple platform stand only intended for a TV, or far more complex, such as a larger wood stand with several compartments and shelves for a variety of other items. Most importantly, find a stand that slots into the aesthetic of the room perfectly, and which is entirely fit for purpose. Always research the different sellers before making a purchase, and spend time looking through the listings to find an ideal TV stand at the best possible price.