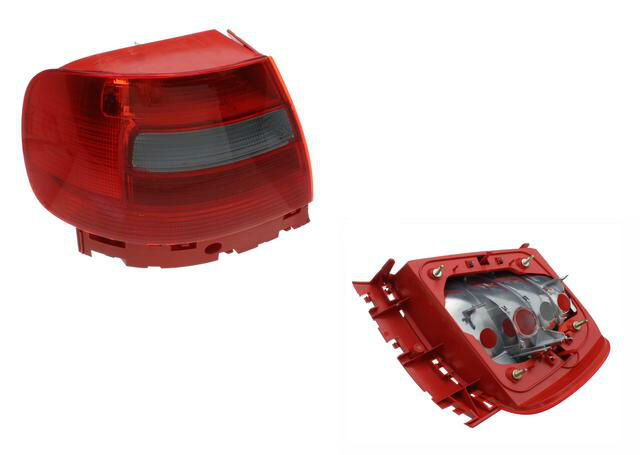 Rear light assemblies are the integrated clusters of lights that are found on the rear end of a vehicle. These units typically combine most of the car's rear light functions. To make the replacement of damaged rear lights easier, the assemblies are normally a single unit that can be inserted quickly into place. The downside of this convenience is that since so many lights are in one unit, they must all be replaced, even if there is only damage to one of them. Add to this the fact that minor damage from small shocks is common, and the expense to motorists of replacing rear light assemblies can be substantial.
For all of these reasons, it makes sense when faced with the decision to replace a rear light assembly unit that the buyer consider the available options carefully. By taking the time to understand the market in used rear light assemblies, a motorist could save a lot of money. One of the key decisions to make is where to buy a replacement rear light assembly. Rather than buying new parts through expensive car part dealers, it is often possible to find good quality used rear light assemblies on Internet markets such as eBay. Buying a used rear light assembly from eBay can bring a substantial saving.
The Importance of the Rear Light Assembly
Rear light assemblies generally combine indicator lights, reversing and stop lights, sidelights, and often fog lamps, too. This makes the rear light assembly exceptionally important both in terms of complying with vehicle legislation, and in ensuring the safety of the occupants of the car. A broken rear light assembly can leave the car vulnerable to collisions with rear traffic because other road users cannot see the car in weather conditions where visibility has been reduced. The diver may also be unable to signal his intention to change lanes. A non-functioning rear light assembly can land the driver with a court appearance, a fine, and points off their licence.
Types of Damage to Used Rear Light Assemblies
The rear light assembly is vulnerable to a range of types of damage. These include outright breakages from vehicle crashes, as well as lesser damage such as cracks caused by stones or other road debris. A cracked unit can let in water, which can cause further damage.
The plastic lens of the rear light assembly is also vulnerable to scratches from grit and dirt. Over time abrasive dirt can scour the lens like sandpaper, affecting the intensity of the light the unit emits. Motorists should not drive with rear light assemblies in this condition. When the time comes to replace the unit, the motorist is faced with several options.
Types of Used Rear Light Assemblies
When replacing a rear light assembly, many motorists' first instinct is to take the car to an authorised garage and have it replaced there. However, this can be a mistake as authorised service garages normally use original manufacturer's parts, which are very expensive. This expense is down to the fact that manufacturers are able to make a lot of money out of supplying replacement parts, and they know that most motorists do not have the time or knowledge to look for alternatives. But alternatives do exist, and it is often an expensive error to rush out to buy a replacement rear light assembly without considering the alternatives.
Recycled Rear Light Assemblies
Although manufacturers have a near monopoly on supplying new rear light assembly units for many cars, particularly those supplied through authorised service centres, they do not control the used part market. Every year, hundreds of thousands of cars are scrapped, and often perfectly good rear light assembly units are either destroyed or else recycled for resale. Cost-conscious motorists therefore have the option of buying a used part at a significant saving.
Remanufactured Rear Light Assemblies
This category is similar to recycled assemblies, however, these rear light assemblies have been repaired, cleaned, or refurbished in some way. One important point to remember when buying a used rear light assembly is that, as mentioned above, the lights can become scratched or abraded over time. It is important, therefore, to check that the plastic lenses are in good condition. This aside, there is no reason why a remanufactured rear light assembly should be in any way inferior to a new one.
Third Party Rear Light Assemblies
This final option, third party manufacturer parts, is available for many popular car models. The buyer can buy a new unit, but not from the car manufacturer. Third party car part manufacturers often supply compatible rear light assemblies at lower prices than the original manufacturer's parts. Providing these are from a reputable named brand, such third party rear light assemblies are likely to be just as good as manufacturer parts. Sometimes, however, cheaply produced imports make their way onto the car parts market, and these light assemblies may not be manufactured to the same standard or within the same size tolerances. It is therefore important when buying a third party rear light assembly, to find out where and by whom it was made. If in any doubt, a motorist is wise to ensure that the unit can be returned for a refund should it not fit in their car.
Some Do's and Don'ts to Bear in Mind
When buying a replacement rear light assembly, it is important to remember that even different editions of the same model can have different assemblies. Sometimes the difference is only stylistic, but other times it involves a change to the size or fittings of the unit. The buyer should be sure to check carefully that the rear light assembly they purchase is compatible with the model of the car it is intended for. Sometimes there is a code stamped onto the plastic lens of the old unit, and this stamp helps to identify a replacement.
Do Consider the Law When Buying Customised Rear Light Assemblies
Some motorists like to use customised parts to give their car a unique look. This may be acceptable, but it is important to remember that the rear lights are there both for for safety and legal reasons. It is therefore important to check that the customised part complies with all legal requirements.
Don't Forget that Left and Right Side Assemblies Are Not Interchangeable
A simple, obvious, but sometimes overlooked point is to remember to buy a rear light assembly that is designed to fit on the same side as the one that needs to be replaced. All these assemblies are designed for use on either the left or right side. They are not interchangeable.
Do Consider Other Sources for Used Rear Light Assemblies
Buying a replacement for a damaged rear light assembly can be an expensive business. As noted earlier, manufacturers are aware of their strong position in supplying these units through authorised dealers, and therefore charge high prices. Although the availability of third party units has had some effect on these prices, they remain higher than most motorists would ideally like to pay.
The first decision the buyer should take is whether to go for an original part, or a cheaper alternative. Central to this decision is deciding where to buy the used rear light assembly. If buying from an authorised dealer, it is likely that only original manufacturer's parts are on offer, plus, authorised dealers probably expect to fit the unit and be paid for doing so. If the buyer wants to fit it himself, which is generally a very simple task, or to buy a part and have it fitted at a garage, the buyer is better off buying online, from a venue like eBay.
Finding Used Rear Light Assemblies on eBay
It is simple to find a rear light assembly for your vehicle on eBay. Starting from the eBay home page, type a short phrase into the search bar, and press enter. A good phrase in this case would be something like 'rear light assemblies'. This brings up literally thousands of listings for rear light assemblies being offered for sale, including new, used and remanufactured items, and items from a range of third party manufacturers.
You can then narrow your search down by specifying the make and model of your particular vehicle. This should reduce the listings down to just those listings for used light assemblies that are compatible with your vehicle. If you want to only see used items, you can specify as much. You can also specify whether you need a left- or right-hand side unit. Once you have studied the descriptions and the photos, you can choose the unit that matches your car, and comes at the best price. If you want more information, contact the seller through the contact link on their profile page. A good point to check before you buy, is whether you can return the item in the event that it does not fit your vehicle.
Conclusion
Rear light assemblies are an important part of any car, as they are both a legal requirement and a safety requirement. Failing to keep the rear light assemblies in good condition can therefore be both dangerous and unlawful. A motorist planning on buying a used rear light assembly must ensure that they know the make and model of their car, and try to find a part number on the old unit. They must also be sure to buy the correct left- or right-hand side unit.
Buying rear light assemblies can be expensive, if the motorist sticks to new items made by the original car manufacturer and sold through authorised garages. But by buying used rear light assemblies, a motorist can save a lot of money. The motorist who needs to replace a rear light assembly should therefore buy from a supplier who can offer recycled or remanufactured units, or units made by third party manufacturers. The quickest, easiest and cheapest way to do this is by looking online, where Internet markets such as eBay have a wide range of used rear light assemblies at competitive prices.