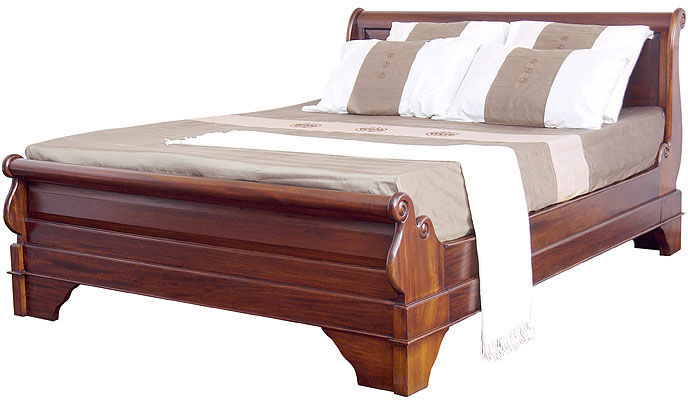 For those who desire large bed space, then choosing an increased bed size can make lying more comfortable or enhance a night's sleep considerably. Couples or larger people will need to invest in a larger bed also. With this, beds bigger than the standard single model have been developed to provide more options for buyers.
One of these is the king size bed, a product that has become more accessible and commonly found in bedrooms up and down the UK. Because of this, more deliberation needs to be taken over the increased selections that have found their way onto the market. If choosing to shop online then checking out eBay for any potential deals is recommended as some great deals can often be found.
What is a King Size Bed?
In simple terms, the king size bed is an extra-large version of a traditional single one. In the UK, there are set dimensions for bed sizes. However, Make sure to check each individual bed before committing to a purchase, because every bed on the market will not necessarily stick to these dimensions, or could be from a different country, especially buying second-hand on eBay.
Below is a quick table detailing standard UK bed sizes in inches, feet and centimetres that can give an idea of how big king beds actually are.
| | | | |
| --- | --- | --- | --- |
| Bed Type | Inches | Feet | Centimetres |
| Standard Single | 36 x 75 | 3 x 6'3 | 90 x 190 |
| Queen | 48 x 75 | 4 x 6'3 | 120 x 190 |
| Standard Double | 54 x 75 | 4'6 x 6'3 | 135 x 190 |
| King | 60 x 78 | 5 x 6'6 | 150 x 200 |
As you can see, the king size bed is over 1 ½ times bigger than a standard single bed in terms of its width. Remember that this is only a rough guide for UK sizes and some companies may differ.
Dos and Don'ts of Making a King Size Bed Purchase
DON'T under spend on a bed because it may save a few extra pounds. Remember, you will probably be lying on the bed every day and every night so try and invest in the best one you can afford. Trying to cut corners in this purchase may actually cost more in the long run, as inadequate products will need to be replaced or repaired in the future.
DO try out the bed beforehand if possible. This will ensure that the bed's dimensions and how its feel are known before it is purchased. If buying as a couple, then try it out together in the shop so the amount of space is identified. Trying out many different beds can also provide a more balanced view on the most appropriate also.
DON'T assume that a mattress labelled as a king size will automatically fit the bed. Although there are set dimensions that most UK manufacturers adhere to for the bed frame, sometimes products from different countries have different size specifications and can make the mattress buying process difficult. If possible, buy from the same company or manufacturer to guarantee the sizes correspond.
DO imagine what the bed will look like inside the room. Keep in mind, converting from a single into the king size may affect the access point to it. Furniture may need to be moved around the room to make this easier. Use a tape measure to plan out the appropriate size dimensions needed. The colour scheme or style of the room already in place may influence the king size bed purchase also.
DON'T buy sheets and duvets to the standard UK sizes, as they will need to be slightly bigger. Sheets, for example, will need to be tucked in under the mattress and having an extra bit of duvet to snuggle into is always beneficial.
DO consider the size of the frame in relation to who will be using the bed. For smaller people a high frame may not be preferable and make accessibility difficult. Low foot end beds will suit smaller rooms and also give off the appearance of more space. Anyone with mobility problems may also suit these too. High foot end models will naturally be fitting for larger bedrooms and become its main style focal point due to its broader manifestation.
DON'T assume that the mattress is included in the price as some shoppers do. Always check the item's details carefully before committing to buy, especially if buying from an independent seller, as may happen on eBay. Quite often it is only the frame, headboard and footboard that are included within the bed sale. However, if shopping on eBay, there is a ' Beds with Mattresses ' category that will eliminate this problem.
DO shop around the find the best deals. Looking around furniture stores will give the benefit of trying out the bed first-hand although potential inexpensive deals that are only available online will be missed. If prepared to use a second-hand bed then using eBay will again provide the chance to save plenty of money, especially if buying via an auction with little competition.
DON'T feel the need to buy a complete new bed if one part of the existing one isn't right or has broken. For example, searching on eBay for a king size headboard only is also an option and can save the hassle that comes with buying a full model.
DO think about which material will suit the style of the room best. Wood is perhaps the most popular material that beds are made from. These include varieties of pine , oak and beech. Metal king size beds can also be found that suit a modern style room. This modern edge is found in beds with real or artificial leather upholstery.
Using eBay to Buy a King Size Bed
Buying on eBay can provide many different search options that can assist with a purchase. Thousands of king size beds and their components are listed on a regular basis on the site from a variety of seller's, and can cater for a number of tastes. In addition, as well as independent sellers trying to offload a king size bed, professional furniture outlets also use eBay as a platform to sell their goods.
This section will look at how to go about searching efficiently for a king size bed on eBay and how to successfully make a purchase of one. Remember to review the dos and don'ts as noted in the previous section before making a final decision.
· Knowing how to search quickly on eBay can make the whole process of finding the right bed for your needs much easier. Knowing a specific type of king size model or brand and using the keyword search bar at the top of any eBay page can make the whole process easier aswell. For example, typing in " metal frame king size bed " will bring up all the results with this term listed in the items title.
· Browsing by category is another way to review a whole host of king size beds next to each other. There are a couple of possible categories in which king size beds can fall into however. From the eBay home page select the 'Home and Garden' link select ' Furniture ' and then evaluate the further sub category options on the left hand side of the page. For king size beds these can include: ' Beds & Mattresses ' and ' Bedroom Furniture Sets. '
· If looking for parts of the bed to match an existing frame or mattress and worried about the potential clash of sizes, then searching by brand can help with this. Top bed manufacturers such as Corona or IKEA have many items listed on eBay that can guarantee a sense of quality.
· Choosing between the condition of the bed and the price range is another useful way to pinpoint models within a certain cost. If buying in an auction , some second hand beds can be listed for as little as 99p, whilst those at the very top end can stretch to around £10,000. Although it is important to buy the best bed possible for your money, overspending is another issue to consider.
· When a suitable product has been found, then make sure to read the description as carefully as possible. Look out for any deficiencies with the bed that can potentially make the purchase a redundant one.
· The delivery details are also important to check out, in the sense that beds will preferably need to come in dissembled flat packs to make transportation easier. If buying from individual sellers then the king size bed may be available for collection only, so look out for this as a realistic option.
Conclusion
Buying a bed can be one of the most important decisions a buyer can make, it is where plenty of hours are spent and can make the difference between a good night's sleep and a bad one. Make sure to review the dos and don'ts as listed in this guide and read reviews from the internet about the various types of king sized beds on the current market.
A good tip is to visit furniture stores and try out beds first hand; this is important to get a feel for its size dimensions and how it feels with you and/or your partner lying in it. By checking out online options by way of eBay's Home & Garden section, it is very possible to find a king size bed at a reduced rate.