To make your trips to the gym easy, you need a handy gym bag that keeps all the workout essentials in one place. With the right gym bag, exercise becomes much easier. Investigate some style options, common materials, and versatility considerations and use that knowledge to inform yourself prior to your next gym bag purchase.
Shapes and Styles of Gym Bags

Gym bags come in all sorts of shapes and designs, so you need to decide on the style of bag that you want. The duffle bag is big, with plenty of space for clothes and gym equipment. It can double as luggage when you go on camping trips or weekend getaways. Typically, a duffle bag has a pair of sturdy handles and possibly a shoulder strap for added support. If you prefer something to wear on your back, try a backpack as a gym bag. Space is limited, but still ample for a change of clothing, a water bottle, and a few other personal items. Shoulder bags or tote bags are popular among gym enthusiasts. They are easy to carry and come in a broad variety of colours and styles. They typically have one large main compartment and possibly one or two smaller pockets. Since they are smaller and often more attractive than duffle bags, they make it easier for busy individuals to take their gym gear with them to the office or on errands.
Materials for Gym Bags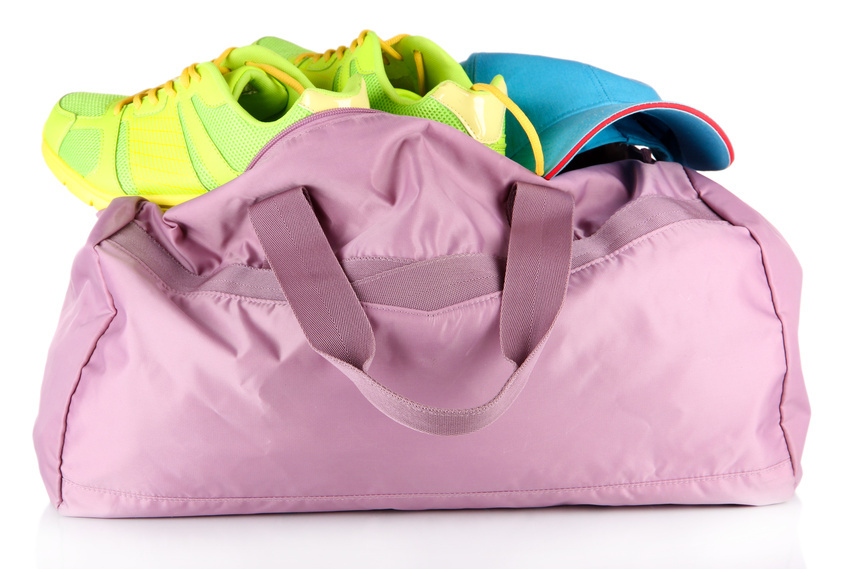 Since gym bags undergo significant wear and tear, they need to be made of sturdy, durable material. Synthetic materials such as polyester and nylon are breathable, lightweight, and sturdy, making them ideal for gym bags. However, some buyers prefer a more high-end gym bag that they can carry with them to work before going to the gym in the evening. These individuals should opt for a classy leather gym bag or a vintage-looking canvas bag with artistic appeal. Leather is durable, but difficult to clean and less breathable than canvas. Canvas bags are washable and water-resistant, yet breathable, making them popular among gym-goers.
Versatility and Features of a Gym Bag
Your bag needs to have enough space to hold your workout clothes and essentials. However, you do not want all those things jumbled up together in one compartment. Some gym bags or backpacks have a netted or mesh pocket on the outside, specifically designed to hold a water bottle. Others may have a zippered, water-resistant compartment inside where you can stow your sweaty clothes until you can get them to the laundry. Look for a bag that has all the practical features that you need in a sports bag.