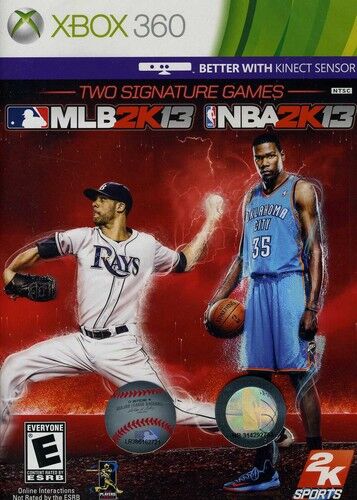 With the wide array of video games on the market, sports games continue to hold the number one spot. Unlike many other games, sports games often allow multiple players to engage at the same time. This promotes a sense of sportsmanship, human interaction, and competitiveness amongst friends.
There is a wide array of sports games. Many of these are based on real life sports teams and players, giving gamers a chance to play alongside some of the biggest stars. These games vary by type and the age of the gamer that they are appropriate for. Football, golf, and tennis are amongst the most popular sports portrayed in these games. Sports games are specifically designed for particular gaming systems. When purchasing sports games at retailers such as eBay, buyers should familiarise themselves with the video game rating system, consider the various factors that help them to choose the right game, and learn the benefits of participating in games dedicated to sport.
Sports Game Ratings
In order to give buyers a better sense of the age level that the sports game is aimed at, the Interactive Software Federation of Europe (ISFE) provides important information regarding video game content. This allows parents to make informed choices for their children. This content rating system is known as the Pan European Game Information (PEGI) and was established in April 2003. It was meant to replace the many national age appropriateness guides being used.
If the video game has an age ratings 12, 16, or 18, it is illegal for retailers to supply the game to anyone below the specified age. On the other hand, games with age ratings of 3 and 7 are simply advisory. Sports game ratings consist of two parts: rating categories and content descriptors. The rating categories suggest the appropriate age, while the content descriptors indicate content that may have led to a particular rating. The rating categories and respective age appropriateness are seen in the table below.
Rating Category

Appropriate Age

3

Content is suitable for all age groups

Some violence in a comical context is acceptable

Content should be limited to fantasy

Game should not contain any sounds or pictures that are likely to frighten young children

No bad language should be heard

No scenes containing nudity or any scenes referring to sexual activity

7

May contain some possibly frightening scenes or sounds

Some scenes of partial nudity may be permitted, but never in a sexual context

12

Shows violence of a slightly more graphic nature towards fantasy characters, or non-graphic violence towards human-looking characters or recognisable animals

May show slight nudity of a slightly more graphic nature

Mild use of bad language

16

Depiction of violence or sexual activity is the same as could be expected in real life

More extreme language

Encouragement of the use of tobacco and drugs

Depiction of criminal activities

18

Applied when the level of violence reaches a stage where it becomes gross violence or includes elements of specific types of violence

Level of sexual activity is explicit

Glamorises the use of real life drugs
Content descriptors accompany this data in order to advise buyers of the reason that a sports game is rated in a particular way. Often, sports games receive ratings aimed at older children due to the violence or physical contact between players in the game. However, these games generally have little sexual content or strong language.
Factors to Consider When Buying Sports Games
There are various factors to consider when buying sports games. These include the gaming system on which the game is likely to be played, the preferred sport, the number of people required for gameplay, and the level of exertion.
Gaming System
Popular gaming systems include the Nintendo Wii , Nintendo GameCube , Microsoft XBox 360 , Sony PlayStation 3 , Nintendo DS , and PC operated games. Most games are labelled with the appropriate gaming system. The game is designed for compatibility with a certain system and does not work on other systems. If purchasing a sports game designed for PC play, buyers should ensure that their computer has the correct memory and system requirements otherwise the game will not work.
Type of Sport
There is a wide range of sports games available. Popular sports include football , golf, and tennis . There are also various other physical activities, such as bowling.
Number of Players
The number of players required for gameplay can influence a buyer's desire to purchase the game greatly. Some sports games allow for single player use. In these games, the player often competes against a competitor generated by the gaming system or computer. Other sports games are multiplayer or require a minimum number of players, most frequently two. This can pose a problem for buyers who do not often find themselves playing in the company of others. It is important to note that if the game requires several players, multiple controllers are needed.
Level of Exertion
When searching for sports games, buyers should consider the level of exertion required by the game. Some games allow users to play while relaxing on the sofa, while others use motion sensor technology and require users to get on their feet and participate in full body movements. Motion sensor games burn a considerable number of calories in comparison to more traditional versions. For example, players can purchase a Fit board for their Nintendo Wii console. This board facilitates activities, such as yoga and Pilates, that require balance and stability.
Benefits of Sports Games
There are many benefits of sports games. In addition to helping children to develop necessary life skills, sports games encourage social interaction, increase confidence levels, and promote exercise.
Social Benefits
Sports games can help to bring the whole family together, bridging the gap between generations. Many games promote positive social messages and encourage the family to work together and help each other in order to achieve a common goal. By emphasising cooperation and teamwork as important game features, players gain a better sense of family unity. Sports games aim to build leadership and team skills.
Increased Levels of Confidence
Sports games help players to feel a sense of achievement as they overcome obstacles and master new skills. Games such as Wii Fit introduce new concepts and then provide players with the opportunity to master them.
Promote Exercise
Motion sensor sports games, such as Microsoft Xbox 360 Kinect, Nintendo Wii and Wii U, and Sony PlayStation Move, promote physical and mental exercise, as well as increased strength and stamina. Sports games combine video gameplay and exercise for a more enjoyable and entertaining way to stay active and get fit.
How to Buy Sports Games on eBay
Depending on the type of sports game you are looking for, the gaming system you will be playing it on, and the condition you want it to be in, you can find a huge selection at eBay's online marketplace. eBay offers buyers competitive prices and often sports games can be found for well below their retail price. To shop for sports games on eBay, simply go the eBay home page, and enter any type of sports game such as " Tiger Woods PGA Tour 10" into the search bar. This gives a limited selection. A wider selection of results comes from entering general terms, such as " sports games ". This brings up not only a larger selection of games, but also items that you may not have thought of.
Before finalising any purchase on eBay, make sure that you are satisfied with what you have read in the item description. You also need to factor postage and packaging into the final price. Check the seller's feedback ratings by reviewing his or her profile page.
Buy with Confidence
When searching for sports games on eBay, buyers should consider purchasing from Top-rated sellers. These sellers are recognised in the eBay community for providing high levels of customer service. They receive consistent positive feedback ratings and are known for dispatching items in a timely manner. These factors can help buyers to feel confident throughout the buying process.
Conclusion
Sports games are fun to play, while often incorporating a sense of competitiveness and team spirit. For those hoping to interact with the game, many gaming consoles have motion sensors that allow players to participate alongside some of their favourite sportspeople. When searching for sports games, buyers should first consider the type of gaming system they have. The sports game needs to be compatible with the system in order to work. Buyers should also consider the various game ratings, especially if planning to purchase the game for a younger child. These ratings suggest the appropriate age range for the game.
Buyers can then determine which type of game they prefer. Sports games include football, golf, and tennis. The level of physical exertion varies for each game and often depends on the type of gaming system being used. With so many different sports game available on eBay, buyers are sure to find the perfect fit for enjoyable gameplay.