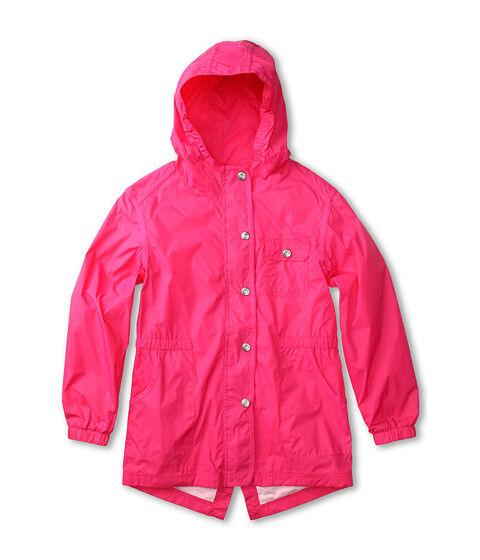 An anorak is generally used in climates that have sub-zero temperatures and high winds. Anoraks are usually waterproof and have no zipper. It often has a deep hood to protect the head from the elements. Anoraks were initially created by the Inuit and were sewn from caribou hides, due to the exceptional ability of the hide to repel water and block the wind. The Inuits regularly coated their anoraks with seal oil to retain these qualities.
Today, there are different styles of girls anoraks. Modern anoraks may have buttons or a zipper and are made from a variety of fabrics to suit different climates and seasons. It is important for the buyer to know about the various styles of girls' anoraks, as well as how to size anoraks correctly. Girls anoraks can be found in most high street clothing shops and on eBay. There is an extensive collection of girls anoraks on eBay, from extreme weather, down-filled anoraks to rain and wind-repellent shell anoraks.
Styles of Anoraks
Anoraks as winterwear are generally worn with boots and snow pants. If the anorak does not have an attached hood it is often worn with knitted scarves and caps. Some styles of anorak have drawstring waists and their length can extend to the knee. Such length can provide extra warmth by providing more protection from the wind. Anoraks made strictly for wear in rainy climates are usually made from water-repellent materials rather than the heavier fabrics used for anoraks worn in freezing temperatures. Raincoat anoraks can be made from gabardine, a fabric that consists of a blend of wool, rayon and cotton, or from rubber blend fabrics. Rubber blend anoraks tend to be less expensive than gabardine anoraks, but they may not last as long as their gabardine counterparts.
Shell Anoraks
A shell anorak is also referred to as a windproof anorak. This type of anorak is extremely lightweight, has some moderate ability to repel light rain and is perfect for times when the weather has cooled off and a light protective layer is needed. A girl simply puts the shell anorak over any other jacket, coat or anorak. This provides added protection from the elements. When the weather has returned to more moderate conditions, the shell anorak can be removed and stored in a pouch or backpack until it is needed again.
Fleece Anoraks
Fleece is well-known for being especially lightweight while retaining superior ability to keep the wearer warm. Anoraks made with fleece may be knee-length, full-length, or hip-length. Fleece anoraks incorporate layers of soft fleece. Fleece is a good insulating material that is the perfect fabric for cold weather gear. Anoraks made with fleece are very lightweight, warmer than wool, and dry quickly, which is a benefit that cannot be overstated for outerwear in sub-zero conditions.
Combo Anoraks
A combo anorak combines the benefits of a cold weather anorak with the shell anorak. With this type of anorak the wearer will remain warm in freezing temperatures while having the added protection of a water-repellent and wind-repellent outer shell.
Down Anoraks
Down anoraks are exceptionally warm as they contain several layers of goose and duck down. Although some anoraks contain synthetic fibre filling or microfibre fleece. Down anoraks are a good choice for those who live in excessively cold environments such as Arctic zones, or regions that experience intense, arctic-like weather. Many down-filled anoraks have hoods, deep pockets and zip and snap front closures. Some cold weather anoraks also incorporate belts into their style for added functionality to keep wind and rain out and keep the warmth in.
Spring Raincoat Anoraks
Some rainwear is made with plastic and can be rather cheap looking and easily damaged. Raincoat anoraks are generally made with a higher quality of fabric, such as rubber blends that are sturdier and longer-lasting than plastic rainwear. These anoraks are available in a variety of colours, from muted browns and blacks to cheerfully bright colours. Many raincoat anoraks come with prints for added style and whimsy. Some rainwear anoraks are lined with cotton or felt for added warmth and comfort.
Fashion Anoraks
Anoraks featuring snap button flaps that conceal a zipper, drawstring waists, and ribbed trimming are popular and fashionable. Many of these fashion anoraks have zipper pockets and can have long or mid-length sleeves as well. Fashion anoraks are easy to care for and can be washed at home without fear of destroying them although some of these fashionable anoraks are made with acetate-polyurethane and nylon blends and so need to be professionally cleaned. Popular materials for fashion anoraks include knit fabrics, cotton-polyester blends, and nylon, and can be classy and easily paired with dressy trousers, skirts or dresses, stylish boots, and hats or even an umbrella for that fashionable look that is laid back yet edgy.
Windbreak Anoraks
Windbreaker anoraks are generally very lightweight with better than average ability to repel water and protect from the wind. Most anoraks of this style come with a zipper on the front, with snap pockets and cuffs. These anoraks are not only fashionable but are extremely useful as well.
Anorak Sizing Chart
As with any other article of clothing, the buyer should take exact measurements to ensure a perfect fit. This is especially important when buying an anorak from an online venue such as eBay.
| | XS | S | M | L | XL | XXL |
| --- | --- | --- | --- | --- | --- | --- |
| Size | 4 | 6 | 8-10 | 12-14 | 16-18 | 20-22 |
| Bust | 81.28 cm | 87.63 cm | 91.44 cm | 99.06 cm | 106.68 cm | 114.3 cm |
| Sleeve | 76.2 cm | 76.2 cm | 81.28 cm | 83.82 cm | 86.36 cm | 86.36 cm |
To measure the chest/bust, measure just under the arms at the fullest part of the chest. The length of the sleeve is determined by measuring from the centre of the neck to the bend of the elbow and then down to the wrist. Some styles of anoraks end at the hips, while other styles extend beyond the waist and end at the wearer's knees. When searching for anoraks to buy online, beside the sizes, the shopper should make note of the lengths of the anoraks on offer.
How to Find Girls Anoraks on eBay
To begin your search, type a keyword into the search bar at the top of the homepage on eBay. For example, type "down anoraks" into the search bar and you will be directed to a results page that only lists items with that search term in the title. Accessorise your girls anorak with a knitted hat and scarf set, winter boots and fleece mittens for the complete package in winter style and comfort.
The seller's profile is also the place to look to learn more about the seller's reputation on eBay. Next to the seller's username is a number and this represents the seller's feedback score. You should also take the time to read the feedback submitted by previous buyers. You can also sort the results page to only show those listings for anoraks posted by top-rated sellers.
If you need more information about the item to help you make a purchasing decision, do not be shy about contacting the seller and asking them a few question. If you think it would help, ask the seller for more pictures of the anorak, from different angles.
You can either buy the anorak for the list price or you can participate in an auction. Bidding for items tends to drive down the price, but there is the risk that you could lose out to a higher bidder. To buy an item on eBay, you will need to sign up as a member. Registration is free.
Conclusion
Girls anoraks are the ideal way to stay warm and dry in comfort and style. An anorak is the perfect choice of outerwear for climates that routinely have sub-zero weather with snow and wind. For areas that have rainy or windy weather, but may not be freezing, the perfect girls anorak is a shell anorak. It will block the wind and repel light drizzle, keeping the wearer warm and dry. Because there is such a diverse selection of anoraks from which to choose, one can elect to buy an anorak that is fashionable, choosing from a range of colours and styles for a stylish look that can be worn for shopping trips or for a chic office ensemble. Whatever the determining factor is for buying an anorak, it is in the best interest of the buyer to research the different styles of anoraks. The buyer should consider what level of insulation is required and what design is appropriate. Some anoraks are good for hiking in the rain, but might not go over well if donned for a girls' night out on the town.
A girls anorak can be the ideal article of clothing for cold weather. It is a functional garment that offers warmth and comfort, but it can also be stylish. Buyers will find a variety of girls anoraks on eBay.