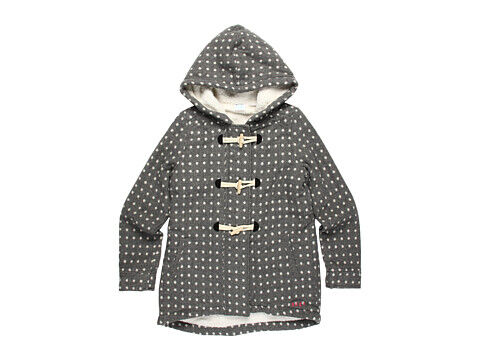 A duffle coat is made from a thick, layered woollen material called duffle. These coats are traditionally popular in areas where the climate can be seasonally cold or snowy. The original duffle coat incorporates specific features such as double weave wool fabric, a neck strap with buttons, front toggle fasteners, a deep hood, and a longer, knee-length cut that provides exceptional protection from the cold. The duffle coat originated 150 years ago and has proved popular down through the generations. The duffle coat is enjoying a renaissance of late, and has become something of a staple in the winter wardrobes of fashion conscious girls.
When searching for the perfect girls' duffle coat, there are a variety of styles and colours from which to choose. These coats are sold in high street shops or online through websites such as eBay. When shopping for a duffle coat for any girl, the shopper should consider comfort and the winter weather conditions prevalent where the girls lives.
A History of Excellence
Duffle coats are named for the town of Duffel in Belgium, where they originated. The duffle coat has traditionally been made from a thick, coarse wool layered for warmth, and was for much of its history only available in camel or grey colours.
Today, duffle coats are available in a huge array of colours that will appeal to any little girl. This winter coat became hugely popular due to its superior ability to protect against wind and cold. Amongst the defining characteristics of the duffle coat are the horn toggles and leather fastenings, deep hood and pockets and the layered wool construction. Duffle coats made in the traditional way are identifiable by the distinctive smoky smell the coat gives off when it is wet.
The Comeback Coat
Although the duffle coat has been loved and worn for over a hundred years, the design has remained fairly consistent and the quality top-notch. Duffle coats are now available in a greater variety of colours and lengths. Little girls can choose a coat from a rainbow of colours. Modern manufacturing techniques have made it possible for the duffle coat to offer the protection from the elements expected of a duffle coat while being lightweight. Lengths vary from floor to hip. Duffle coats are available in patterns, as well as bright colours, such as orange and yellow. Today, the duffle coat is one of the most popular winter coats on the market.
Choosing a Duffle Coat for a Girl
When choosing a girls ' duffle coat, the shopper should consider comfort, the coat's ability to protect a child from the cold, and how easy it is for the child to get in and out of the coat. They should not forget that little girls start to develop a sense of style early. A parent should try and include the child in the purchasing decision.
Weather Conditions
Children need winter coats that will keep them warm in the coldest climates and will hold up against the rough and tumble lives they lead. In climates where snow and rain are commonplace, buying a coat that is waterproof is a huge benefit. If a child is not allergic to wool, duffle coats are a good option because duffle coats are famous for the warmth they provide and their ability to repel rain and snow with their double weave layered material.
The Hood
The deep hood on a duffle coat shields against wind, rain, and snow, providing warmth and protection from the elements. Deep pockets will allow mittened hands to easily slide inside, and the longer length of a duffle coat keeps little legs warm and dry.
Layering
Winter coats with layers of fabric are a good choice for areas where winters can be especially harsh, and layering clothing under the coat provides additional insulation. For those sub-zero days, a jumper worn under a duffle coat can provide an additional layer of insulation. When buying a coat, a shopper should choose a size that is ample enough to allow for these additional layers of clothing.
Comfort
Any winter jacket made from wool can be a bit scratchy, but with the addition of a jumper worn under a duffle coat, sensitive skin is shielded from contact with rough wool. Deep hoods keep rain off of little faces, and flap closure pockets warm up chilly fingers quickly. A duffle coat might not be a wise choice for a girl who lives in a mild climate. If the coat is made from thick duffle material, the child could overhead on a mild winter's day.
Easy On and Easy Off
A duffle coat is extremely well-made with flap covered deep pockets to keep mittens in, and a front that is closed using toggle fasteners. The toggle fasteners is one of the signature features of the original duffle coat. The toggle fasteners allow the wearer to open and close their coat without taking off gloves or mittens. When wearing gloves or mittens, trying to grasp a zipper pull is difficult and sometimes impossible. For the child that doesn't yet have the dexterity to manipulate small buttons or snaps, toggles allow her to easily get in and out of her own coat.
Personal Style
Girls can be picky about the colour of the coat they will wear, as well as the length and style. The shopper should involve the child in the selection of their new winter duffle. When shopping for a duffle coat, the shopper should consider the rest of the items in the child's winter wardrobe. Pairing corduroy trousers with a cable knit jumper, winter boots and a purple hooded duffle coat will keep a little girl warm and stylish at the same time. Allow her to choose the colour coat she likes, and then accessorise it with a cute neck scarf and warm cap. Perhaps a tween would rather wear slouch boots and a tartan skirt with her blue duffle coat. No matter what outfit or colour of duffle coat she chooses, any girl would be happy and proud to wear a coat she herself has chosen, and because she's keen to wear her coat she will stay warm and dry.
Sizing a Duffle Coat
A child may choose a coat that fits snugly, but by the middle of winter her parents may find themselves going out to buy another coat. Or, alternatively, the parents may decide to buy a coat that is large enough to get three seasons of wear out of it. Although the sentiment behind these decisions may be understandable, the truth is that because girls grow at different rates it is not advisable. Choose a coat that is large enough to allow for ease of movement, and enough room to layer a jumper underneath.
A girl should be measured carefully for height, around the chest, waist and hips, and then using those measurements, determine which size coat to buy. Coats that are snug or form fitting will not wear as well as one that allows for the child's growth through the winter. When a coat has no room for layering clothing under it, the child will not stay warm on harsh winter days.
| | XS (6-7) | S (8) | M (10-12) | L (14-16) | XL (18) |
| --- | --- | --- | --- | --- | --- |
| Height | 109 to 115 cm | 114 to 129 cm | 130 147 cm | 146 to 162 cm | 163 to 170 cm |
| Chest | 58 to 62 cm | 64 to 68 cm | 72 to 76 cm | 80 to 83 cm | 88 cm |
| Waist | 50 to 53 cm | 55 to 42 cm | 60 to 63 cm | 66 to cm | 73 cm |
| Hip | 60 to 63 cm | 66 to 69 cm | 73 to 77 cm | 81 to 85 cm | 90 cm |
The girl should try on a coat to get a feel for what size will work best for her, but she should be measured for correct fit as well. Every child grows at different rates, making it a necessity to remeasure each child whenever a new winter coat needs to be purchased.
How to Find Girls' Duffle Coats on eBay
Although the duffle coat truly is a classic coat, and can therefore can cost a bit more than some other types of winter wear, the investment is well worth it. Duffle coats are extremely durable and will remain in excellent condition for many years. Duffle coats have proved very popular. The makers of these coats have taken the concept of a great coat one step further and extended the design to include tailored styles and additional colours that appeal more to little girls, tweens, and teens.
To find a patterned duffle coat of eBay for your little girl, start by typing keywords such as 'girls red fleece duffle' into the search bar on the eBay home page. eBay has a huge selection of duffle coats from which to choose. You can sort the listings by size, colour, and pattern. To accessorise her new duffle coat, you can buy a girls faux fur hat and gloves or you might want to buy a pair of girls winter boots that will complete her trendy winter look.
Read the item descriptions very carefully. Along with the size of the coat, the item description should also include the length of the coat. If these specifics are not included, contact the seller by going into their profile and clicking on the contact link.
Conclusion
Duffle coats are not just for keeping warm in cold winters, today's duffle coat can be a fashion statement as well. Many little fashion divas consider this popular winter coat to be a style necessity. When looking for a coat that will provide excellent warmth and comfort as well as last for years to come, the best choice is a duffle coat. A girls' pink duffle coat may be the perfect choice for fashion conscious girl, or a maybe a dramatic red duffle coat. Any girl will love a bright orange duffle coat that is flashy, fun and amazing. If it is an older girl, she might consider a more romantic look and feel, like a lavender colour duffle coat. The rainbow of colours aside, every shopper consider the weather conditions where the girl lives. Duffle coats are perfect for icy winters with snow and strong winds. For locations where the climate is milder, a duffle coat made of a lighter weight wool would be a better choice. The coat should allow ample room for layering. eBay has an extensive collection ofduffle coats in a variety of styles and sizes. A girl is sure to find the duffle coat of her dreams amongst eBay's impressive selection of girls' winter coats.