A stylish, subtle answer to your storage problems, glass shelves are cheaper to buy and easier to install than you might think. Here's what we think you need to know.
Glass shelves at a glance
Before you buy
Where will your shelves go?
Safety considerations
Floating or bracketed?
Essential installation tips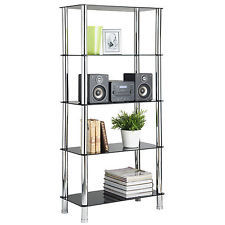 Before you buy
Trophies sitting unadmired in in a box? Useful books buried in the loft? Or do you want to increase your storage options in a fashion that's more subtle than installing an entire unit? Whatever your reason, shelves are often an incredibly cost-effective way to get your favourite items on show or in an easier to reach place, and they'll make a room more personalised too.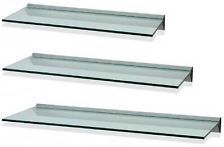 Glass shelves are an ever-popular alternative to wooden or metal shelves. Discrete and deceptively strong, they offer an almost unrestricted view of the objects you wish to store or display, and will happily fit into almost any decor scheme.
But before you order, think about what you'll be placing on your shelves. Will you be accessing items such as books or documents regularly? Will your crockery be hastily removed and replaced before and after a busy meal? And who will be doing it?
It may be that for some rooms, glass shelving simply isn't the answer. Heavy books might be better off in a wooden bookcase,
dinner plates
more safely stored in a dresser. A hallway might be too busy for glass shelves, your living room already full of furniture you may not want to move.
However, glass shelves are nothing if not versatile, and just a few minutes considering the following points could help you make the perfect choice.
Where are your shelves going?
Which room?
Points to consider
Kitchen / dining room

Glass shelves within a cabinet or fixed to the wall will really complement your glassware and dinner sets.
However, day-to-day wear and tear might lead to chipped edges – on both the shelves and your homeware.
Consider toughened or laminated glass shelves that will support heavy loads.

Living room

Can be used to store or display just about anything you wish.
For larger items such as heavy hardback books, it's a good idea to go for higher load-bearing toughened glass.
The correct supports are crucial to ensure a shelf stays safely in position.
Make sure you measure accurately and leave enough space around furniture, and beneath or beside windows.

Bathroom

Increase the sense of space in a smaller bathroom with glass shelves.
Water spillages and condensation build-up after hot baths or showers can simply be wiped away.

Hallway

Ensure there's enough space to allow doors to be opened.
Similarly, make sure that the people who will use the hallway have plenty of room to remove coats and shoes without fear of knocking the shelves.

Bedroom

Great for easily spotting where you left your wallet or favourite book.
Can be used to form a display wall for special items such as photographs.

Safety considerations
Two of the biggest factors to bear in mind when selecting glass shelves are their load-bearing capacity and how shatterproof they are. The latter is particularly important when choosing glass shelves for a home with young children.
| Type of glass shelf | What is it? | Best used for… |
| --- | --- | --- |
| Float glass | The same glass you'll find in many large windows. It offers a good balance of toughness and load capacity, but it can break into dangerous shards. | Medium loads – smaller books, photographs, etc. |
| Laminated glass | Glass that is covered in a thin layer of protective plastic. This stops the glass shattering should it get broken but reduces its load capacity. You'll need more supports for bigger loads. | Your child's bedroom – accidents happen, and the risk of nasty glass shards is greatly reduced. |
| Toughened glass | Glass that has been thermally or chemically strengthened to dramatically increase its load bearing. If it shatters it breaks into small cubes rather than shards, reducing the risk of cutting. | Heavy loads – large books, piles of plates, etc. |

Floating or bracketed?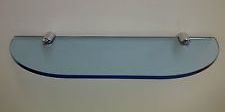 Once you have decided what you'll be placing on your glass shelves and where you'll be installing them, you can choose one of two ways to support them.
Floating
: Very popular, these shelves appear to magically "float" against a wall thanks to a lack of any visible supports. In fact the support sits flush against the wall, directly behind the shelf.
Some people report that their floating shelves dip when load are placed upon them. This is often because the wrong type of fixing is use to attach the shelf to the wall behind it.
Bracketed
: These are shelves that are conventionally supported by brackets placed either underneath or above. They usually offer a greater load capacity – and cut down on errors made in the choice of wall fixing!
Essential installation tips
Step 1
: First of all, decide where you'd like to place your shelf. Use a spirit level to ensure it is straight, and then use a pencil to mark its outline. If you're installing multiple shelves, leave enough space between each shelf for the objects you'd like to store on them.
Step 2
: Use a stud detector to sweep the area of the wall where you plan to fix the shelf for any hidden metalwork, such as pipes and electrical wires.
Step 3
: Hold each bracket for your shelf against the wall by the outline you marked in Step 1. If you are fitting a floating shelf bracket, ensure it is horizontal using the spirit level; if they are conventional brackets, line them up vertically. Clearly mark up the fixing hole positions.
Step 4
: Time to drill into the wall. Here's where it's crucial to make sure you have the right fixings:
For concrete or brick: use plastic Rawlplugs and screws.
For studs or wooden joists: use 40mm screws.
For plasterboard: use 65mm plasterboard anchors.
Once you've drilled to the appropriate depth, screw the brackets into position.
Step 5
: Slide the shelf into position and check its brackets are straight, level and secure. Then screw the shelf in place on the brackets.