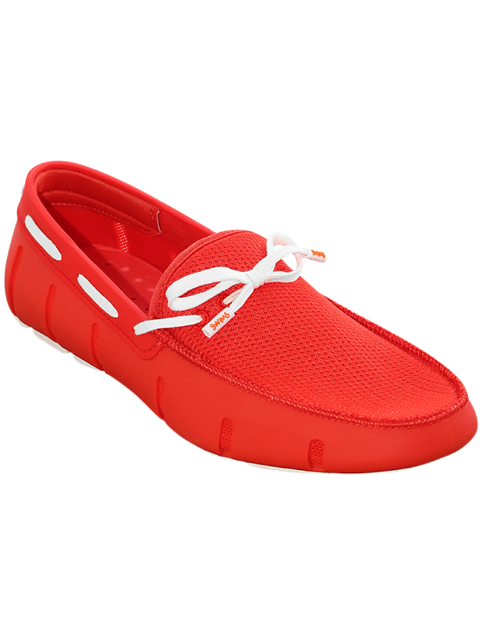 Loafers are slip-on flats or low heeled shoes. Their design was inspired by moccasins. Loafers are comfortable shoes that can be worn for extended periods. They are considered a casual shoe, but some loafers can be worn with more formal attire. Loafers are available in a range of styles, from penny loafers to tasselled or fringed, and in materials such as suede, leather or canvas, making them the ideal shoe for girls of all ages.
The best feature of loafers have is the absence of laces. For little girls, laces can present a problem when getting dressed. They often require the assistance of parents or older siblings. But with a loafer, there are no laces to tie. All a girl need do is slip her foot into the loafer and she is ready to go.
When searching for the perfect pair of loafers for a girl, a shopper should consider the different types of loafers. Some loafers are more appropriate for more formal events like a school dance, while others can be worn with a variety of outfits and in an array of settings. Whether the destination is the shops or a birthday party, there is a style of girls' loafers for every occasion. Loafers are available at most shops that sell footwear for girls, but shoppers will find the most diverse selection of loafers on eBay.
Moccasins or Loafers? Is There a Difference?
Contrary to what some people may believe, moccasins are not the same type of shoe as loafers. Loafers are made by stitching several pieces of leather together to form the shoe. The sole, sides and top of moccasins are made from one piece of leather. The single piece of leather is stitched at the top and held together with a string of leather, or thong, much like a shoelace. In contrast, loafers are flat shoes without laces. They are often referred to as slip-ons. The moccasin has a soft and flexible sole, and the loafer has a typical hard sole that is separate from the other pieces of the shoe.
Types of Loafers
Loafers are now available in a variety of styles. Depending on the outfit the shoes are paired with, loafers can be worn to school, to casual social functions like birthday parties, and more formal events like weddings. The types of loafers include penny loafers, tassel loafers, and fringed loafers.
Penny Loafers
Penny loafers feature a wide band of material across the saddle, or top of the shoe, that has a slit in the leather. This slit is the perfect size for a penny or dime, and hence the name. This loafer is perhaps the most versatile and is appropriate for school and play. It has a smooth sole and either a flat or low heel.
Tassel Loafers
Tassel loafers are similar in style to penny loafers, but without the saddle band with the penny slot. In its place is a tassel that creates a sassy and chic look popular with tween and teen girls. These loafers have a smooth sole and are available in flats or mid-size heels, making them perfect for casual to semi-formal occasions.
Fringed Loafers
A fringed loafer is similar in style to a moccasin. It is made from leather or suede. The fringed loafer features the signature fringe across the saddle and may or may not have a tassel or tie as well. This loafer is a casual shoe that can be worn for everyday wear and is found with flat soles or a mid-size heel, making them perfect for school or any occasion when a smart but not formal dress is required.
Leather, Synthetics, or Canvas?
When shopping for loafers, the shopper should consider the shoe material. Common materials used to manufacture loafers include canvas, leather, and synthetic materials like imitation leathers and vinyl. Each shoe material has benefits as well as limitations.
Leather Loafers
Leather is more durable when compared to synthetic materials such as patent leather or pleather. Leather is a breathable shoe material that promotes airflow in the shoe. Leather also ages well, in that the more it is worn, the more the leather shoe moulds to shape of the wearer's foot. However, this also means that leather tends to stretch out a bit. A leather loafer may start to lose its shape. The result being that the shoes can slip off a girl's feet when she is playing.
Synthetic Materials
Some of the types of synthetic shoe materials include patent leather, faux leather, faux suede, and vegan leather.
Patent Leather
A patent leather loafer has a shiny or glossy appearance and can easily be cleaned with a damp cloth. This type of material lends itself well to more formal occasions and is more breathable than faux leather.
Faux Leather
Faux leather is a material that incorporates no animal materials, is made from polyurethane and is a more breathable type of synthetic leather, making it a good choice for children's shoes as the material is less expensive than true leather and wears comfortably.
Faux Suede
Faux suede, micro suede, or microfibre materials generally have a brushed finish that resembles true suede and can feel and look similar as well. Although less durable than suede, this fabric is easily cleaned with a damp cloth. The downside to this material is that it is not a good choice for very wet or unforgiving weather and does not hold up as well as patent leather or faux leather shoes.
Vegan Leather
Vegan leather is made from polyvinyl chloride (PVC), more commonly called 'vinyl'. Vinyl is stiffer and lacks the breathable characteristics of leather or faux leather materials. This is a sturdy shoe material that may last longer than leather loafers, and is simple to clean with a damp cloth. This shoe material may be too hot to wear when the weather is warmer.
Canvas Loafers
Canvas loafers can be a good choice for girls, because they retain their shape better than leather and can be matched to a wide variety of clothing. However, cloth loafers have their limitations, especially in wet weather as a girl's feet can be soaked through if she is caught out in the rain.
Sizing Loafers for Girls
Before buying any shoe it is recommended that the shopper measure the child's feet. This can be accomplished by going out to a shoe store and using their measuring forms. A parent can also measure their child's feet at home. All they will need is a measuring tape or ruler, a piece of paper and a pencil.
Tracing the Foot
First, the parent tapes a piece of plain white paper to the floor. The child should be seated on a chair that allows their legs to be bent slightly, keeping shins in front of the ankles. The child places their bare foot or socked foot on the paper. The parent then trace the outline of the foot by holding the pencil upright, not at an angle.
Measuring the Traced Outline
The parent takes measuring tape or ruler and measure the outline from the top of the outline to the bottom, making sure the ruler does not slide. They then note the measurement to the nearest centimetre, without rounding too much, either up or down. This measurement is the length of the child's foot. The parent then measures the width of the outline at the widest part. Many children require a wide shoe. This measurement is important to avoid purchasing shoes that are too narrow.
Determining the Final Shoe Size
The parent should measure each of the girl's feet separately and choose the size for the larger of the two. To determine the final shoe size, the parent needs to subtract 0.48 centimetres from the measurements to allow for the difference between the actual foot size and the traced outline. The final number is the actual foot measurement.
Consulting a Size Chart
After the girl's foot has been measured, her measurements need to be checked against a sizing chart to determine the child's shoe size.
Measurement

in Centimetres

Child Sizes

13.67

5.5

14.12

6

14.6

6.5

14.9

7

15.4

7.5

15.9

8

16.2

8.5

16.4

9

16.9

9.5

17.3

10

17.7

10.5

18.1

11

18.5

11.5

18.9

12

19.7

13

20.1

13

20.5

1

20.95

1.5

21.3

2
When shopping for loafers online, it is very important to read the description of the loafer very carefully. Is the shoe sized to US standards or UK standards? If the loafer is not in a UK size, consult a conversion chart. There are many such charts available online. Because a child's foot grows rapidly, a parent will need to measure their child's feet each time they need to buy new shoes.
Styling Girls' Loafers
A pair of canvas loafers in pastel colours, corduroy trousers and a print cardigan is a cute and comfortable look for a little girl. A princess style dress and knee socks is an adorable look for a little girl, but for an older girl, she may want to look a bit more sophisticated. For everyday wear, a pair of brightly coloured skinny jeans, a t-shirt with graphics and a teen fur vest paired with fringed loafers is a good casual look for an older girl. For a comfortable yet slightly dressier look, a teen party dress can be worn with wedge heeled black patent leather loafers.
The Appropriate Socks
Choose a pair of low rider socks to wear with the loafers, as the sides of the shoe are very low-cut and most wearers choose to either wear no sock at all or a very low-cut sock. For times when a bit of added warmth is necessary, choose a girls' knee sock that covers her legs, so she will be cozy while playing outside.
How to Find a Pair of Girls' Loafers on eBay
To begin your search for deals on girls' loafers, start on eBay's home page. Simply type in the keywords that best describe the loafers you are looking for into the search bar at the top of the page. This action will take you to a results page with an extensive listing of loafers posted for sale. For example, if you type in "girls canvas loafers", then the results page will populate, with scores of listings for loafers that fit that description. You can sort listings by condition, size, occasion, shoe material, and colour.
When you have decided upon a specific pair of loafers, you can either buy the loafers at the list price or participate in an auction. To do either, you will need to register as an eBay member. Before you buy or bid on an item, you should research the seller's reputation. A seller develops a profile, or reputation, over time based on the negative and positive comments left by previous buyers. You can find the seller's feedback score in the seller's profile.
Conclusion
Choose from penny loafers, girls tassel loafers, or fringed loafers for casual comfort, and patent loafers for a dressier look for your little girl. Whether your girl is playing at home or school, or attending a school function, which requires a more dressed up look, a stylish and dependable loafer will make the outing not only fun but comfortable as well. Choose a pair of girls' red loafers or perhaps a pair of girls' patent loafers when in need of nice shoe for semi-formal occasion. Loafers have come a long way from the days when they were suitable only for casual wear. Today, loafers are considered the perfect choice for everyday wear for school, as well as events like dressy parties. Before beginning the search for a new pair of loafers, a parent should measure their child's feet to determine the correct shoe size. They should also carefully consider the different types of shoe materials available. Shoppers will find a variety of loafers for girls on eBay.