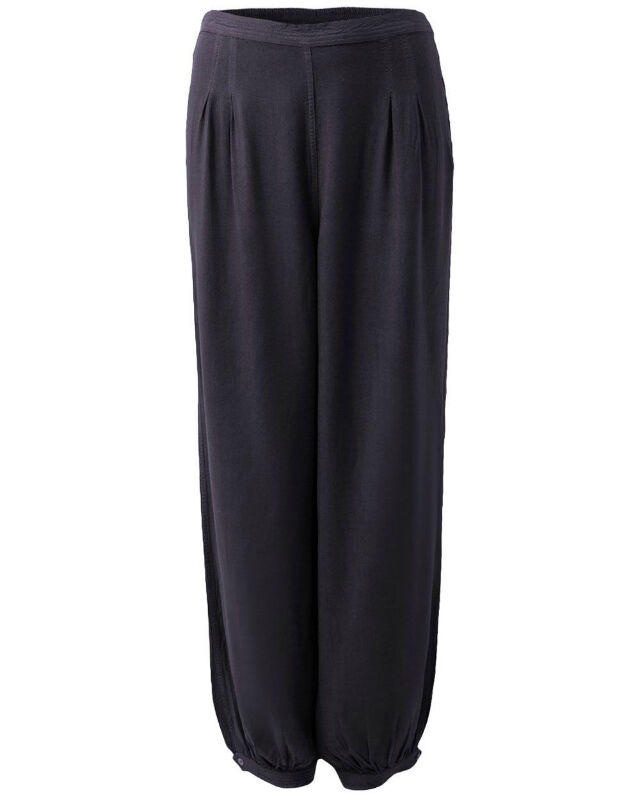 Considered a newer fashion trend, harem trousers are a good choice for women who are bored with classic jeans and trousers and want to go for something more exotic. The defining characteristic of harem trousers is the fabric gathered at the ankles. Harem trousers come in various fabrics, including cotton, polyester, linen, and satin. These trousers are comfortable and they are a good option for casual occasions. Women choose to wear harem trousers because they do not restrict their moves and can be paired with plain T-shirts and comfortable ballerina flats.
Women who are worried that they cannot pull off harem trousers should consider opting for a classic pair that will not catch attention the same way as a trendy printed style does. When it comes to length, buyers can choose from styles that stop a few centimetres above the ankle or just below the knee. Knowing how to wear harem trousers and what sizes to choose can help buyers make an informed decision every time.
History of Harem Trousers
The history of harem trousers goes back to ancient Turkey, where they were worn by women who were performing court functions or dances. The Occident became fascinated with the Orient since the beginning of the 20th century and harem trousers became fashionable mostly with bohemian women. In the recent years, modern harem trousers have become chic and sophisticated and they are now popular with women of all ages. Harem trousers are available for both casual and elegant occasions.
How to Wear Harem Trousers
Harem trousers can be worn by all women, but buyers should consider their figure type when deciding upon a certain pair, mostly because this type of trousers may make any figure look fuller. It is important to choose the fabric carefully, as not all materials drape as elegantly as others are. For instance, heavy cotton and linen may look less stylish than delicate fabrics. Whenever in doubt, buyers should go for the thinner fabric.
Tops and cropped jackets are some of the most popular items women choose to pair with harem trousers. Both tops and jackets should be kept as simple as possible because the focus should be on the trousers. Regardless of the tops chosen, it is important to define the waist as much as possible, because this is one of the things that make harem trousers look stylish.
Shoes
Heeled shoes are preferable for harem trousers because they make anyone look taller and create an elegant look. Harem trousers can also be worn with flat shoes, but this generally only works well for women who are tall and thin.
Accessories
When it comes to accessories, it is recommended to keep jewellery to a minimum, again not to distract attention from the trousers. Bangles work well with harem trousers, and women could also add a single piece like a simple necklace around the neck.
Harem Trouser Fabrics
When choosing a pair of harem trousers, fabric is the most important characteristic to take into account because it can really make or break this style. Trousers that are made from thick fabrics such as cotton may not appear as fluid as the silk or satin ones, so women should choose their perfect pair according to the look they would like to achieve and the season. Harem trousers are available in various fabrics, with the most popular of them being polyester, linen, cotton, corduroy, and satin.
Cotton
Harem trousers made of cotton are comfortable and lightweight, but in order for the trousers to look good, they should be thin. Cotton harem trousers are suitable for all seasons and are available in a wide variety of colours. Another benefit of choosing cotton harem trousers is that they only require regular care, so buyers should not worry about dry cleaning bills.
Polyester
Polyester harem trousers are lightweight and their main advantage is that they do not shrink easily. Polyester is dirt and stain resistant and can be worn in all seasons. Harem trousers made of polyester are popular with women who do not want to worry about having to iron them too much.
Corduroy
Perfect for the autumn and winter chilly days, corduroy harem trousers are available in a large palette of colours, with some of the most popular being plain black, chocolate brown, navy blue, and burgundy red. Corduroy is slightly thicker than cotton and polyester, so harem trousers made of this fabric may appear bulkier.
Linen
Linen harem trousers are ideal for warm summer days and they can be worn either with flat or high-heeled sandals. Linen is a lightweight fabric and harem trousers made from this material can be paired perfectly with sheer tops and linen jackets.
Satin
Satin harem trousers are ideal for more elegant occasions and they can be worn with elegant strappy sandals or simple ballerina flats. They are perfect for parties and other special occasions. The only downside of buying satin harem trousers is that may require special care when it comes to cleaning.
Buying Harem Trousers in the Right Size
Harem trousers are available in different shapes and styles, but choosing the right size might pose some problems for the buyer, mostly because of the rather unusual shape of these garments. Buyers who are looking to find a pair of harem trousers that fits perfectly should carefully consider their body shape as well as the length of their legs. In order to fit well, harem trousers should not look too baggy, but not too tight either.
Because of the shape of harem trousers, buyers should make sure they fit perfectly on the waist in order to decide the perfect size. The length of harem trousers can vary greatly from one style to another, but the general rule is to choose a pair that does not go over the ankle. Women with short legs should avoid harem trousers that only go under the knee and opt for full-length styles, as these may create the illusion of longer legs. Harem trousers look well on fuller-figured women provided they do not choose a style that is too baggy. The size chart below is a helpful guide for choosing a pair of harem trousers that fits well.
| UK Size | Waist (cm) | Hips (cm) |
| --- | --- | --- |
| 6 | 60.5 | 86 |
| 8 | 63 | 88.5 |
| 10 | 68 | 93.5 |
| 12 | 73 | 98.5 |
| 14 | 78 | 103.5 |
| 16 | 83 | 108.5 |
| 18 | 90.5 | 116 |
Buyers should make sure they have accurate and up-to-date measurements of their waist and hips before shopping for harem trousers. They should also use the above sizing chart for reference only if no sizing information is provided by the manufacturer or seller as sizes may differ among brands.
How to Find Harem Trousers on eBay
Harem trousers are a fairly new addition to the world of fashion and in recent years more and more styles have been created to suit any body shape and occasion. If you are looking forward to embracing the style and buy a pair of harem trousers, there are plenty of places where you can do so. Harem trousers are available in the collections of many high-street stores as well as online. eBay has a great selection of harem trousers that are suitable for both casual and special occasions.
It is quite easy to shop for harem trousers on eBay. By simply typing 'harem trousers' in the search bar on eBay's homepage, you will get numerous pages with results, allowing you to browse through an impressive selection. You can make your search even easier by refining the results according to your personal preferences, including size, colour, fabric, and length. Browsing through the fashion categories on eBay is an alternative to performing a search.
Shopping on eBay for harem trousers means that you are able to browse through a massive selection of garments from different sellers. In order to avoid disappointment as well as having to pay for return shipping, you need to make sure you choose the right style in the right size. Check carefully for sizing information in the product description page and make sure you have accurate measurements at hand in order to opt for a pair that fits you perfectly from the first try.
Conclusion
Considered by some a rather unconventional garment, harem trousers have made a comeback and they are available in a variety of styles, colours, and fabrics. Harem trousers are stylish, yet comfortable and this combination has led to their popularity with women of all ages. Even though not all styles may look well on any woman, buyers should consider their own body shape and decide for a pair of harem trousers that accentuates their silhouette and masks their flaws.
Harem trousers are ideals for casual wear and special occasion, but they would not work well as an office outfit. Their relaxed shape is perfect for women who are looking for an alternative to classic jeans and trousers. eBay offers a wide selection of harem trousers for buyers who are looking for their ideal pair online. Whether one is looking for a simple pair of harem trousers for everyday wear or for a more sophisticated style for a party, they can be sure they can find it on eBay.