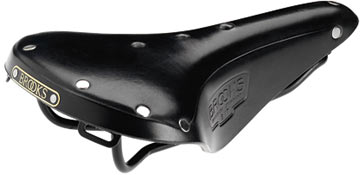 Much of the familiar design of the modern bicycle, with its equally sized two wheels, diamond frame and saddle, originates with the safety bicycle which emerged in the late nineteenth century. These bicycles were presented as a safer and easier-to-ride alternative to the tall penny-farthings, which had one very large wheel and one very small. It soon became the ubiquitous bicycle type.
The earliest bike had no saddle at all, and had to be straddled by the rider. Later models did not put much thought into the design of the saddle, with some using a plank of wood. Later bicycles would make use of a simple ring of material, with no middle, to make up the bicycle seat, and eventually leather and similar materials came to be used to make what would become the familiar saddle. All kinds of bicycle saddles can be found on eBay.
Bicycle Saddle Components
The bike saddle is made up of a number of separate components, which can feature a variety of different materials and designs. Components can often be shaped or utilized differently for saddles which are designed for specific uses, such as those designed for mountain or stunt biking. These components have also changed throughout the history of the bike, as new materials and manufacturing processes have become available.
Saddle Shell
The saddle shell forms the core of most modern bicycle saddles, and makes up the overall shape of a saddle.
The oldest saddles, and more traditional modern designs making use of leather, did not use a saddle shell, instead stretching out a moulded, thick piece of leather over the saddle rails.
The majority of modern saddles make use of plastic to form the shell, due to the lightweight of the material and the ease with which it can be moulded. Plastic shelled bicycle saddles can be made in a wide range of shapes and sizes, many being ergonomically designed to enhance the comfort of the rider.
An alternative, which is growing in popularity, is the carbon fibre saddle shell. This light and strong material is often used for saddles, as well as other components such as the fork, on higher end racing bikes, where weight is a vital issue. These parts, however, are more expensive than plastic and other materials.
The most common saddle design features a wider rear, and a narrow 'nose' at the front of the shell, with saddles designed for racing featuring a longer, narrower point.
Saddle Rails
The rails of a saddle are the parts that connect the saddle itself to a seat post, which then slots into the frame. Some bicycle frames feature an integrated seat post.
The most common way of attaching a saddle to a seat post is with the use of a clamp. Many older, as well as simpler and more affordable, bicycle seat posts will require the purchase of a standalone clamp, while others have the clamp integrated into their design.
Saddle rails can either be solid material, or hollow, which can sometimes make a difference in weight and strength.
The rails often provide around an inch of saddle adjustment, backwards and forwards.
The majority of recently produced saddles feature rails with a diameter of 7mm, though specific types of saddle, particularly those featuring carbon fibre rails, often feature a different size and shape.
Some saddles, such as pivotal saddles designed for BMX bikes, make use of a bolt and ridges to fit to a pivotal seat post. These do not feature rails.
Saddle rails are made from the same materials out of which frames, forks and other bicycle components are generally produced. This can include a number of metals, as well as other materials.
Saddle Rail Materials
| Material | Description |
| --- | --- |
| Steel | Steel is a metal that has long been used to make bicycle components. It is one of the most affordable materials, and is widely available. Steel is a strong, if heavy, material that offers a softer, more forgiving ride, something many cyclists prefer. However, steel is susceptible to rust and corrosion if not treated. |
| Carbon | Carbon fibre is an unusual but increasingly popular material for bike parts, including saddles. It is very light, resistant to corrosion and can be designed with differing levels of flexibility and strength, depending on the needs of the bike. However, it is one of the more expensive options, and can crack after prolonged use. |
| Aluminium | Aluminium is ubiquitous in its use on modern bicycles. It is strong but also lighter than steel, while remaining one of the most affordable options available. It is also resistant to rust and corrosion. Aluminium parts offer a rigid feel to a bike, which some cyclists prefer. However, aluminium can suffer from fatigue at a faster rate than steel, which means these parts may not last as long. Nevertheless, a properly maintained aluminium part can still last for many years. |
| Titanium | Titanium is a difficult to obtain and very expensive material, at a price point out of the reach of many cyclists. However, the material combines a range of desirable attributes: it is very light and extremely strong, resistant to corrosion and highly durable. |
| Nylon | Nylon is the material most frequently used for the pivotal saddles and seat posts found on BMX bikes, and is rarely used elsewhere. The material is very strong, and resistant to corrosion and rust. |
Saddle Coverings
As cycling grew in popularity, and new materials became available for use, covers for saddles became widely available. These covers can provide additional comfort for a cyclist, as well as a choice of colours and designs.
Saddles made of leather are available, which provide a great deal of comfort and durability, but can also be more expensive than other types. Faux leather saddle covers are also available, offering similar benefits to real leather but at a reduced price.
Many modern saddle covers are made out of fabrics such as lycra. These stretch over the saddle, are affordable and can easily be replaced. These saddle covers are also available in a wide variety of different colours and styles. However, lycra can be less durable than some alternatives.
Vinyl saddle covers offer a good deal of water resistance, but are only available in a small selection of colours, and can be more expensive than other types of cover.
Some saddles, such as plastic ones used for stunt riding, can often be used without a cover.
Many saddles include features such as foam or gel padding, which can greatly increase the comfort of the cyclist.
Suspension Saddles
A more recent development in saddle design has been the incorporation of suspension into the saddle. This can be achieved in a number of different ways, and is most often used for mountain bicycles.
These saddles work well when combined with a bicycle frame that features suspension, and seat posts which have suspension are also available.
Suspension saddles may make use of gel to absorb impacts, while elongated saddle rails can also help.
Others may make use of a set of two or more coil springs to help dampen impacts.
While these saddles can greatly increase the comfort of the cyclist, they are also often more expensive than other options.
How to Buy a Saddle on eBay
A wide array of saddles offering different features, as well as saddle covers and other components, can be found on eBay. The full listing of saddles can be found through the Sporting Goods portal, in the Cycling section. Saddles can be found under the Bike Components & Parts category. Items can be arranged by categories such as material, brand, type, price and distance to seller. Also available for selection are the Auction and Buy it Now buying options, offering flexibility as to how a saddle can be purchased.
Key information about a saddle will generally be prominently visible on the item listing, making it easy to see quickly if an item meets any specific requirements. Further information about an item can be accessed on the item page, including information about the seller such as item ratings and feedback reviews, which help to ensure that a purchase can be made with confidence. If any further information about a saddle is needed, it is also possible here to ask the seller a question about the item.
If looking for a specific type or design of saddle, it may be easier and more effective to make use of the search function available at the top of every page. Searches can be made to return results from every category across the site, or from within a designated section. For more information on getting the most out of the search function, visit the Search Tips page.
Conclusion
Bike saddles are an important component of a bicycle, as it is the part of the bike which has to comfortably sustain the weight of the cyclist. A wide variety of designs and features have become available throughout the history of the bicycle seat, and modern bicycle seats can range from the simplest plastic shells to those with suspension, and a shape specially designed for both comfort and speed. A wide array of bicycle seats, including those for children, is available on eBay.