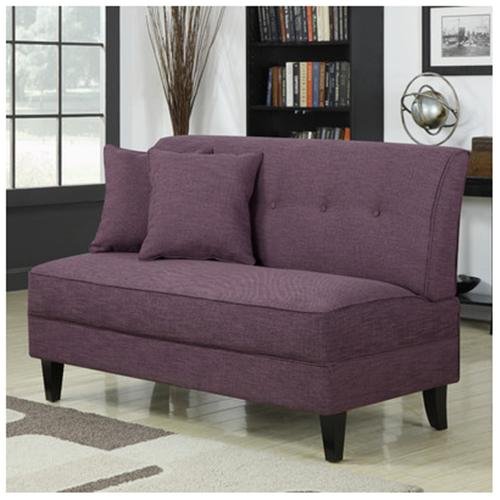 The loveseat has long been a popular item of furniture, and has been used as seating in all kinds of situations, including living rooms, bedrooms and even outdoors. Loveseats are available featuring a wide variety of different materials, styles and designs, and the right loveseat can be found for any needs. The loveseat most commonly refers to a piece of furniture, which is similar to a sofa and is designed to seat two people.
Loveseats can offer comfortable seating and are a great choice for those lacking in space, due to their smaller size. This combined with the wide range of styles available means that loveseats can be found to match with all kinds of decorative styles and furnishings, and a wide variety of loveseats can be found on eBay.
Early Loveseats
The earliest loveseats emerged in the mid to late nineteenth century, and were designed with courting couples in mind.
Initially, loveseats were designed to allow couples the ability to talk to one another in private, but without coming into physical contact, due to the social norms of the time. Some of these loveseats even included seats that were oriented slightly away from one another.
Most loveseats made in more recent years are designed to create a more intimate seating space, due to changing attitudes towards intimacy.
The oldest love seats were made with wood, and often featured the highly ornate decorative style of the time. More recent loveseats can vary greatly in both their style and the materials they are made of.
Types of Loveseat
A number of different types of loveseat have become available throughout the history of the furniture item. Different types of loveseat offer different appearances, and can also be suitable for use in different situations.
| Type | Description |
| --- | --- |
| Traditional | One of the oldest types of love seats, the traditional loveseat is a classic piece of furniture. These loveseats most often feature attractive, polished wooden frames, and most often feature floral or subdued pastel colours. Offering few if any additional features, these loveseats can be among the more inexpensive types, though antique, traditional loveseats can become quite expensive. |
| Recliner | The recliner loveseat is a more modern development, and places an emphasis on comfort above other features. Leather and other premium materials are often selected for these chairs, though less expensive options are also available. These chairs are also often heavier and more expensive than other types. The base is often fixed in place, while the back can be reclined to change the position of the person sitting, and these loveseats often allow each person to recline separately. Some more expensive models may even feature an electrical reclining system. |
| Armless | Some loveseats are armless, including many older examples and some newer models. Many people find armless loveseats to have an uncluttered quality and attractive appearance, though some find them uncomfortable. In addition, armless loveseats can offer more comfort for lying down, without raised arms to get in the way. Armless loveseats can feature a wide array of materials and styles. |
| Sleeper | A sleeper loveseat is a type of sofa bed, where the bed folds into a love seat rather than a fully sized sofa. These emerged in popularity as new manufacturing processes made it easier to manufacture sofa beds, making them practical. A sleeper love seat is a convenient and compact piece of furniture, which may be useful for a guest bedroom. Due to the small size of the love seat, they often fold out into smaller sized beds, such as single or queen size. |
| Swivel | The swivel loveseat is a relatively modern addition to the types of seat. These are often among the smaller types of love seat available, and are placed upon a fixed base, which the seat itself can spin. These can be convenient, meaning the users can face different parts of the room with ease. |
| Garden | The garden loveseat is a very old type of love seat, and is a version designed for use outdoors. Garden loveseats can be a great addition to any garden, offering natural views and a relaxing place to sit. Garden loveseats are often made out of wood, and sometimes feature a small table in between the seats. The oldest Victorian garden loveseats hark back to the social protocol of the time, with each seat facing away from the over. |
Loveseat Materials
Loveseats have been made out of many different materials throughout their history, and a wide selection is available today. These can range from the traditional, durable wood, to modern metals and fabrics.
| Material | Description |
| --- | --- |
| Wood | Loveseats made out of solid wood are among the most widely available, and have been perhaps the most common type of loveseat throughout the history of the furniture. Wood is a popular choice, particularly among those aiming for a more traditional look. Wooden furniture is generally long lasting and durable, as long as it is treated properly, though wood can sometimes be more expensive than other materials. |
| Metal | Metal is a durable and often less expensive choice of loveseat material. Metal was used to an extent amongst older loveseats, particularly for those built to be used outdoors, and became increasingly popular in more recent designs. Today, metal loveseats often feature a more modern style. |
| Leather | A popular choice for many soft furnishings, leather loveseats are often considered desirable due to their distinctive appearance and texture of the leather material, and is the material of choice for more expensive loveseats. Leather can also be harder to clean properly than other materials. |
| Faux Leather | Faux leather is a material that has become increasingly popular since its emergence in the 1960s. Faux leather offers a similar look and feel to real leather, but at a reduced price. Faux leather is also easier to clean than real leather. |
| Fabric | Fabrics of many different types and colours have been used with loveseats throughout their history. Fabric loveseats are among the most widely available and affordable, and can be found in a wide variety of different styles, patterns and colours. |
Loveseat Patterns and Styles
A number of different styles have been prominent at different times throughout the history of the loveseat.
Traditional loveseats often feature wood and fabric as their main materials, and are more likely to have additional decorative elements such as frills or tassels.
Antique loveseats are often examples of loveseats which are very old, and are often much more ornate, both in style and the materials used, than modern loveseats.
More recent contemporary loveseats are widely available, and offer a very different look to older, more traditional furniture. Often made of metal, these seats are often minimalist in their style and place an emphasis on simplicity.
A variety of patterns are also available. Floral patterns are a popular choice, and were prominent during the twentieth century, while starker solid colours are favoured by more modern loveseats.
A selection of patterns based upon those popular during certain time periods are also available. These include the often brighter and busier patterns of the 1960s, or more subdued patterns of the 1930s.
How to Buy a Loveseat on eBay
A wide range of loveseats, sofas, garden furniture and other items of furniture can be found on eBay. The full listing of available loveseats can be found under the under Sofas, Armchairs & Suites category, under Furniture, through the Home & Garden portal. Items can be arranged by categories such as price, style, material, type and condition. The Auction and Buy it Now buying options are also available, offering flexibility in how a loveseat can be purchased.
They key specifications of a loveseat, such as its type or style, are often prominently displayed in the item listing, making it easy to quickly see if an item meets any specific requirements. Further information on a particular item can be found in the item page, which also includes information about the seller, such as feedback ratings and item reviews. This helps to ensure that a purchase can be made with confidence. If further information about a particular item is needed, it is possible here to ask the seller a question regarding the item.
If a specific loveseat is required, it may be easier and more effective to make use of the search function available at the top of every page. Searches can be made to return results from across the entire site, or from within specific categories. Further information on getting the most out of the search function can be found on the Search Tips page.
Conclusion
The loveseat has long been a popular piece of furniture, and its design has changed over time along with social attitudes towards intimacy. Loveseats can make a great addition to a living room, bedroom, or even the garden, as it provides a place to sit with a loved one or simply relax alone. Throughout history, an enormous variety of loveseats have become available, featuring all kinds of materials, styles and features, many of which can be found on eBay.