Lulu Guinness is the handbag and accessories designer on every trendsetter's lips season after season. Here are seven must-haves from this popular British designer.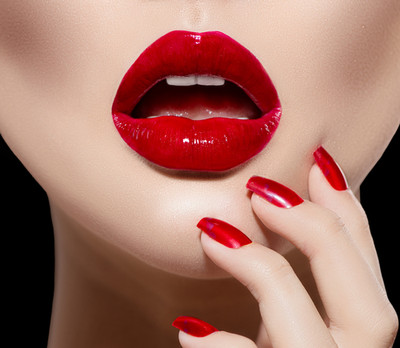 The incredible popularity of Lulu Guinness's classic British collection has a great deal to do with its iconic lip-shaped pieces and bold pouting lip designs. Loved and admired the world over for her uplifting retro aesthetic, designer Lulu Guinness OBE has opened flagship fashion stores in London, New York and Tokyo.
This bona fide design legend has items from her exquisite collection on permanent display at London's V&A Museum. Lulu Guinness handbags are also regularly photographed on the arms of global style-setters including Katy Perry, Alexa Chung, Keira Knightley, Sienna Miller and Rachel Weisz. Why not update your wardrobe with some of Lulu's signature luggage, purses or handbags too?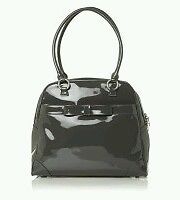 This large and shiny patent leather handbag is a signature piece of Lulu Guinness design brilliance, which tops the bill for capacity and classically elegant lines. Hook a Pollyanna over your arm for a bobby-dazzler of a day bag that raises eyebrows for all the right reasons. Glossy leather comes in sharp shades including yellow and red or crisp white, all with a black patent shoulder strap. Every beautiful inch of this bag's pristine interior is dressed in 100 per cent black and stone cotton lining. Choose from large or medium.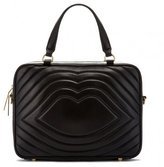 Step out swinging a
Lulu Guinness Lip Jenny Bag
from your hand or hang one proudly over your shoulder with glamour-puss attitude. Lovingly
crafted from quilted leather, the Jenny Bag is a work of art with layers of iconic lips embroidered on the front. You'll never want to kiss this handbag goodbye. A fresh take on the vintage handbag, the Lulu Guinness Jenny
has a mobile phone pocket to help keep the modern girl about town organised. Gold logo, gold zip fastening and gold studs all add extra touches of class.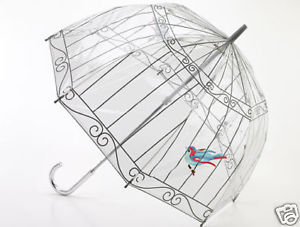 Could there be a more appealing gift for a whimsical loved-one than this famous brolly, dreamt up by the British designer of all things bright and beautiful? Lulu Guinness has transformed the practical transparent PVC
umbrella
into an ornate shield of birds and twirly bits. With a see-through dome above your head you can still appreciate your surroundings, never compromising on style as you splash through the puddles. Designed to triumph over stormy weather, the well-loved birdcage umbrella has eight reinforced fibreglass ribs. Layered in Lulu, with your Lulu purse slipped on your arm, you'll blow away people with your rainy day style. However, this high-quality designer umbrella won't be blowing inside out in a hurry.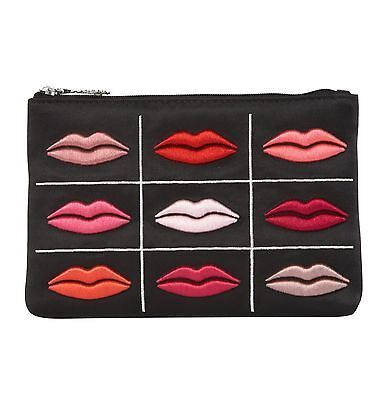 Pop your sassiest lipstick, mascara and eye liner inside this very special
make-up purse
, which has been crafted by the quintessential accessory designer of our generation, Lulu Guinness. Several pairs of pouting lips decorate this desirable leather pouch, which fits a treat inside your handbag or overnight bag. The Grid Zip pouch is characteristic of the Lulu Guinness label in its playful use of pillar box red, hot pink and coral hues, all contrasted against a supple black leather canvas. This is a timeless and affordable way to add some Lulu Guinness genius into your everyday life. Opulent red satin lining offers a final flourish.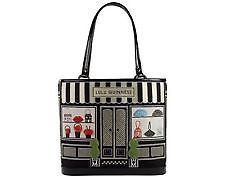 The fizz of cola bottles and tang of pear drops pops into mind the second you set eyes on this highly stylish shopper that simply wants to make the world smile. This season's 'Lulu's Sweet Shop' bag has all the acid green, blue, pink and black and white shades of a delicious jar of Liquorice Allsorts. The front and back print design of this bag is as sweet as candy, but with its black leather straps with gold accents it's no soft option for the safe carriage of everyday essentials. It comes lined with quality black fabric to contrast with the shop front's cute black and white striped awning. These vintage sweet shop-styled handbags have won best seller status in the Lulu Guinness collection and anyone who treats you to this beautiful piece is a tremendous sweetie.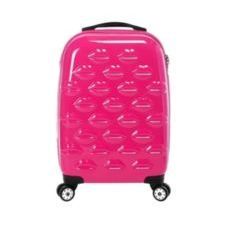 Lulu Guinness steals the show on every airport carousel from Milan to the tropical Maldives, with her iconic lips trolley case. These glamorous high-
end suitcases are smothered in kisses to bring a retro tint to your world travels. Ladies hitting the road for sunnier climes have exciting holiday-
camp colours to pick from. Pack up and go with one of these bubblegum pink or fairground red luxury suitcases. Pretty as a pouting picture and built to last, each Lulu Guinness Lips Case is built from 100 per cent makrolon polycarbonate for strength. Smooth rolling wheels will ease you through
the departures area with jetsetter pedigree. Complimentary branded zip
pulls and three drawstring accessories bags upgrade these cases above
the norm, as you'd expect from this Great British luggage designer. This quality trolley case has a high shine handle and black/stone lining for a first class holiday experience.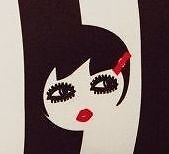 There's an extra special accessory making eyes at you from the irresistible Doll Face purse series. The Lulu Guinness Doll Face card holder is tailor made to be slid in and out of your pocket, or Lulu bag, every time you need to flash your travel card or stow tickets away for safe keeping. With its choppy black fringe and big doe eyes, the Doll Face design is straight from 1960s Carnaby Street. This quirky little
card holder
has been crafted in smart glossy patent leather. Complete with three handy slots on the rear for store cards, Doll Face is the kind of girl who is as happy spending time in the office as she is selecting petit fours for high tea from the patisserie counter. If your budget is limited or you want some extra special stocking fillers for your loved-ones, look no further than this neat piece of fashion treasure. Doll Face has her sights set on you!