The biggest film of 2014 is finally here. Bring on the Games…
Movies don't come much bigger than the
Hunger Games
. The first two installments - the Hunger Games and the Hunger Games: Catching Fire - between them pulled in more than 1.5 billion dollars at the box office. They also made a star of a little-known Jennifer Lawrence, who has since gone on to become a three-times nominated Oscar winner and the biggest name in Hollywood.
So hopes for the third installment, the
Hunger Games: Mockingjay, Part 1
, have been high, to say the least. To capitalise on the success of the first two films, the third and final book in the trilogy has been split into two movies, the Hunger Games: Mockingjay, Parts 1 and 2. The London premiere of Part 1 took place on Monday 10 November, with Jennifer Lawrence wowing a rained-on crowd in a quilted Dior dress and T-bar heels.
What to expect
But what of the film itself? Is it worth all the fuss? Certainly it's attracted some big-name actors. As well as Lawrence, Woody Harrelson and Donald Sutherland return, while Julianne Moore does an impressive turn as President Coin, having been persuaded to sign up by her daughter, a huge Hunger Games fan. Sadly Phillip Seymour Hoffman died a week before filming wrapped. But, thanks to a mixture of rewrites and clever editing, his role didn't need to be recast, and the film is dedicated to his memory.
Plot-wise, this is the first
Hunger Games
movie in which no actual Hunger Games take place. Instead, there's a war being fought and Peeta, Katniss's boyfriend and Games co-victor, has been captured. Katniss heads to District 13 and is once again called upon to save the day…
Highlights of the film include a sequence where Lawrence sings a ballad, 'the Hanging Tree', which she apparently found so traumatic to film she burst into tears. Not that she needed to worry – as well as being a great actress, she also – sickeningly - has a great voice.

But that's not the only great music in the film. It's well known that Chris Martin contributed a song to the soundtrack, as this marked the beginning of the are-they-aren't-they relationship between him and Lawrence that's filled the tabloids ever since. Lorde also contributed a track, 'Yellow Flicker Beat' – look out for the Kanye West remix, which has been making waves on the internet.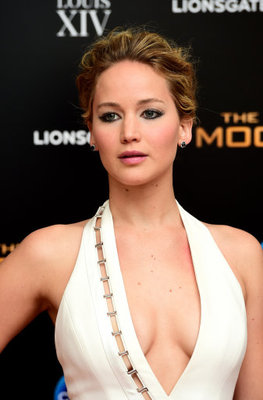 What the critics say
Reviews of the film have been mixed, with some critics disappointed that there isn't as much out-and-out action as we saw in the first two movies. But others have loved it, saying that cinemagoers can expect lots of suspense and surprises.

Variety describes Donald Sutherland as 'marvellously menacing' and says that Jennifer Lawrence 'feels like more of a natural than ever'. On this side of the pond, meanwhile, the Evening Standard gave the movie a full five stars, saying that 'this is cinematic spectacle at its best.'
The Hunger Games: Mockingjay Part 1 enjoys its UK release on Fri 21 Nov. The Hunger Games: Mockingjay, Part 2, meanwhile, is expected to hit cinemas on 25 November 2015. The question is, can you wait another year?