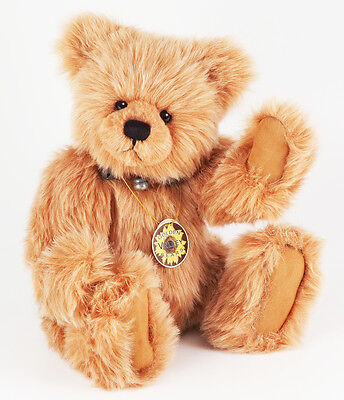 How it began.
I love collecting teddy bears. That's it. I simply love the joy of collecting and welcoming each bear to his or her new home. They have character. They have appeal. They are comforting. It all goes back to my very 1st teddy bear which was bought for me for my 1st birthday. I still have that bear and he has been much-loved, is somewhat battered, has had replacement eyes, a bit thread-bare in places, was my childhood confidant and friend -- and also came in pretty handy for bopping my younger brother with if he was being a pest!! My serious collecting began when I was given a Dean's bear for my 50th birthday. That was it. Hooked. And so began my joy of collecting teddy bears. I always buy good, well-established makes and the majority of my bears are limited editions.

Fifteen years later, I now have just over 400 bears in my own collection. Some tiny, some large -- and all sizes in between. I wouldn't part with any of them and they have all been a joy to collect.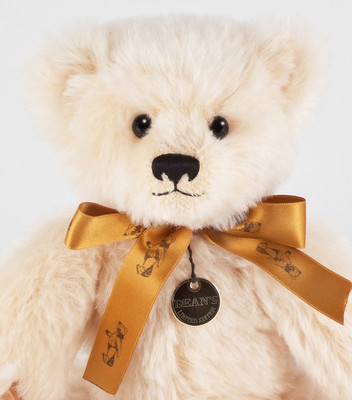 Dean's Bears
Because my first actual proper collectable bear was Frosty by Dean's Bears, I thought that would be a good place to start with some information on collectable bears. Dean's Rag Book Company was founded in London in 1903 and they were one of the founders of the toy industry at the turn of the last century. They used to employ hundreds of workers at the height of their popularity. Despite recessions and other challenges, Dean's are still with us today and produce collectable bears that are a delight to behold and is one of Britain's oldest teddy bear manufacturers. An excellent book charting the first 100 years of Dean's is "The Dean's Rag Book Company Limited -- The First 100 Years" and another book called "Dean's of Yesterday". Lots of information on their collectable bears.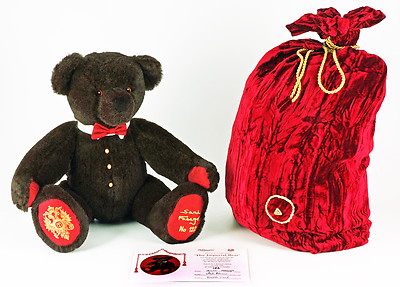 Add a caption
Hermann Speilwaren/Faberge "The Imperial Bear". Limited edition of 206 worldwide.
Click to edit caption
Hermann Spielwaren
Another of my favourite makers whose bears feature in my own collection and whose company was founded by Max Hermann in 1920 in Germany and, being one of the oldest teddy bear manufacturers that still exists, the company is now run by his grandchildren, Dr. Ursula Hermann and Martin Hermann. Their collectable bears are a delight to own. Ulla (Dr. Ursula) is responsible for the complete design of their bears and has won many awards in the teddy bear world. Their team of highly skilled professionals, each trained for many years, makes the bears by hand -- and with superb attention to detail.

In my own collection, I have a very special bear. Only 10 were made and inside my own bear is a red heart and inside that is a message to commemorate the silver wedding anniversary of me and my husband, Charles. I was present when the bear was completed, had his special heart inserted and the final stitching completed. It was a magical moment when he was handed over to me. A bear with a special place in our own hearts.

Ulla and Martin Hermann have also published books on teddy bears, two of which are available in English and they are "Milestones" and " The Collectors Guide".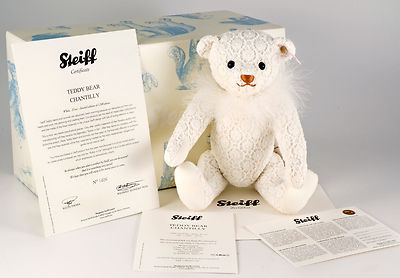 Add a caption
Steiff "Chantilly". Limited edition of 1500 worldwide
Click to edit caption
Steiff
As I began to afford the higher prices that Steiff command, I started to add quite a number of them to my collection.

Founded in 1880 by Margarete Steiff, the company grew and flourished and is still a renowned manufacturer of teddy bears today. The company is based in Giengen in Germany and their bears are handmade in the traditional style. There are many limited edition bears plus others that are more widely available. In more recent times, they have also produced a range of bears suitable for babies.

I don't think any collection is complete without Steiff bears -- and they are rather gorgeous.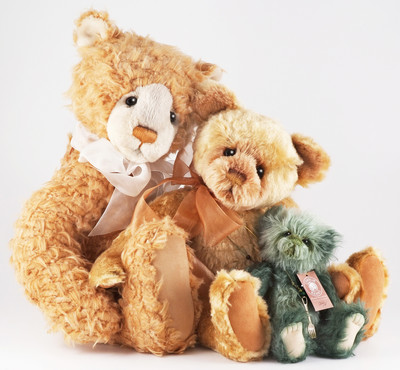 Add a caption
Charlie Bears "Fish, Chip and Mushy Pea" Set of 3 bears . Limited edition of 1860 worldwide.
Click to edit caption
Charlie Bears
Charlie Bears are without doubt the makers of bears with personality at affordable prices -- and all are collectable. Some are limited editions and some a limited by the production run before retirement of each bear. From collectable limited editions to their delightful baby range, there is a quality that makes them stand out from the crowd. Charlie Bears was founded by Charlotte (Charlie) and William Morris in 2005 and they launched their first collection in 2006.

I am the proud owner of some of those early bears and I am still collecting them today myself. They are truly wonderful modern collectable bears and collectors clamour for them. They are so desirable and once they are retired, they become highly sought after. They are a joy to own and every bear has its own wonderful personality.

When I wanted to have a quantity of bears especially made for Golden Valley Mailsales, I was so delighted that Charlie Bears was able to produce Goldie, the Golden Valley Bear, for me. We had 300 made so, although not a numbered limited edition, they are limited to the production run that we had made for us.

Charlotte and William Morris have produced a book celebrating the first five years of Charlie Bears and it is called "Love, Dreams & Bears". A truly delightful book with photos and information on their bears produced during the first five year. Brilliant.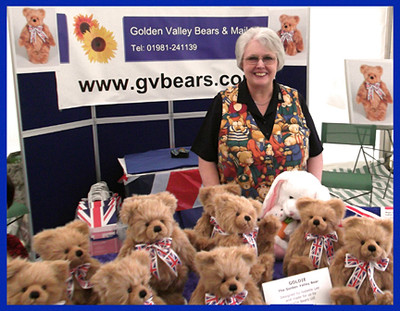 Add a caption
Sharron of Golden Valley Mailsales at the launch of Goldie, the British Bear.
Click to edit caption
Goldie, the British Bear
To mark the visit of Her Majesty The Queen to Hereford during her Jubilee tour of the UK, Goldie sported a Union Jack ribbon, had a Union Jack carry bag and he became known as Goldie, the British Bear.
There are so many makers of collectable bears such as Merrythought, Kosen, Boyds and a myriad of artesan-designed bears that would make very worthy members of your collection so have a look around, see what bears appeal to you personally and start collecting -- and you, too, will discover the joy of collecting teddy bears