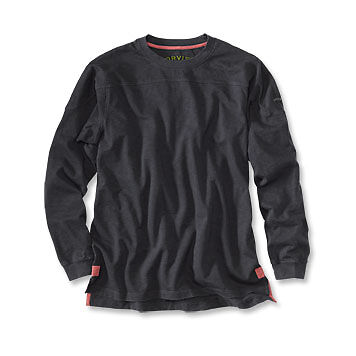 Whether one is looking for a casual or dressy top for chilly days or summer evenings, long sleeve T-shirts are a great option. These T-shirts are a staple in every woman's wardrobe, as they are ideal for everyday wear and suitable for office outfits as well. The variety of long sleeve T-shirts available in high-street stores and online, including on eBay, is truly amazing, so buyers can easily find a suitable T-shirt for every occasion.
In order to get the right kind of effect when wearing a long sleeve T-shirt, women should think about the occasions and the places they go. Many women choose to use these T-shirts for layering. For example, a long sleeve T-shirt can be worn under a casual shirt for everyday wear or under a cardigan for a more professional look. Regardless of the occasion, buyers should be aware of the characteristics and styles of long sleeve T-shirts before buying them in order to make an informed choice.
How to Wear Long a Sleeve T-Shirt
Long sleeve T-shirts do not go out of style and they are suitable garments for all seasons. Whether worn on a warm autumn day or under a blazer in winter, these T-shirts are versatile and there is no such thing as owning too many of them.
For a casual look, long sleeve T-shirts can be easily teamed with a pair of skinny or flared-leg jeans. Skirts, shorts, and trousers also look great when paired with a plain or printed long sleeve T-shirt. If the occasion is not a casual one, a simple long sleeve T-shirt can either be accessorised with scarves and necklaces or paired with an elegant cardigan. The options are truly endless when it comes to wearing long sleeve T-shirts in a casual environment.
When it comes to wearing long sleeve T-shirts at special occasions, women may consider going for fabrics that are more elegant, such as cashmere or satin. These T-shirts can make a statement even if their design is a simple one. For a bold outfit, women can opt for long sleeve T-shirts with intricate designs or embroidering.
Long Sleeve T-Shirts Fabrics
Buyers can choose long sleeve T-shirts in a variety of fabrics, with the most popular of them being cotton, cotton blends, and polyester. For special occasions, women can opt for long sleeve T-shirts made from fabrics such as lace or cashmere. Regardless of the fabric one chooses, it is important to coordinate the T-shirt with the rest of the outfit.
Cotton Long Sleeve T-Shirts
Cotton is perhaps the most popular fabric for long sleeve T-shirts and there are several benefits of it. Cotton-made garments are easy to wash and they dry quickly, without the need of special detergents or dry-cleaning services. Moreover, long sleeve T-shirts made from cotton are comfortable and they are ideal for both casual and formal wear. The only downside of wearing T-shirts made from cotton is that they need quite a bit of ironing, but this is a small inconvenient when compared to the benefits.
Cotton Blend Long Sleeve T-Shirts
Cotton blends are often less expensive than pure cotton and, for this reason, many women prefer to buy T-shirts made from combinations of cotton and polyester or cotton and other fibres, including linen, silk, or Lycra. There are many variations when it comes to the quality of these combinations and buyers should determine whether they are looking for a lightweight, super soft, or elastic material.
Polyester Long Sleeve T-Shirts
Women who wish to prevent their long sleeve T-shirts' shrinkage from washing and minimise the need for ironing can opt for T-shirts made from polyester. This sturdy fabric is durable, yet lightweight, providing the wearer with plenty of comfort. Polyester fibres can be woven in a wide variety of patterns, which allows women to choose T-shirts with different textures. A great benefit of polyester T-shirts is the fact that they usually retain their shape and size. However, long sleeve T-shirts made from polyester do not allow the skin to breathe as well as their cotton counterparts do.
Rayon Long Sleeve T-Shirts
Rayon is a versatile and rather inexpensive fabric that is created from tree cellulose. Rayon fibres are often blended with other types of fabrics, such as polyester, cotton, silk, or wool. Long sleeve T-shirts made from rayon are lightweight and comfortable, but they require special care. In order to retain their shape and colour vibrancy, these T-shirts need to be either hand washed or dry-cleaned. With proper care, rayon T-shirts can have a long life.
Lace Long Sleeve T-Shirts
Lace T-shirts are an ideal choice for a night out or special events and they are available in a variety of colours and styles. However, these T-shirts cannot be simply tossed in the washing machine, as they require special care and detergents. Lace T-shirts work well with elegant skirts or a pair of black trousers, even though they can also be paired with jeans for a more casual look.
How to Choose Long Sleeve T-Shirts in the Right Size
Determining the correct size for a long sleeve T-shirt is essential for achieving a proper level of comfort. T-shirts that are either too loose or too tight may make a user feel uncomfortable and they can also ruin one's outfit. In order to buy T-shirts that fit correctly, women should take accurate measurements of their body, with the help of a tape measure and perhaps a friend or family member.
When taking measurements, it is essential to do it as accurately as possible. In the case of long sleeve T-shirts, the bust and waist measurements are important. In order to get correct measurements, women should place the tape measure parallel to the ground. It is usually easier to do this with the help of a friend or family member. The table below offers some useful guidelines that women may consider when shopping for T-shirts.
| UK Size | EU Size | Bust (cm) | Waist (cm) |
| --- | --- | --- | --- |
| 6 | 34 | 76 | 61 |
| 8 | 36 | 81 | 66 |
| 10 | 38 | 86 | 71 |
| 12 | 40 | 91 | 76 |
| 14 | 42 | 96 | 81 |
| 16 | 44 | 101 | 86 |
| 18 | 46 | 106 | 91 |
| 20 | 48 | 111 | 96 |
Buyers should remember that sizes may differ greatly from one manufacturer to another, so it is vital to check the sizing information for each T-shirt before buying it. When in doubt, it is advisable to ask the seller for more information. Alternatively, buyers should make sure they purchase their T-shirt from a seller that allows returns, in order avoid wasting money on an item that does not fit correctly.
How to Find Long Sleeve T-Shirts on eBay
With such a variety of long sleeve T-shirts available in high-street shops and online, there is no wonder many women find it rather difficult to choose. The best way to find long sleeve T-shirts that are suitable for a specific occasion is to browse through as many styles as possible before buying a T-shirt. eBay is a great place to do this, as it offers an extensive selection of T-shirts as well as a search system that is very easy to use.
It is easy to browse for long sleeve T-shirts for women on eBay. By simply typing 'long sleeve T-shirts' in eBay's search bar on the home page, you can get instant access to multiple pages of results and find a T-shirt you like in a few minutes. The results you get can be further narrowed for an even easier search. Thus, you can choose to refine the results by size, colour, style, location, price, and more. When you find something you would like to buy, remember to pay attention to the sizing information provided by the seller in the product description in order to avoid receiving an item that does not fit you properly.
Choosing to buy items from a location that is close to your own is a good way to make sure you will receive the long sleeve T-shirts quickly. In addition, buyers who choose to buy locally have less to pay when it comes to shipping fees.
Conclusion
With long sleeve T-shirts being such versatile items, there is no wonder most women prefer to have as many of them as possible in their wardrobe. Most high-street shops offer a wide array of such T-shirts, but buyers can also choose to go online for even better a selection. Long sleeve T-shirts are suitable for all seasons, but are especially suitable for spring and autumn. When used for layering, these T-shirts can create either a relaxed style or a formal one as well.
Long sleeve T-shirts can be purchased in so many styles that it may sometimes be quite difficult to make a choice. Regardless of the type of long sleeve T-shirt a buyer is looking for, chances are they can find it on eBay. With an incredible selection of long sleeve T-shirts for women, eBay is ideal for browsing through hundreds of items before finding one that is suitable for a certain occasion.