For summer 2014 the high-end and high-street fashion labels are ablaze with hot tropical prints, cut-away designs and floaty lace finishings. But why stick to one of the summer's top trends when you could flit from one to the next or combine three at once? Make like a style butterfly in this season's crop of light, breezy and affordable cocktail-style dresses.
7. Cutaway cocktail dresses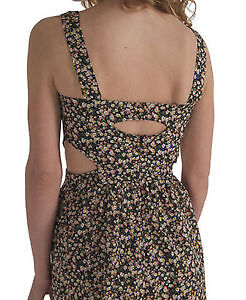 Less is more. This fashion adage is especially true of the latest cocktail dress design, which shuns decoration, overlays or accessories in favour of cutaway pieces.

The cutaway trend is a cool and structured take on the traditional summer dress, which is also popular in swimsuits. It calls for a flash of flesh and summer is definitely the season to be braver than ever and show off your tan.

These designs can have key-holes or triangles cut away at the front, on the reverse or around the waistline – in some cases all of the above. If you have a toned athletic back and stomach these dresses are the ideal way to get a modern dressed-up look. Go long and floaty, or short and fun with this style depending on your event and comfort.
---
6. Botanical print summer dresses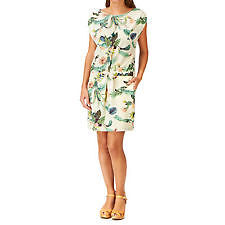 Colourful tropical blooms straight from Hawaii are the hallmarks of this summer's botanical print cocktail dresses. This bright and beautiful trend will have you feeling quite contrary, just like Mary. The question is, how does your garden grow? If you're a vintage English rose there are pretty floral baby-doll dresses perfect for refined midsummer gatherings on the green.

Party people on the other hand can watch the sunset from a packed beach bar or chic Mediterranean poolside, wearing the latest bold jungle prints with neon flashes and cutaways. At the exotic end of this lush and lovely look are summer dresses emblazoned palm tree prints. Pair any of these summer cocktail dress styles with strappy sandals for a complete contemporary look.
---
5. Pretty in pleats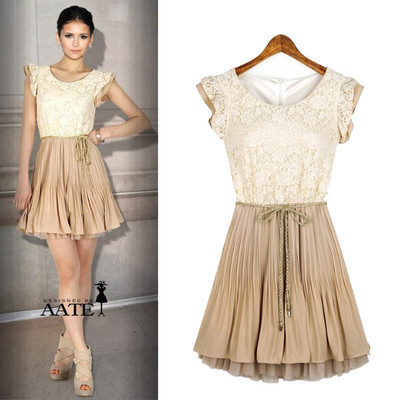 The wedding season calls for joyful colours and gorgeously classic silhouettes. You really can't go wrong by picking a cocktail dress with a floaty pleated skirt this summer. It's worth remembering that crisp, narrow pleats are still the fashionista's preference over wide pleats.

Yellow pleated belted dresses add an ultra cheerful splash of celebration to every event, while shades of pink are ever-present on the wedding guest colour palette. Pleated dresses with a knee length skirt are demur yet distinctive enough to win you compliments on the wedding circuit or wherever the Champagne flutes may be clinking.

Alternatively, muted metallic cocktail dresses with midi length pleated skirts are a more urban take on this theme and look gorgeous on cosmopolitan roof terraces after dark.
---
4. Bo-ho chic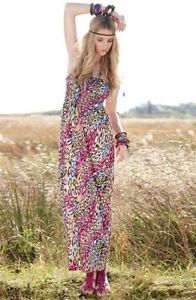 Summery sea breezes and fresh-from-the-surf curls whip up a boho-chic fashion fantasy. Live the free and easy dream by swapping blunt lines and office wear for a fringed bag and soft, floaty summer dresses in tribal prints adorned with beading.

This statement trend brings festival fashion out of the fields and onto the high street and high society functions. Geometric prints in exotic colours, sleeveless maxi dresses with side slits and fit and flare designs all fall into this dress category.

Every colour of the rainbow is catered for by the bohemian trend. Slip on some pretty sandals, listen to your favourite singer songwriter's tunes and relax as the temperature rises.
---
3. Lace overlay and lingerie style dresses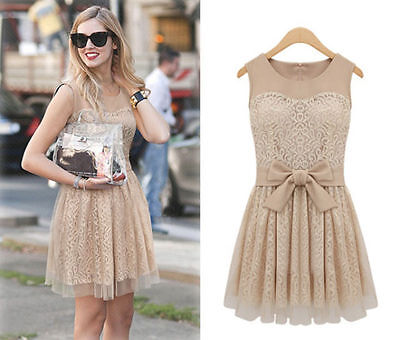 Texture features highly in the list of 2014's most elegant and must-have cocktail dresses. There's no finer fabric than lace to create a dreamy, summertime in the countryside look and feel.

A little lace dress channels the vintage trend but can be given attitude and edge with big, back combed hair and chunky flat shoes. No two lace overlay dresses are the same, with designers creating inventive lacy features to jazz up skirts, waistlines, bodices and necklines.

Lace panels help summer day dresses look smart yet soft, while skater dresses break free of the street look thanks to girly lace detailing. Dior and Stella McCartney sent lace dresses down the runways in their latest collections, so you'll be bang on trend.

Also, look for cocktail dresses with delicate straps and flirty lace skirts if the lingerie style of cocktail dresses is suitable for your summer event.
---
2. Liquid metallic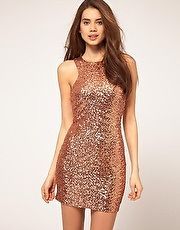 Not one for delicate fashion wallflowers! If you want to stand out from the crowd at the beach bar or club this summer, be sure to pack a golden cocktail dress. Metallic dresses offer a no-holds-barred statement that says 'hot and sultry all-night parties, here I come'.

In terms of which silhouette to plump for, bandeau or fit and flare cuts look especially great if you've worked up a healthy glow on the beach. Either way, your summer style is bound to cause a stir in this dramatic variety of cocktail dress.
---
1. Bandeau dresses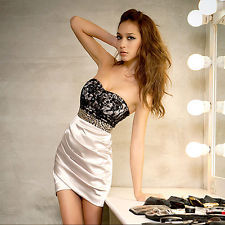 Slip out your shoulders this summertime: the strapless dress is back on trend. As the ultimate cocktail dress and space-saving holiday companion, the no-nonsense bandeau says glam and summer getaway in equal measure.

A lightweight cotton version can carry you effortlessly from beach to seaside taverna. A bandeau in a more delicate fabric or a brighter colour is perfect for hitting the dance floor. Carry a lightweight jacket or wrap to slip on over these strapless numbers, in case of chilly breezes at English summertime weddings.

Combine two trends in a show stopping summer look by slipping on a tropical print bandeau dress, or go further still in a dress that that incorporates a key-hole cut-away detail too. This versatile silhouette has no limits and can be brightly flashy or elegantly understated in a neutral shade.

This article might also interest you:
> Plus-Size Clothing for Women with Curves