Dancing is something that should be done with grace, and a good pair of ballroom dancing shoes are not just a fashion accessory; they can make a huge impact on your dancing. Even though men's shoes differ from women's, there is still a wide range of ballroom dancing shoes to choose from. Other than ballroom dancing shoes there are several other types of dance shoes such as dance sneakers and jazz shoes.
Consider The Fit of Ballroom Dancing Shoes

The first thing to have in mind when buying ballroom shoes is the fit. Feeling comfortable is extremely important when you are dancing, so spare enough time to find the shoes that fit perfectly. The shoes should not feel loose, which could deprives you of the ability to properly grip and throw you out of balance. However, if the shoes are too tight, they can quickly cause discomfort, you won't have the flexibility you need, the shoes can even cause serious injuries. Generally you should choose a ballroom dance shoe that is approximately one number smaller than your ordinary shoe size. Remember that there should be no slipping in the heel and you should be able to move your toes freely. Perfect dance shoes are those that are snug, but do not hurt. After all, you need to spend hours in them practicing and performing.
Consider the Price of Ballroom Dancing Shoes
Another thing to consider when buying ballroom shoes is the price. The price may depend significantly on your purpose for buying ballroom dancing shoes. Shoes that you intend to wear only occasionally can usually be found cheaper than shoes you need to wear often and in a professional capacity. Generally, the less structure the shoe has, the lower the price. Always look for shoes that are comfortable, flexible, lightweight, while providing you the support needed for the right dance moves.
Types of Ballroom Dancing Shoes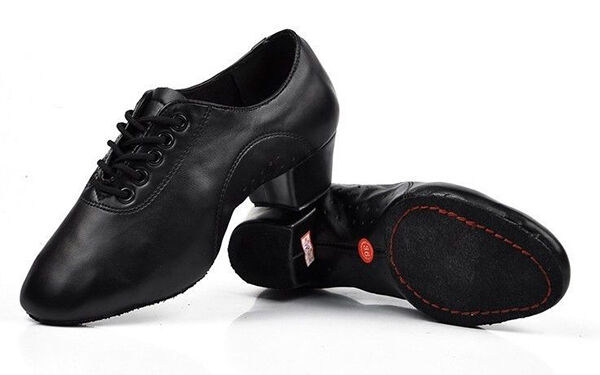 There are three types of ballroom dancing shoes available: standard, latin, and practice ballroom shoes. Heel height is one of the main differences between these three types. Standard ballroom dancing shoes have a smaller heel than a pair of latin ballroom shoes, which provides better balance. These shoes are great starter shoes when it comes to dancing. Lower, wider heels make them suitable for any dance genre. Latin ballroom shoes have a heel that is called a Cuban heel. Cuban heels help keep the weight forward in the dancers foot and is commonly used for latin dances such as the Tango or Salsa. Finally, men's practice ballroom shoes are usually very comfortable and keep the feet cool. Practice ballroom shoes are not worn on competitions. This type of dance shoe is recommended to beginners participating in all sorts of dancing genres from hip-hop to jazz.