Do you like?



If yes, then the

is for you!!
It's never been a better time to buy an Xbox - the current retail price for a brand new one is now only £79!! Although the Xbox 360 has now been released - the Xbox scene is still very much alive and is still being supported by Microsoft and 3rd-parties.
The reason I bought an Xbox was due to the sheer amount of top quality games released by SNK (now called SNK Playmore), Capcom, Sega, the compilations of retro arcade games (by Capcom, Midway and Taito) and for first person shooters (FPS).
Here is a selection of games released by the following companies:
SNK are famous for the NEO GEO and their extreme amount of fighting games. The original SNK went bankrupt but their vast range of games and licenses were later bought by Playmore, who now call themselves SNK Playmore. Most SNK games never reached the UK on PAL consoles, and gamers had to import them from Japan. This could often prove to be expensive with shipping and import duty costs, but fortunately for us PAL gamers - a top UK company called Ignition Entertainment signed a publishing agreement with SNK Playmore in July 04 enabling them to publish SNK games in the UK (and Europe). So far, Ignition Entertainment have released the following SNK games on the Xbox:
Metal Slug 3
Metal Slug 4
The King of Fighters 2002
SNK vs Capcom
Soon to be released:
Metal Slug 5
The King of Fighters 2003
Samurai Shodown V
Future releases (yet to be confirmed):
The King of Fighters Neowave
The King of Fighters Maximum Impact
The King of Fighters Maximum Impact 2
The King of Fighter XI
Neo Geo Battle Coliseum
Metal Slug 6
Samurai Shodown VI (known as Samurai Spirits: Tenkaichi Kenkakuten in Japan)
With Sega's final console release being the Dreamcast, the future of Sega was uncertain. Fortunately, Sega chose to release their new games on Xbox, PS2 and Gamecube consoles. Sega has released a vast amount of games to the Xbox, featuring a number of console exclusive games. Games released include:
House of the Dead 3 (includes an unlockable version of House of the Dead 2) - console exclusive
Jet Set Radio Future - console exclusive
Out Run 2 - console exclusive
Out Run 2: Coast 2 Coast
Spikeout: Battle Street - console exclusive
Sega GT 2002 - console exclusive
Sega GT Online - console exclusive
Super Monkey Ball Deluxe
Sonic Mega Collection Plus (contains a selection of Sonic games that were released on the Mega Drive and Game Gear consoles)
Sonic Heroes
Sega Soccer Slam
Headhunter: Redemption
Crazy Taxi 3: High Roller - console exclusive
Panzer Dragoon Orta - console exclusive
Gunvalkyrie - console exclusive
Plus more. To me, the Xbox is the new Dreamcast!!!

A number of top games have been released by Capcom, including:
Street Fighter Anniversary Collection (includes Hyper Street Fighter II, Street Fighter: Third Strike and the anime Street Fighter II movie) - console exclusive
Capcom Fighting Jam
Capcom vs SNK 2 EO
Marvel vs Capcom 2
Capcom Classics Collection (contains 22 arcade perfect classics, including: Final Fight, Street Fighter II, Commando, Ghouls N' Ghosts to name but a few)
Plus more. Hopefully Capcom will release Street Fighter Alpha Anthology (recently released on PS2 - contains arcade perfect versions of Street Fighter Alpha: 1, 2, 2 (gold), 3 and Pocket Fighters)
Other top fighting games to check out are:
Dead or Alive Ultimate (contains Dead or Alive 1 & 2)
Dead or Alive III
Guilty Gear X2 Reload
Mortal Kombat: Deception
Soul Calibur II
Ninja Gaiden
The retro scene has been booming recently!! I love retro arcade games!! With the demise of the Arcade scene, most of the old classic games have disappeared from the arcades, being replaced wih fruit machines, fruit machines and more fruit machines!! Fortunately, companies such as Capcom, Midway and Taito have been releasing compliations, featuring loads of arcade classics on 1-disc - all being arcade perfect!!!
Ones worth checking out are:
Capcom Classics Collection Vol. 1 - contains 22 classic arcade games including: Vulgus, 1942, 1943, 1943 Kai, Bionic CommandoCommando, Exed Exes, Final Fight, Forgotten Worlds, Ghost N' Goblins, Ghouls N' Ghosts, Super Ghouls N' Ghosts, Gun Smoke, Legendary Wings, Mercs, Pirate Ship Higemaru, Sections Z, Son Son, Street Fighter II, Street Fighter II: Champion Edition, Street Fighter II: Hyper Fighting and Trojan.
Midway Arcade Treasures - contains 24 classic arcade games including: Bubbles, Defender, Defender II, Gauntlet, Klax, Paperboy, Rampage, Rampart, Roadblaster, Smash TV, Spy Hunter plus more
Midway Arcade Treasures 2 - contains 20 classic arcade games including: Gauntlet 2, Hard Drivin', Mortal Kombat II, Mortal Kombat 3, NARC, Pit Fighter, Primal Rage, Rampage World Tour, Spy Hunter 2, Total Carnage plus more
Taito Legends - contains 29 classic arcade games including: Space Invaders, Bubble Bobble, Operaion Wolf (does not work with Light Gun), Operation Thunderbolt (does not work with Light Gun), Rainbow Islands plus more.
Tatio Legends 2 - contains 39 classic arcade games including: Darius Gaiden, Football Champ, Kiki KaiKai, Pop 'n pop, Puzzle Bobble 2, Rayforce, Space Invaders 95 plus more
Future releases include:
Capcom Classics Collection Vol.2 - will include 20 classic arcade games including: 1941, Avengers, Black Tiger, Block Block, Captain Commando, Eco Fighters, Knights of the Round, King of Dragons, Last Duel, Mega Twins, Magic Sword, Quiz and Dragons, Side Arms, The Speed Rambler, Street Fighter, Super Street Figher II Turbo, Strider, Three Wonders, Tiger Road and Varth: Operation Thunderstorm.
Hopefully Capcom will release a compilation containing the following games:
Alien vs Predator, U.N Squadron, Armored Warriors, Cadillacs and Dinosaurs, Cyberbots, Dungeons & Dragons (Shadow Over Mystara and Tower Of Doom), Final Fight Revenge, Marvel Super Heroes, Marvel Super Heroes vs Street Figher, The Punisher, Red Earth, Strider 2, X-Men vs Street Fighter plus more classics!!
Hopefully Konami will follow suit and release a compilation containing the following games:
Aliens, Contra, Crime Fighters 2, Gradius I to IV, Lethal Enforcers I & II, Parodius Da!, Rush'n Attack, Sunset Riders, Super Contra, Teenage Mutant Hero Turtles (TMHT), TMHT: Turtles In Time, The Simpsons, X-Men plus more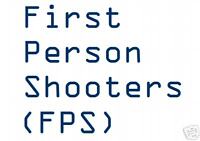 The Xbox has a top selection of FPS, including:
Halo
Halo 2
Doom 3
Doom 3: Resurrection of Evil
Half-Life 2
Star Wars: Republic Commando
Unreal Championship 2: The Liandri Conflict
Pariah
Psi-Ops: The Mindgate Conspiracy
Deux Ex: Invisible War
XIII
TimeSplitter: Future Perfect
Plus more!!
As you can see, the Xbox has a lot to offer! To ensure that you get the most out of your Xbox, also buy the following:
Xbox Official Advanced Scart Cable (RGB) - provides the best picture on a standard TV
X-Fighting Stick by Cosmo Interactive - was built from Sega Virtua Stick
Mad Catz Blaster Light Gun
Check out the following eBay shops and sellers for some of the best offers on Xbox games and accessories:
thegamexchangeltd - has top deals on games for all consoles, has lots of brand new and factory sealed Xbox games - I love this shop!! Check it out: The Game Xchange_com
suffolksurplus - selling new Mad Catz Light guns - 2 for £9.99 plus £4.49 postage - bargain!
tgamestore - selling new Metal Slug 3, 4 and KOF 2002 for £5.99 each or less plus £1.99 postage - bargain, plus more games! Check it out: The Game Store
simplesimon1966 - another top shop - has lots of bargains on games for all consoles. Check it out: Simplesimon1966 Classic Video Games
There are so many more good sellers on eBay selling Xbox games at ridiculously low prices. Check out the Xbox auctions now: Xbox auctions
Thanks for looking!