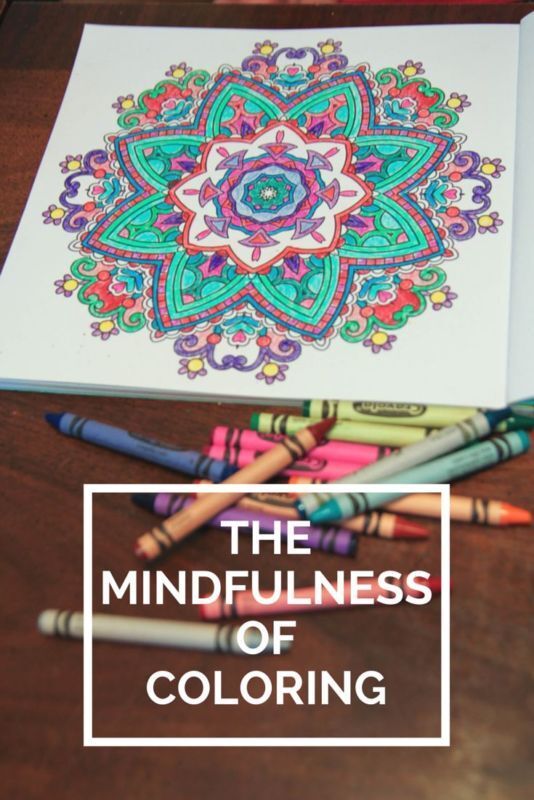 Remember sitting at your desk in primary school with a box of new crayons? You'd choose your favourite colours and fill in colouring pages given to you by your teacher while not even caring what your neighbour was doing. You'd just focus on your own page and fill it up with colour.

I can still see the exact place where I sat in year two when I was so happy colouring one day when we stayed in for play time because it was too cold outside. There was something so simple and satisfying about quietly deciding which colour to use when I still thought it was okay to make the sky any colour I wanted it to be.

Now think about spending an hour doing this very same thing. Sitting at a table, a box of crayons or coloured pencils beside you along with a new colouring book. You have your favourite cup of tea beside you and some soothing music is playing. You've put your phone in a drawer in the other room, and the only thing you have to do for the next 45 minutes is decide which colour to use to fill in the outlined picture in front of you.

Sounds a bit like meditation meets connecting with your inner child, yes?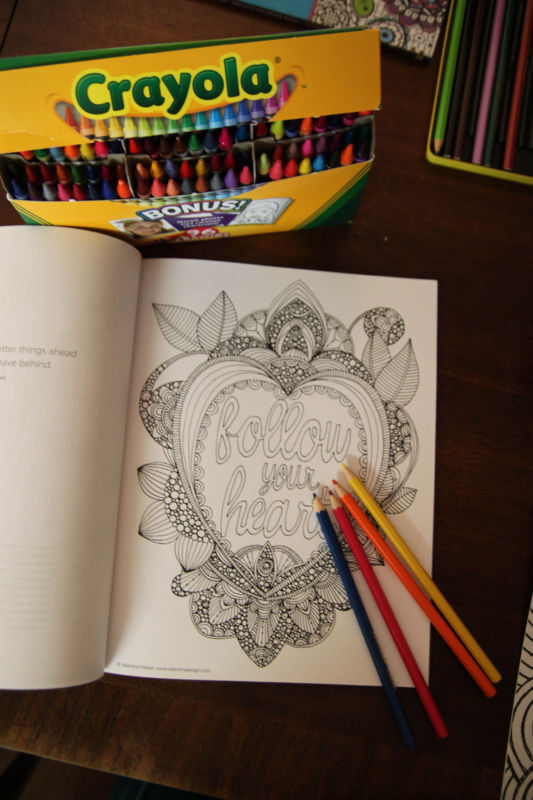 A Moving Meditation
Colouring can actually be an act of mindfulness that quiets your chattering thoughts and centres your body. And it can even be thought of as a moving meditation. Similar to walking a labyrinth or even yoga, colouring gives the mind something to focus on so that you can slow down and be present to this moment. And instead of just sitting and trying only to notice your breath for 5 - 20 minutes, you can move (even if it's only a little bit) while you invite in this sense of calm.

In the article "Why adults are going back to colouring books," on their website, Psychologies magazine writes, "This gentle activity where you choose the colours to create your picture and the repetitive action of colouring it in focuses the brain on the present, blocking out any intrusive thoughts."

So what does this mean? It means you can actually use colouring as a way to lower your stress and relax. And with the number of adult-focused colouring books now out there, it's easy to get started.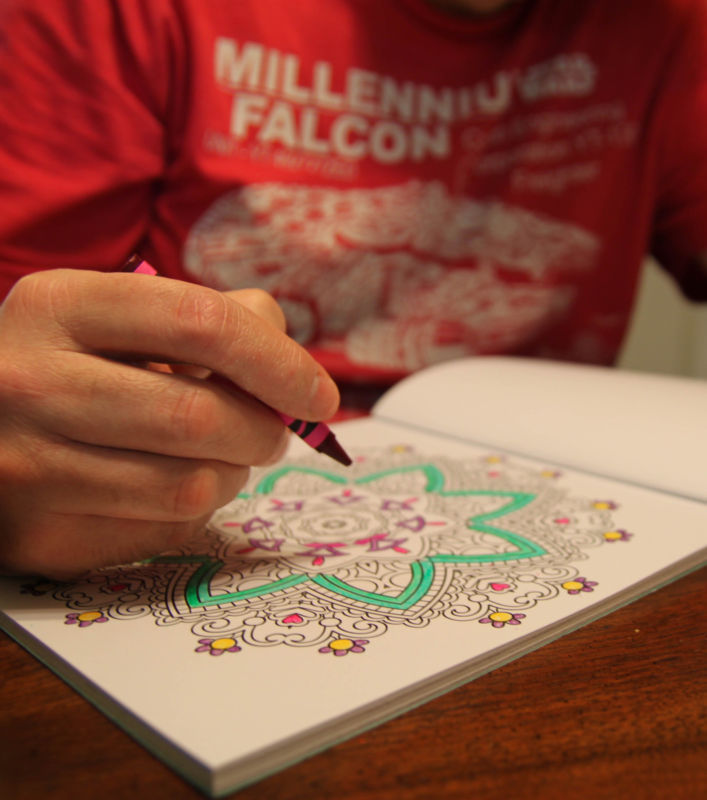 Mandalas
One of my favourite things to colour (and create) when I'm trying to quiet my mind and feel centred is mandalas. As Dona Bumgartner writes in her post "Colouring Books for Adults" on her website Nurtured Mama, "Mandala patterns were used in relaxation therapies by Carl Jung in the early 20th century. The form is even older – the word "mandala" comes from Sanskrit and means "circle" or "spirit" and in eastern culture represents the universe or unity. "

Because you are working in a circle as you colour, and the patterns are often repeating, your mind can find a rhythm that will create space for you to feel connected and calm. There are quite a few mandala colouring books out there along with books on how to draw mandalas. I highly recommend this practice (and so does my husband - I've even got him into colouring by giving him a book of mandalas to play with).


Get Started
Now that you are on board with trying colouring to lower your stress, it's time to gather some supplies.
I think it's fun to use
coloured pencils
along with a big box of
Crayola crayons
. If you haven't had a reason to buy one of those huge boxes of crayons with the built-in sharpener, now you do! Opening that box and reading all the colours while breathing in that new crayon smell is reason enough to dive into this practice.
There are a lot of colouring books out there, and I've gathered a selection for you in my
Colouring for Everyone collection
. You can also do an online search for colouring pages (and mandala colouring pages) to find some to print out at home.
And if you have a little one like me, and you have about 10 different colouring books already in your house, go for it! Get out that
Frozen colouring book
or
Teenage Mutant Ninja Turtles colouring book
and just start. Right. Now.