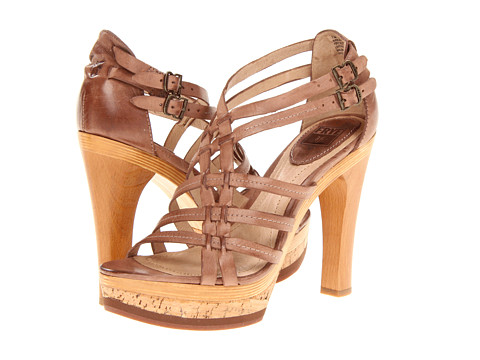 Strappy heels are the ideal shoes for parties and other occasions that require an elegant outfit. Whether a girl is looking for a pair of sandals for a stylish summer party or a wedding, strappy heels are the perfect choice. These shoes come in a wide range of styles, colours, and heel heights and buyers can be sure to find a pair that fits perfectly and matches their party outfit.
Perhaps the best thing about wearing strappy heels at a party is that they go with almost any outfit and allow the wearer to show off her legs. Whether paired with a flirty prom dress or an elegant designer dress, strappy heels allow the dress to take centre stage while making the entire outfit look stylish and sophisticated. When shopping for strappy heels, buyers should be informed about different styles in order to make a sensible choice.
How to Find Comfortable Strappy Heels
There are several things to take into account when shopping for strappy heels in order to get the most comfort out of this kind of footwear. It is a fact that a stylish pair of strappy heels can flatter any kind of silhouette by making the legs appear longer and the wearer look taller. Sadly, strappy heels can be quite uncomfortable, especially when worn for prolonged periods of time. For this reason, it is important to find a pair of comfortable strappy shoes that allows a girl to party all night long.
In order to be comfortable, strappy shoes should not only fit perfectly, but they should also be loose enough in order to avoid hurting the toes. Each strap of the shoes should fit in a way that prevents cutting off blood circulation. On the other hand, strappy heels should not be too loose, as it may be difficult to walk in them.
Strappy heels may often lead to the swelling of the feet, so it is recommended to buy them in a slightly larger size than the usual footwear. Cushioned strappy heels are always a good idea, because they can absorb shocks well and be comfortable for the entire duration of a party.
Strappy Heel Styles
Strappy heels come in a wide variety of styles and colours, so a buyer can choose the perfect fit for a certain party outfit without too much difficulty. It is essential to match the shoes with the rest of the outfit, so girls should try to buy strappy heels after they have chosen the dress for a party.
Ankle Straps
Ankle strappy heels are one of the most popular styles of heels for parties and other special events. These sharp, sleek shoes are bexy and feminine and they are suitable for both day and night parties. Ankle strappy heels are best paired with dresses, but they can also be work with cropped or full-length trousers. These shoes are flattering for most silhouettes, but petite girls should be cautious when buying ankle straps, as they tend to make the legs look shorter.
Wedges
Strappy wedges are the ideal choice for girls who are not used to wearing thin heels because, generally, they provide the wearer with more comfort than other styles of strappy shoes. Girls can choose wedges in a colour that complements their party dress or opt to spice up things a bit by going for a contrasting effect.
Stilettos
Strappy stilettos are the epitome of elegance and they can be successfully paired with a large number of outfits, ranging from the classic little black dress to extravagant party outfits. These shoes look great on most girls, but their main downside is that sometimes they can be uncomfortable. Girls who are not used to wearing this kind of strappy shoes should remember to practice walking in them before actually wearing them to a party.
Peep Toes
Strappy peep toes can be bought as stilettos, platforms, and wedges, depending on the party outfit they are paired with. For example, a pair of strappy wedge peep toes can amplify one's style, while some peep-toe stilettos are ideal for creating a sleek style. When wearing strappy peep toes to a party, girls should consider matching the colour of their nail polish with the colour of the shoes or go for something bolder with a contrasting shade.
Platforms
Strappy platforms are a good idea for a party outfit, especially when paired with a mid-length dress or skirt. As with other kinds of strappy heels, some girls may find platforms difficult to walk in, but the effect is well worth it.
Buying Strappy Heels That Fit
When shopping for strappy heels online, it is essential to get them in the right size because otherwise they will be very uncomfortable. Girls should take accurate measurements of their feet before starting browsing for strappy shoes, and preferably they should buy their favourite pair half a size bigger than their usually footwear. The chart below offers some basic guidelines that girls may consider when shopping for strappy heels.
| UK Size | EU Size | US Size | Size (cm) |
| --- | --- | --- | --- |
| 2.5 | 35 | 4 | 22.4 |
| 3 | 35.5 | 4.5 | 22.7 |
| 3.5 | 36 | 5 | 23 |
| 3.75 | 36.5 | 5.25 | 23.4 |
| 4 | 37 | 5.5 | 23.7 |
| 4.5 | 37.5 | 6 | 24 |
| 5 | 38 | 6.5 | 24.4 |
| 5.5 | 38.5 | 7 | 24.7 |
| 6 | 39 | 7.5 | 25 |
| 6.25 | 39.5 | 7.75 | 25.4 |
| 6.5 | 40 | 8 | 25.7 |
| 6.75 | 40.5 | 8.25 | 26 |
| 7 | 41 | 8.5 | 26.4 |
| 7.5 | 41.5 | 9 | 26.7 |
| 8 | 42 | 9.5 | 27 |
| 8.5 | 42.5 | 10 | 27.4 |
| 9 | 43 | 10.5 | 27.7 |
When shopping for strappy heels, buyers should note that sizes are different from one manufacturer to another, so they should pay close attention to the sizing information for each pair. As a rule of thumb, the toes should end about half a centimetre from the edge of the sole. When there is more or less space left, it means that the shoes are too big or too small.
Strappy Heels Fabrics
Strappy heels are available in a wide variety of fabrics and buyers can choose them in a material that is suitable for the season and matches their outfit at the same time. For instance, leather is a very popular choice for party shoes and many high-quality shoe models are made from this fabric. Suede is suitable for colder days, while synthetic materials and canvas are ideal for hot summer nights. Many strappy shoe styles are made from textile fabrics and they are a good choice for relaxed parties in the summer. For winter parties such as Christmas and New Year's Eve, velvet strappy shoes are a popular choice with girls.
How to Find Strappy Heels on eBay
The Internet is perhaps the best place to browse for strappy heels, mostly because of the wide selection of shoes that is not available in high-street stores. In additions to that, websites such as eBay allow buyers to choose from a selection of models that are no longer available in stores, as well as shop for vintage strappy heels.
If you are looking for the perfect pair of strappy heels for a formal party or a more casual gathering with your friends, you are sure to find it on eBay. The intuitive search system allows you to browse through hundreds of pairs of strappy heels and find the perfect one quickly. You can easily start your search by typing 'strappy heels' in the search bar located on eBay's home page. This way, you will get several pages of relevant results for an easy search. It is also possible to refine your search results by size, favourite colour, style, and more.
When you decide to purchase a pair of strappy heels on eBay, you should pay attention to the sizing information provided by the seller. Even though you may know your regular size, you should remember that this might vary from one style to another. By selecting the size that fits you from the first try, you can save time and money you would otherwise have to spend on returns.
Conclusion
Whenever a girl is looking for the perfect pair of shoes for a party, strappy heels are among the most popular choices. High heels are ideal for elongating the legs and make anyone appear taller. Strappy heels may add a touch of elegance to any outfit and they can be paired with a large variety of outfits. From sexy stilettos to comfortable wedges and platforms, there are plenty of styles to choose from when buying a pair of shoes for a party.
There is no need to suffer when wearing strappy heels, because not all styles cause discomfort or pain. It is essential to wear a pair of strappy heels that are both stylish and comfortable, especially when planning on dancing all night long. Cushioning is important, because it offers protection to the feet, so buyers should try to choose such a pair for an increased level of comfort. eBay offers an impressive selection of strappy heels, so one can browse through hundreds of styles in order to find the ideal pair for a party.