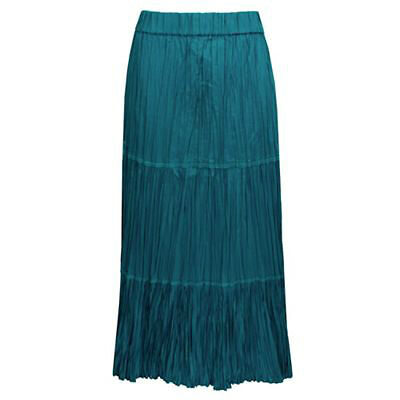 Long skirts are popular with women of all ages because these garments are comfortable and versatile. Not all long skirts are suitable for any woman and buyers should always pay attention to their body shape before deciding upon a certain style. Petite women can wear long skirts successfully; in fact, it is recommended for them to avoid mid-calf length because this may make their legs look shorter than they are.
Long skirts for petite women come in a wide range of styles, colours, and sizes and can be purchased either in high-street shops or online. Perhaps the most important element petite women should take into account when purchasing long skirts is the size. It is easy to make a mistake and buy a skirt that is too long and looks awkward on a petite woman, so it is vital to have accurate measurements at hand when shopping for long skirts online.
Tips for Choosing a Long Skirt for Petite Women
Some of the basic pieces of advice for petite women when it comes to choosing long skirts are related to styles, patterns, and length. Petite women should always go for styles that accentuate their silhouette and create the illusion of longer legs. Horizontal elements should be avoided at all costs, as they may make a petite woman look even shorter and fuller-figured. Contrasting colours should only be used sparingly and monochromatic colour schemes should be preferred.
Petite women should also avoid large prints, because in the majority of cases they do not flatter a petite figure. As for fabrics, it is always a good idea to choose long skirts in light, flowing materials such as chiffon and linen instead of bulkier materials such as wool. One of the best skirt shapes for petite women are pencil skirts, because they follow the shape of the body, while not being too clinging or tight at the same time.
Petite women should always wear long skirts with heels in order to look taller. Another good idea is to opt for shoes with pointed toes, especially for women with small feet. The width of the skirt is also important for petite women, who should always go for flowing styles that are not excessively wide.
Long Skirt Styles
There are several styles of long skirts suitable for petite women and they should be considered sensibly according to the occasion they are meant to be worn for. Long skirts actually vary from midi to maxi lengths and they are a mix of glamour and ease. Petite women should go for maxi lengths whenever possible, as these can make them appear taller than they are.
Maxi Skirts
Maxi skirts are ideal for travelling and casual occasions and the rule of thumb for petite women is pairing floor-length skirts with heels and V-neckline tops in order to elongate their silhouettes. Staying away from frills and prints is a good idea, as these may make a petite woman look even shorter than she is. Pleated maxi skirts are suitable for slim women, while fuller-figured women should avoid clinging maxi skirts because they are generally unflattering for their figures.
Petite women can wear maxi skirts with blazers, light summery jackets, and clinging tops. For colder weather, maxi skirts can be paired with knitted cardigans or leather jackets. Buyers should remember that maxi skirts look unflattering on petite women who choose to wear them with long blazers and cardigans. Wearing a belt with a maxi skirt is a good idea for women who wish to accentuate their waist.
Boho Skirts
Boho skirts usually finish at the ankle and are ideal for petite women because they create the illusion of being slender and taller. As the purpose of a boho skirt is to add height to the wearer, it is a good idea to team it with strappy sandals for evening wear and special events, or with platforms and chunky-heeled wedges for casual wear. In addition to that, boho skirts are very comfortable to wear, especially in the summer, because of the fabrics that are free-flowing. Most boho skirts are made from lightweight materials such as cotton and linen.
A-Line Skirts
A-line skirts that have a high waistline can work well on petite women because they may give the appearance of longer legs. A structured A-line skirt is a better choice than skirts with lots of volume. The illusion of height can also be achieved by teaming a skirt in a darker colour with a lighter top, as this is a sure way to draw the eye upwards. Petite women who wish to showcase their top half when wearing an A-line long skirt can also opt for ruffles, patterns, or frills on their tops.
Pencil Skirts
A pencil skirt is a wardrobe basic for many women and it is important to choose a style that fits well on the shape of a given figure. An advantage of buying pencil skirts for petite women is that the skirts' length can be easily adjusted. A flattering length for petite women would be a little below the knee. In order to look fashionable, petite women should always wear pencil skirts with high heels. The fit of a pencil skirt should neither be clinging, nor too loose.
Asymmetrical Skirts
The main characteristic of asymmetrical skirts is that one side of the hem is shorter than the other. Asymmetrical skirts are ideal for an evening out and they are suitable for petite women. As with other long skirts, petite women should avoid excessive details on asymmetrical skirts and choose vertical details to add to their height.
Choosing the Right Skirt Size and Length
It is sometimes difficult to find the right style and length for women with a short height. Many manufacturers offer petite clothing lines that come in the same sizes as regular clothes, except they take out a few centimetres from the length of the sleeves, skirts, dresses, and trousers.
When shopping for long skirts, petite women should steer away from skirts that skim the floor, as they may shorten their appearance. The ideal length for a long skirt for petite women is just above the ankles. This length reveals the shoes and makes the legs longer. The size chart below is helpful for finding out the right size for a long skirt that fits properly.
| | | | | | | |
| --- | --- | --- | --- | --- | --- | --- |
| UK Size | 4 | 6 | 8 | 10 | 12 | 14 |
| Bust (cm) | 77 | 79.5 | 82 | 87 | 92 | 97 |
| Waist (cm) | 59 | 61.5 | 64 | 69 | 74 | 79 |
| Hip (cm) | 81.5 | 84 | 86.5 | 91.5 | 96.5 | 101.5 |
The above sizing chart should be used as reference only if no sizing information is available from the skirt's manufacturer. In any case, petite women should make sure their skirt fits their waist and hips perfectly, because a skirt that is too loose or too tight may ruin their look.
How to Find a Long Skirt for Petite Women on eBay
Petite women have plenty of styles to choose from when it comes to long skirts, either in high-street shops or online. eBay has a wide selection of long skirts in all styles, sizes, colours, and fabrics and thus you can find the perfect long skirt for every occasion.
Finding a long skirt for petite women on eBay is simple. All you need are accurate measurements of your waist and hips and you can start browsing hundreds of styles. To start, type 'long skirts petite women' in the search bar on eBay's home page. You will get several pages of results and you can start looking for the ideal skirt right away. If you think that there are too many results, you can easily refine your search by entering extra key terms in the search bar, such as the style of the skirt you want or the colour.
When shopping for clothing online, there is a risk for the items you buy not to fit properly. In order to avoid spending money on return shipping, pay attention to the sizing information offered by the seller in the product description. Keep in mind that even though you may know your size well, this may vary from one brand to another, so it's worth checking it before buying.
Conclusion
Long skirts are one of the best types of skirts a petite woman can choose in order to elongate her silhouette and appear taller. When worn with high heels and V-neck tops, long skirts are flattering for petite women, regardless of their size. These skirts are perfect for slender and fuller-figure women alike, as they hide any flaws in one's silhouette while underlining the positive aspects. Petite women should consider things, such as fabric and colour before buying a long skirt, in order to find the combination that is most flattering for their silhouette.
One of the best places to browse a large selection of long skirts is eBay, where women can choose from hundreds of styles. It is important to see as many styles as possible before actually buying a long skirt that fits properly and eBay is the place where one can do this easily and with great results.