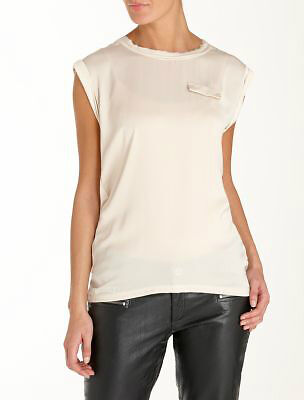 Sleeveless T-shirts are essential wardrobe basics. These versatile tops can be worn either on their own, or to create a layered look. They are made in every colour imaginable: in block colours or with patterns and prints. Sleeveless T-shirts can be cut for a snug or baggy fit, and come with a variety of necklines. Sleeveless T-shirts are available in a range of fabrics, from basic cotton to luxurious silk, and can be dressed up to make them appropriate for more formal occasions.
Not all sleeveless T-shirts are created equal. Use this guide to find the perfect fit and look, starting with a good foundation. Different body types need different T-shirt bras to look their best. Choose the most flattering cut and neckline, and the right material. A guide to common T-shirt fabrics is included to uncomplicate the purchasing process. Finally, measure the wearer and consult a size guide to find the perfect fit. Sleeveless T-shirts are available from department and clothing stores, and from online sources such as eBay.
Choosing the Right T-Shirt Bra
A T-shirt bra should have moulded or smooth cups. Lace or embroidered cups tend to create a rumpled look across the breasts. The bra should provide enough lift to do the sleeveless T-shirt and the wearer justice. The table below lists a number of breast and body types with bra recommendations for each.
Breast or Body Type

Bra Recommendation

Full Bust

Choose a bra with rigid cups

Avoid minimising bras, which decrease definition and make the wearer look heavy

Uneven Breasts

Wear padded bra and decrease the amount of padding on the larger side

Shorten strap on the short side to eliminate bagginess

Average Figure

Opt for a moulded bra to add shaping without adding bulk

Plus Size

Choose a wide band for extra support and a smooth look

Cups should contain the entire breast

Underwire should sit flush with the breastbone

Sagging

Full cup bras lift breasts

Band sits evenly with the cups as the front of the bra drops when the back lifts

Small Chest

Petite bra sizes that fit around the body

Padded or push-up bras enhance the cleavage
The right foundation can make all the difference when wearing a sleeveless T-shirt. Women should get fitted for a bra by a professional every six months to a year and after weight gain or loss to ensure that they are getting the best support and look as good as possible.
Sleeveless tops have a tendency to reveal the wearer's bra straps, especially when straps have a tendency to fall down. Bra straps will stay on the shoulders if the bra fits properly and the straps are adjusted to the right length. If the straps are loose, consider shortening them or buying a bra with a different cup size.
Sleeveless T-Shirt Cuts and Necklines
Sleeveless T-shirts are cut in fitted, loose, and baggy styles, and can be cropped, waist-length, or hip-length. Each style is suited to different body types and looks, as described in the table below.
Sleeveless T-Shirt Cut

Recommendations

Tighter fits look best on women with slim or athletic builds

Fitted, but not tight, T-shirts make wearers look slimmer

Useful for layering

Dress up silk or unusual fabrics by layering with a blazer

Pair with fitted bottom

Exercise caution with curvy figures; a top that is too loose could look frumpy or add bulk

Use as a top layer when layering with other items

Looks best on slim or athletic builds

Define waist with accessories for curvy figures

Wear to show off flat stomach

Use to add layering

Wear short to medium tops that do not extend below the waist to make short legs look longer and draw the attention away from a long torso

Opt for tops with hemlines below the hip bone to complement long legs and minimise a short torso
Sleeveless T-shirts are not flattering to all body types when worn without layering. Women with loose flesh on the upper arms should consider adding a top layer to conceal this.
In addition to the cut of the sleeveless T-shirt's body, consider the effect created by the neckline. Some neckline designs are better suited to certain body types. Using the table below, choose the right neckline based on the description and pros and cons of each.
Neck

Description

Pros and Cons

Round neckline

Most common T-shirt neck

Tends to emphasise double chin, short neck, or large bust

Neckline runs in two diagonal lines from the shoulders that meet on the chest, creating a V shape

Flattering for all body types

High cut is unflattering as breasts tend to look saggy

If cut too low the top can be too revealing

Wide V balances large hips and small breasts

Hangs in draped folds

Makes large breasts look smaller and small breasts look larger

U-shaped, often low-cut, neckline

Makes a short neck look longer

Wear to show off collarbones

Should be avoided by women with broad shoulders

Tends to emphasise a round, full face

Narrow neckline starting near one shoulder and ending near or at the opposite shoulder, with a slight curve at the neck

Wear to balance large hips

Can make broad shoulders look broader
Choose the right neckline and cut for the most flattering effect. Clothing should emphasise the positive and, where possible, downplay less-favoured aspects of the wearer's figure.
Guide to Fabrics Used in Sleeveless T-Shirts
Sleeveless T-shirts come in a range of fabrics. Understanding the differences between materials simplifies shopping. The table below lists common fabrics and gives a short description of each.
Fabric Type

Description

Natural fibre harvested from the cotton plant

Durable, soft, absorbent, and breathable

Tends to wrinkle and stretch easily

Economical

Combed Cotton

Cotton combed with short brushes to remove short fibres and straighten those remaining

Stronger, softer, and smoother than regular cotton

Pima

Extra long fibre cotton grown in the Americas and Australia

High quality, resistant to pilling, fading, and stretching

Cotton mixed with other fibres, often synthetics

Fabric should take on positive properties from both fibres

If the cotton content is too low, the benefits derived from the natural fibre will be lost

Economical

Jersey

Elastic knit commonly made from cotton or synthetics

Comfortable, soft, and flexible

Economical

Linen

Natural fibre harvested from the flax plant

Cool in warm weather

Breathable, strong, absorbent, and dries fast

Creases easily

Natural fibre traditionally harvested from the cocoons of silk moths

Strong, absorbent, breathable, and luxurious

Cool in warm weather and warm in cool weather

Drapes well

Tends to be fairly expensive and requires delicate care

Rayon or Viscose

Manufactured fibre

More breathable than most synthetics

Silky feel

Creases easily

Type of rayon

Smooth, silky feel

Drapes well

Shrink resistant

Tends to pill

Synthetic fibre

Does not breathe well

Durable

Shrink and wrinkle resistant

Economical
Consider the effect created by the fabric used to make the garment. Soft cotton, some synthetics, and silk drapes well, while pure cotton and some cotton blends do not look good when stretched.
Choosing a Sleeveless T-Shirt that Fits
Although T-shirts are often marked with numbered clothing sizes, sizes are not standardised and may differ from one manufacturer to the next. To ensure the perfect fit, take the wearer's bust, waist, and hip measurements. Using a soft measuring tape, measure around the fullest part of the bust, around the natural waistline, and around the fullest part of the hips, usually the seat.
Although manufacturers' sizing methods vary, a sizing guide can be used to establish the size range to be considered when shopping. The table below sets out the the bust, waist, and hip measurements and corresponding clothing sizes.
| | | | | | | | | | | |
| --- | --- | --- | --- | --- | --- | --- | --- | --- | --- | --- |
| Single Size | | | | | | | | | | |
| Dual Size | | | S | | M | | L | | XL | |
| Bust (cm) | 78.5 | 81 | 86 | 91 | 96 | 101 | 108.5 | 116 | 122 | 128 |
| Hip (cm) | 86 | 88.5 | 93.5 | 98.5 | 103.5 | 108.5 | 116 | 123.5 | 129.5 | 135.5 |
| Waist (cm) | 60.5 | 63 | 68 | 73 | 78 | 83 | 90.5 | 98 | 104 | 110 |
Sleeveless T-shirts should be tried on before buying to ensure that they fit. However, where this is not possible the wearer's dimensions should be compared to the item's measurements. When in doubt, opt for a larger size.
Finding Sleeveless T-Shirts on eBay
Finding sleeveless T-shirts on eBay is simple. Type a keyword or search phrase (for example, "fitted white sleeveless T-shirt") into the search box that can be found on any page to see the items available. Narrow your selection by choosing the most appropriate category and the required characteristics. To see fewer or more listings, use the advanced search feature.
Before You Buy on eBay
eBay features make it easy to get to know the seller and learn about the item before you make a purchase. Use the seller feedback and item listing information to do so.
Check the Seller's Feedback
eBay's seller feedback feature allows buyers to leave feedback for sellers based on sellers' products and customer service. Detailed seller ratings supply additional information about the seller's communication, whether postage and packaging fees were reasonable, the length of time that elapsed before the seller sent the product, and whether the item description was accurate in the listing. To access this information, click on the number next to the seller's username.
Check the Item Listing Page
The item listing page contains all the information about the seller, his or her terms and conditions, and the item. Information displayed here includes the item description, bidding and buying information, postage and packaging fees, the terms of the seller's returns policy, the seller's accepted payment methods, and the seller's feedback and contact details. If you have any questions about a listing, use the "Ask a question" link to contact the seller.
Conclusion
Sleeveless T-shirts are versatile wardrobe essentials. They can be worn on their own or form part of a layered look. Casual T-shirts can be dressed up with formal outer layers or accessories. These garments are available in a wide variety of colours, fabrics, and designs. Sleeveless T-shirts look their best when worn with supportive, smooth cupped T-shirt bras. The bra chosen should complement and enhance the wearer's breasts and body type, creating a good foundation for clothes.
As sleeveless T-shirts come in different cuts and styles, the effect created by different styles should be considered. Some are more suited to willowy figures, while some look good with curves. In addition, the length and neckline should be flattering. Certain materials drape and perform better, so care should be taken when deciding on a fabric type. To ensure that the sleeveless T-shirt fits well, the wearer's measurements should be on hand while shopping. A sizing guide can be used to get an idea of the size range required. However, since sizes are not standardised, T-shirts should be tried on before purchase or the wearer's measurements should be compared to the item's measurements. It is best to buy from a store or an eBay seller with a returns policy in place, especially when buying a sleeveless T-shirt as a gift.