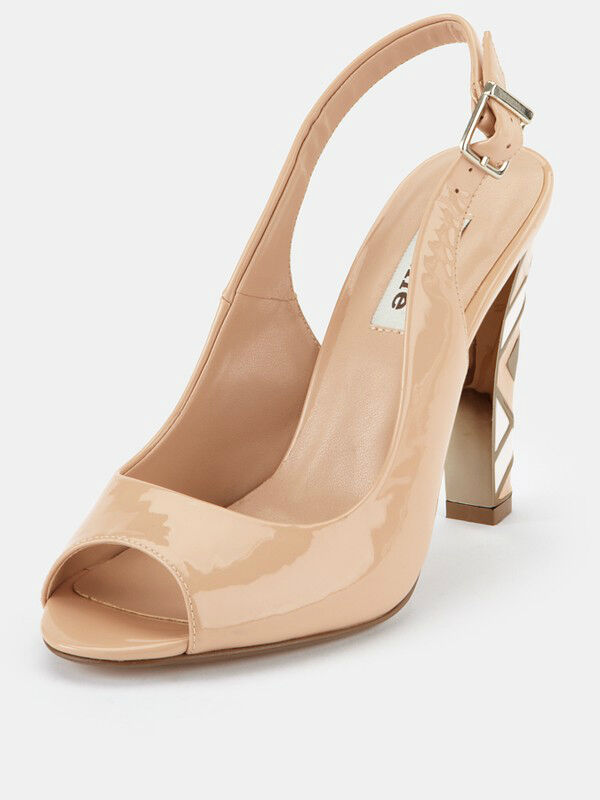 Slingbacks can be casual or dressy, flat or high heeled. The name refers to any type of shoe that features a strap across the back in place of a fully closed heel. Although some consider slingbacks to be a type of sandal, these shoes do not necessarily have open toes. While slingbacks were traditionally considered more appropriate for casual summer wear, the huge variety of designs available makes it easy to find slingbacks for almost any occasion and weather condition. Slingbacks include slippers, flats, trainers, heels, and sandals.
When shopping for slingbacks, consider factors such as choosing comfortable slingbacks that offer support in all the right places. The most important influence on comfort is fit, so learn how to measure feet in the correct way. In addition, shoe sizes differ from country to country, so a shoe size conversion chart can be used to find the right size slingbacks worldwide. Gain an understanding of which heel and shoe types are best suited to particular body types and builds and learn how to keep feet looking their best, allowing the wearer to show her feet without giving it a second thought. Slingbacks are available from online sources, such as eBay, and shoe, clothing, and department stores.
How to Choose Comfortable Slingbacks
Most women love shoes and find a pretty pair of heels irresistible. Unfortunately, many feel that beauty comes at a cost, and that squeezing feet into an uncomfortable pair of shoes is acceptable as long as the shoes look good. Aside from causing aching feet, blisters, and bunions, wearing uncomfortable or ill-fitting shoes can cause long-term damage to the bones, muscles, and tendons of the feet, ankles, and legs. High quality shoes can be gorgeous and comfortable, provided the following tips are taken into account while shopping.
Avoid heavy slingbacks that strain the strap and are hard to walk in. Choose flexible materials, such as suede or leather, that allow the foot to settle into the shoe. Opt for slingbacks with adequate cushioning to pad the foot and prevent injuries caused by friction or pressure. When choosing high heel slingbacks, keep the height and width of the heel sensible for better weight distribution. Stay away from shoes with very thin soles as these do not provide adequate shock absorption.
Opt for an adjustable strap that can be tightened or loosened as required. Focus on measurements rather than shoe sizes when shopping for slingbacks to find the most comfortable fit. Shoe sizes are not standardised, and slingbacks from one manufacturer may not fit in the same way as the same size from another. To overcome this, measure the wearer's feet before shopping.
How to Measure Feet for Slingbacks that are a Perfect Fit
Feet should be measured later in the day or in the early evening as they tend to swell as the day progresses. It is important to remeasure feet regularly as they tend to grow slightly larger as people age. In addition, losing or gaining weight and physical changes like pregnancy affect the size of the feet. Measuring shoe size is simple. To obtain the most accurate measurements, the person being measured should stand. However, if help is unavailable, measurements can be taken in a sitting position. The person's feet should be on a flat surface, such as a tile or wood floor, and she should be barefoot.
Ask the wearer to stand with her left foot on a sheet of paper. Trace the outline of the foot with a pen, keeping the pen perpendicular to the floor. Repeat this process for the right foot. If the wearer is sitting, her knee should be slightly in front of her ankle to allow easier access to the circumference of the foot. Once both feet have been traced, use a ruler to draw a rectangle around each outline. The lines of the rectangle should touch the outer edges of the foot at the toes, the sides of the feet, and the heels. Use a ruler to measure the longest side of the rectangle. One foot is usually bigger than the other, and the longer measurement should be used. Measure the shorter side of the rectangle to determine the width of the foot.
Converting Foot Measurements to Approximate Shoe Sizes
Although shoe sizes may differ between manufacturers, an approximate shoe size can be used as a starting point when shopping for slingbacks. Use the table below to convert foot measurements to shoe size.
| Foot Length Measurement (cm) | Shoe Size |
| --- | --- |
| 21.6 | |
| 22 | |
| 22.4 | |
| 22.8 | |
| 23.2 | |
| 23.6 | |
| 24 | |
| 24.4 | |
| 24.8 | |
| 25.2 | |
| 25.6 | |
| 26 | |
| 26.4 | |
| 26.8 | |
| 27.2 | |
This chart should be used as a guide only. To ensure the most comfortable fit, slingbacks should be tried on. Where this is not possible, ask the retailer to supply the inside length and width measurements of the shoe. The heel of the foot should not hang over the end of the shoe and the toes should sit comfortably. Avoid shoes that are too tight over the broadest part of the foot as pressure to this area causes bunions.
Converting UK Shoe Sizes to International Sizes
Shoe sizing practices differ from country to country. The chart below can be used to convert UK shoe sizes to sizes common to a number of other countries.
| UK | Europe | US/Canada | Australia | China | Japan | Mexico | Casual Shoe Size |
| --- | --- | --- | --- | --- | --- | --- | --- |
| 3 | 35.5 | 5 | 4 | 36 | 21.5 | | S |
| 3.5 | 36 | 5.5 | 4.5 | 37 | 22 | | S |
| 4 | 37 | 6 | 5 | 37.5 | 22.5 | | S |
| 4.5 | 37.5 | 6.5 | 5.5 | 38 | 23 | | S |
| 5 | 38 | 7 | 6 | 39 | 23.5 | 4.5 | M |
| 5.5 | 38.5 | 7.5 | 6.5 | 39.5 | 24 | 5 | M |
| 6 | 39 | 8 | 7 | 40 | 24.5 | 5.5 | M |
| 6.5 | 40 | 8.5 | 7.5 | 41 | 25 | 6 | M |
| 7 | 41 | 9 | 8 | 41.5 | 25.5 | 6.5 | L |
| 8 | 43 | 10 | 9 | 43 | 27 | 7 | L |
| 9 | 44 | 11 | 10 | 44.5 | 28 | 8 | L |
Use this chart as a guide only. It is always best to try shoes on or to ask retailers for exact measurements to find the best fit.
Choosing the Right Slingback Type and Heel
Nearly every style of shoe is available in a slingback, so choosing the right style depends on the occasion, the shoe's purpose, and the wearer's tastes. Short women should avoid wearing shoes with ankle straps as these tend to visually cut off the leg, making it appear shorter than it is. They should also avoid very high heels as the flexing of the calf muscles can make women appear shorter. Add an ankle strap to cover and define thick ankles and make them look thinner. Choose tapered toes to slim broad feet and opt for slingbacks with oval or square toes for added comfort and to make large feet look smaller. Choose thinner heels for a casual, sexy look, but opt for thicker heels for slingbacks to wear to work. Flat shoes are not always the most comfortable. A low heel adds lift and reduces stress on the calf muscles. However, ultra high heels should not be worn everyday as they place strain on the calf muscles.
How to Keep Feet Looking Great
Slingbacks reveal the wearer's heel. For the best effect, the feet should look healthy and smooth. Keep feet and heels looking great by soaking feet in warm water once a week to improve circulation, removing dead skin from heels with a pumice stone or file every week or as needed, and moisturising regularly. Feet are often neglected. For an added boost, slather feet in a rich moisturiser once a fortnight before slipping them into cotton socks. Leave overnight for the best results. Take care not to slip on greasy feet.
Finding Slingbacks on eBay
To search for items on eBay, use the search box located on every page. Simply enter a search word or phrase (for example "slingback peep toe heels") to see the listings available. Narrow your search results by choosing the most appropriate category and the features desired. Use the advanced search feature to narrow or expand your search results. When buying shoes, give preference to sellers who accept returns.
Before You Buy on eBay
Before you buy on eBay, learn more about the seller and item. Check the seller's feedback and the item listing page for more information.
Check the Seller's Feedback
eBay's seller feedback system allows buyers to leave feedback for sellers about their products and customer service. Detailed seller ratings give additional information on aspects such as the seller's communication, whether the seller's postage and packaging charges were reasonable, how long the seller took to dispatch the item, and whether the item description was accurate. To view this information, click on the number next to the seller's username.
Check the Item Listing Page
The item listing page contains all the information that you need to shop with confidence. This includes the item description, the seller's feedback and contact information, postage and packaging charges, the seller's accepted payment methods, and the seller's refund policy. If you have any questions about a listing, use the "Ask a question" link to contact the seller.
Conclusion
The term slingback refers to shoes with an open heel and a strap at the back. Slingbacks are available in a variety of styles and designs including casual, dressy, formal, or sport inspired ranges. They do not necessarily have open toes, and include anything from slippers to stilettos. Although many people associate slingbacks with summer wear, the range of available styles makes them suitable for any season.
Slingbacks should fit comfortably and support the foot, with adequate cushioning and flexible uppers. Shoes should always fit properly to avoid injury or strain. Measuring the wearer's foot is the most effective way to find a shoe that fits well, and a size guide can be used to get an approximate idea of the size ranges to consider. Where the wearer cannot try shoes on before they buy, such as when shopping on eBay, the seller should be asked for the measurements of the shoes. It is best to buy from a seller with a returns policy in case the shoes do not fit. Certain slingbacks are more suited to particular body types and the type of shoe chosen should flatter the wearer's feet, ankles, and build. As slingbacks leave the heels uncovered, the heels should look healthy and groomed for the best effect. eBay sellers offer a range of slingbacks in a variety of styles, guaranteed to suit any occasion.