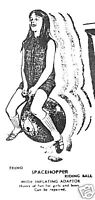 Just a small item of interest for all those selling on ebay or just generally interested in the spacehopper. The BBC's "I Love 1970s" site and TV series touted the spacehopper as arriving in the UK in 1971. This information was picked up by the toy retailers site, who replaced Klackers as THE craze of 1971 on their website, and then Wikipedia picked up on the information.
Recently, I was searching my local newspaper archive, the Cambridge Evening News, England, and discovered an ad for the spacehopper from 14 November 1969 - it was described as a "trend" and was on sale in a Cambridge toyshop. Please see illustration.
I supply this information in the hope that UK spacehopper enthusiasts will find it of interest. The spacehopper was certainly on sale in the UK in 1969.
If anybody would like further information, free of charge, please contact me.