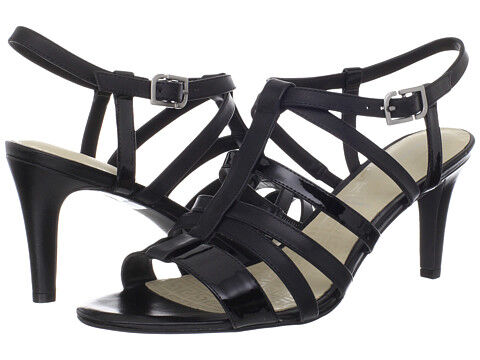 A strappy sandal is simply a sandal with multiple straps. This definition includes all heel and sole types, colours, and designs. Strappy sandals can be casual or formal; suitable for the beach or a nightclub; plain or embellished. They are available in delicate or chunky designs. Whatever design is chosen, all sandals show off the wearer's feet and are perfect for summer.
Several factors should be considered when shopping for strappy sandals. They should be the right fit and size, and a foot measurement and size chart can be used to simplify shopping. The type of strappy sandal chosen should be appropriate for the wearer's needs, matching her mood, the occasion, and her outfit. Consider the heel height and look. Feet should be kept in a just pedicured condition to look their best in sandals. Strappy sandals are available from shoe, clothing, and department stores, and from online sources, such as eBay.
How to Find Strappy Sandals that Fit
When shopping for strappy sandals it is best to have the wearer's foot measurements and corresponding shoe size on hand to ensure that the sandals chosen are a perfect fit. Taking foot measurements at home is fairly simple, but is best done with the help of a friend or family member. Measure at the end of the day when feet are at their largest.
How to Measure Feet at Home
Simply trace the outline of each foot onto a sheet of paper. This is best done in a standing position, but can be done while sitting. Next, draw a rectangle around each footprint, with the lines of the rectangle touching the outer edges of the outline. The lines should be straight for the most accurate results. Measure the long and short side of both rectangles and use the longer measurements to determine the shoe size. The measurement of the long side indicates the length of the foot, while the measurement of the short side indicates its width.
How to Convert Foot Measurements to a Shoe Size
Use the chart to convert the length measurements taken above into a UK shoe size. This can be used as a starting point when shopping for strappy sandals.
| Foot Measurement (cm) | UK Shoe Size |
| --- | --- |
| 21.6 | |
| 22 | |
| 22.4 | |
| 22.8 | |
| 23.2 | |
| 23.6 | |
| 24 | |
| 24.4 | |
| 24.8 | |
| 25.2 | |
| 25.6 | |
| 26 | |
| 26.4 | |
| 26.8 | |
Sizes may vary from manufacturer to manufacturer, so it is best to try sandals on before buying them. The foot should sit squarely on the sandal without spilling over at the back or front of the shoe. In addition, the height of the foot should be taken into account and this is nearly impossible to measure. Where the wearer cannot try the sandals on, ask the seller for the inside measurements of the shoe in order to compare them to the wearer's foot measurements. Sellers who know their shoes will be able to give advice about the fit in terms of the height of the wearer's foot bridge. Look for sellers and stores with reasonable returns policies in order to allow the wearer to return or exchange ill-fitting shoes.
Choosing the Right Strappy Sandal for the Occasion
An important factor to consider when shopping for strappy sandals is when and where the sandals will be worn. Strappy sandals are versatile and different types can be worn anywhere from the beach to the office.
Choosing Strappy Sandals to Wear to Work
Flat heeled sandals, while more comfortable, are too casual for the office; strappy sandals for work or smart casual occasions should have at least medium heel. In addition, formal sandals should look the part and string or brightly coloured plastic is out of place in a formal setting. Instead, opt for leather, patent leather, velvet, or sandals with delicate embellishments. Bear in mind that neutral colours or black are more suited to conservative environments.
Choosing Strappy Sandals for a Night Out
Consider wearing high heeled strappy sandals to add elegance to evening wear. Brighter colours, metallic finishes, and bold embellishments are suitable for party shoes, while lighter colours are more elegant. Low heel strappy sandals are equally appealing and tend to be more comfortable. Choose a sandal with a hint of glitter or shoes with a shiny stone detail to add sparkle to an outfit.
Choosing Casual Strappy Sandals
When choosing casual sandals, consider factors such as comfort and versatility. While nothing is as summery as a pair of brightly coloured sandals, these may not work with more than one or two outfits. Even though this is a great excuse to buy a few additional pairs, it is best to have at least one pair that matches a number of outfits. Strappy sandals with high heels are not comfortable to walk in and are not appropriate for beach wear. However, choosing an espadrille style wedge heel could be a compromise as this type of strappy sandal is usually comfortable. These sandals can also add a slight element of smartness to an outfit, especially when paired with a casual summer dress.
Further Factors to Consider When Choosing Strappy Sandals
The following factors should be considered before buying strappy sandals. Even though they are versatile, some designs work better with particular body types or outfits. Delicate strappy sandals look best with delicate outfits. Short women should avoid chunky strappy sandals as they can visually overwhelm the wearer. Short legs tend to look shorter when paired with strappy sandals that feature ankle straps, and women with short legs should opt for thin straps that sit below the ankle or come in light colours. Heavier women should avoid strappy sandals with overly delicate or tight fitting straps.
Choose strappy sandals with comfortably placed straps to avoid chafing. Toes should not be squashed into the front of high heeled sandals and straps should fit comfortably without cutting into the wearer's skin. Some strappy sandals with very high heels are simply uncomfortable whether they fit or not. The strappy sandals chosen should not visually shorten the wearer's legs, add bulk to her frame, or look clumsy.
How to Keep Feet Fit for Strappy Sandals
Strappy sandals show off the feet; this could be a disadvantage when the feet are not fit to be seen. Instead of neglecting the feet, keep them groomed and ready for summer. Promptly remove any old or chipped nail polish from toe nails when necessary and apply a new coat. Soak feet in lukewarm water or relax in a hot bath with feet submerged once a week and remove dead skin with a pumice stone or file. Moisturise the top of the feet as part of the daily grooming routine and moisturise the entire foot once a week after removing dead skin. Although these are simple steps, they are often overlooked. The effect created by wearing beautiful strappy sandals is ruined by rough heels and chipped nail polish.
Finding Strappy Sandals on eBay
To find strappy sandals on eBay, type a search phrase (for example, "high heel black strappy sandals") into the search bar that can be found on every page. Narrow the search results displayed by choosing the most appropriate category and the desired features and characteristics. If you want to narrow or expand your search results, use the advanced search function. Many eBay sellers have returns policies like regular stores. Consider buying from one of these sellers to allow you to return strappy sandals that do not fit.
Before You Buy on eBay
Before you buy on eBay, learn all you can about the item and the seller. Use the seller feedback feature and the information on the item listing page to do so.
Check the Seller's Feedback
eBay's seller feedback feature allows you to see what other buyers have to say about a specific seller's products and customer service. Detailed seller ratings provide additional information about the seller's communication, whether the postage and packaging fees were reasonable, the accuracy of the item description in the listing, and the length of time that elapsed before the seller sent the item. This information can be accessed by clicking on the number next to the seller's username.
Check the Item Listing Page
All the information you need to shop with confidence can be found on the item listing page. This includes details such as the seller's feedback and contact information, the item description, bidding and buying options, postage and packaging fees, and the terms of the seller's return policy. Click on the "Ask a question" link to contact the seller if necessary.
Conclusion
A strappy sandal is a sandal with a number of decorative or functional straps and includes a variety of heel and sole styles. While the design makes this kind of shoe more suitable for warm weather, strappy sandals can be worn anywhere from the beach to the boardroom, provided the right style of shoe is chosen. The type of material strappy sandals are made of, their colour and finish, and their heel heights determine when and where they can be worn. Mid to high heels are best suited to a professional environment as low heels tend to look too casual. High heeled strappy sandals are appropriate for formal or party wear, and delicate designs should be worn with delicate outfits. Casual strappy sandals are not restricted by heel height, but the height of the heel should be considered and the most comfortable height chosen.
Before shopping for sandals the wearer's foot measurements should be obtained to ensure that the shoes chosen are a good fit. Sizing charts can be used to calculate approximate shoe sizes, but it is better to try shoes on before buying or to compare foot measurements to shoe measurements for accuracy. Since strappy sandals show off the wearer's feet, feet should look healthy and groomed. Strappy sandals for every occasion can be found on eBay.